I am passionate about blessing love on your special day! I specialize in all types of weddings and funerals. I will joyously perform a customized wedding ceremony rich with love, life and humor at a location of your choice, just the way you want it… barefoot on the beach, at a resort, at a nature park, or simply in your backyard. Personable, professional and easy to work with, I have excellent references and testimonials and love my role as wedding officiant and life celebrant! Many Blessings!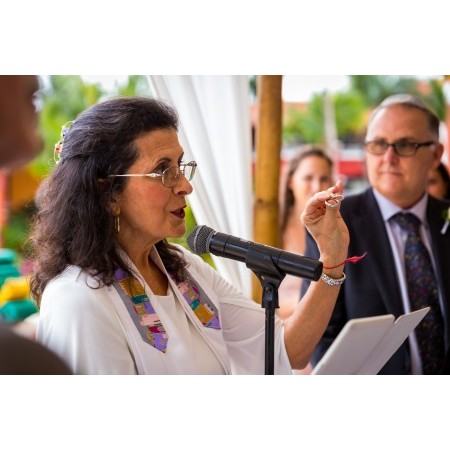 1/25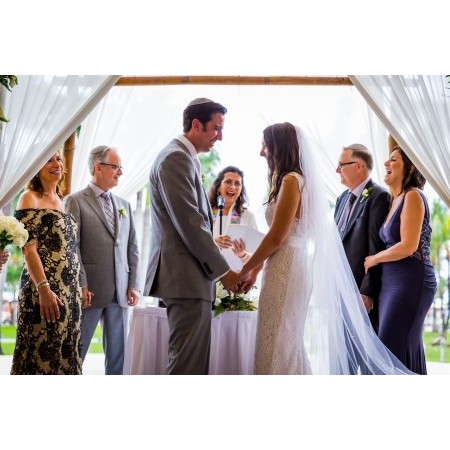 2/25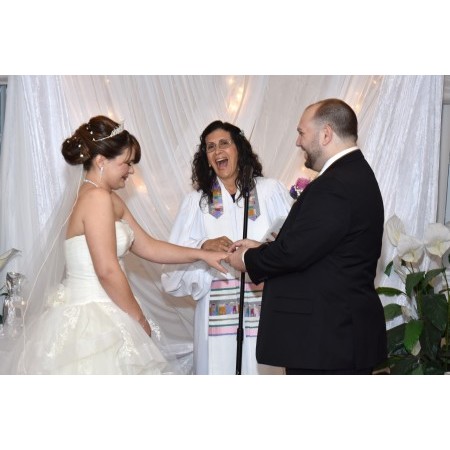 3/25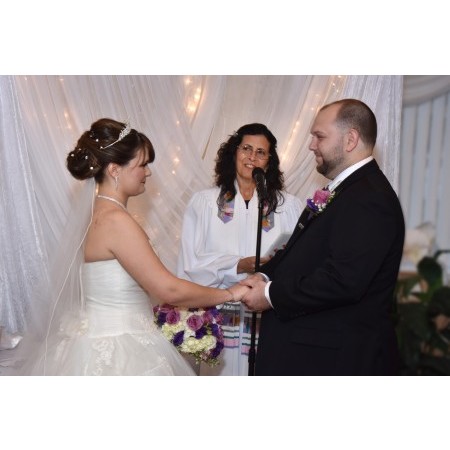 4/25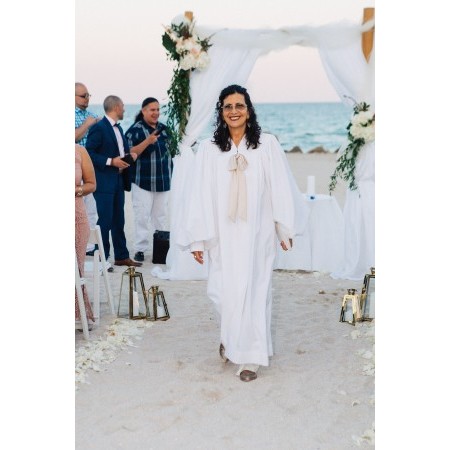 5/25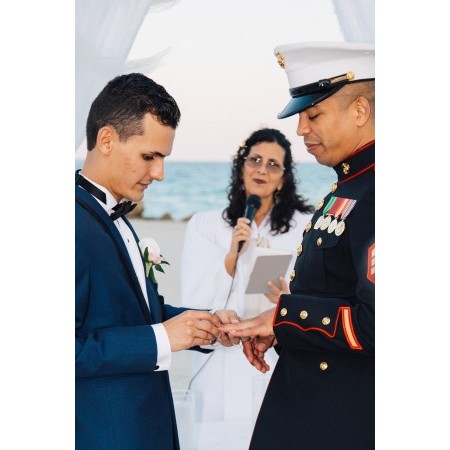 6/25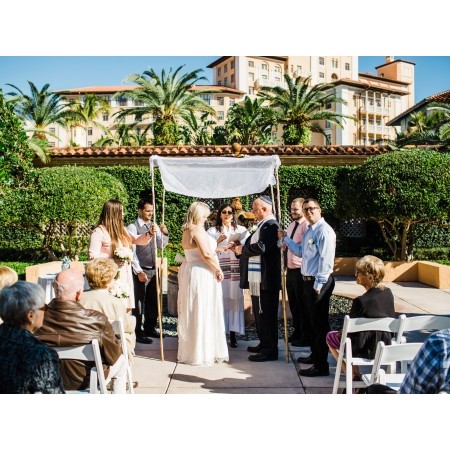 7/25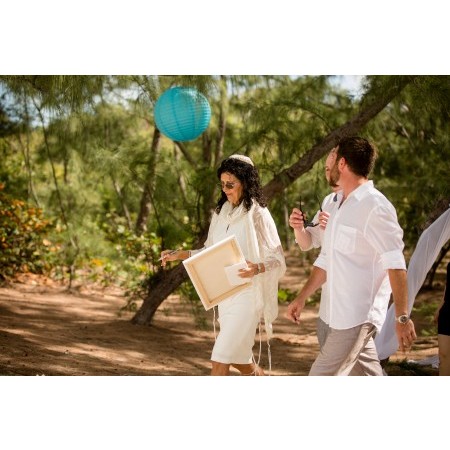 8/25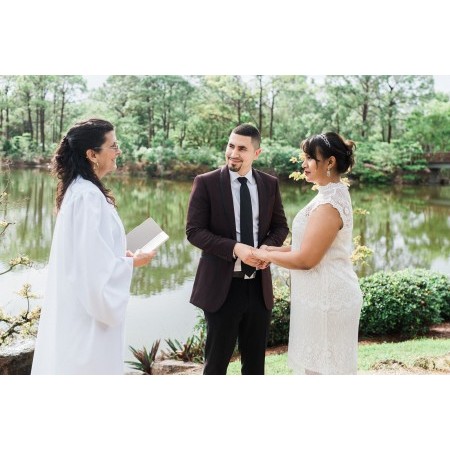 9/25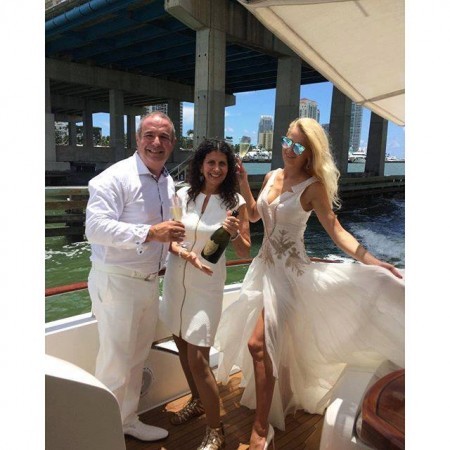 10/25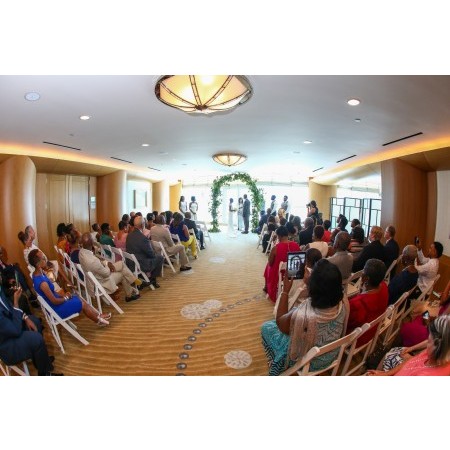 11/25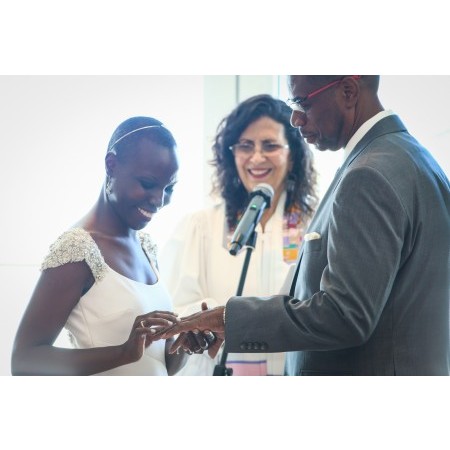 12/25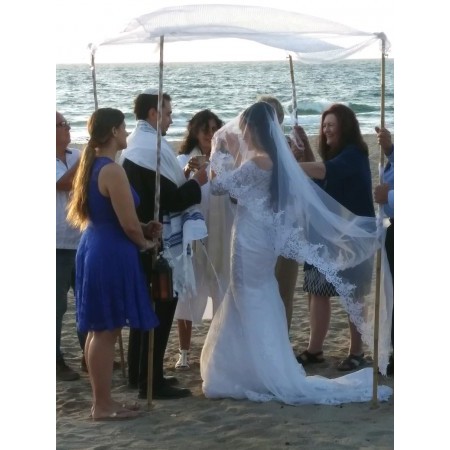 13/25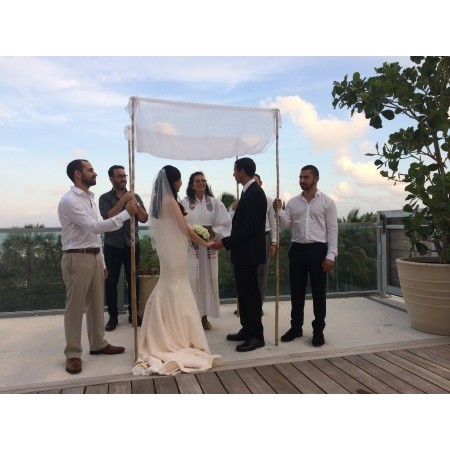 14/25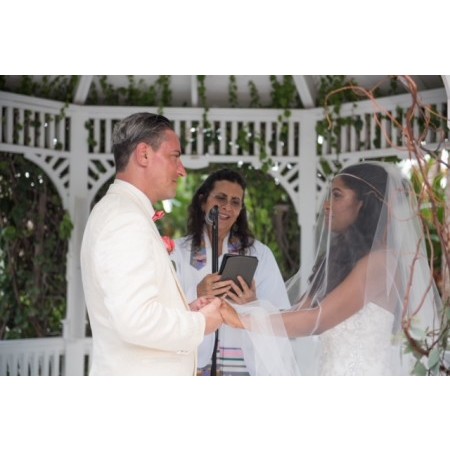 15/25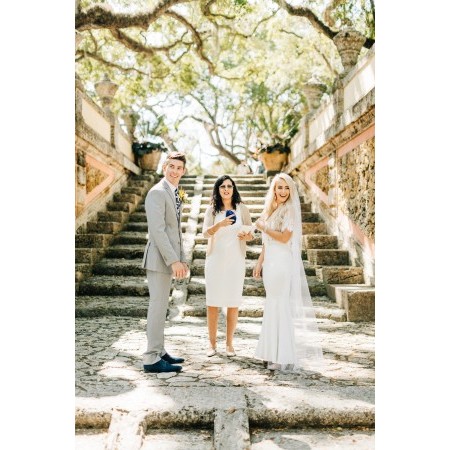 16/25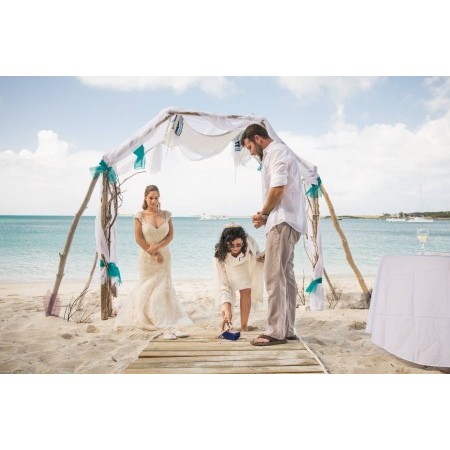 17/25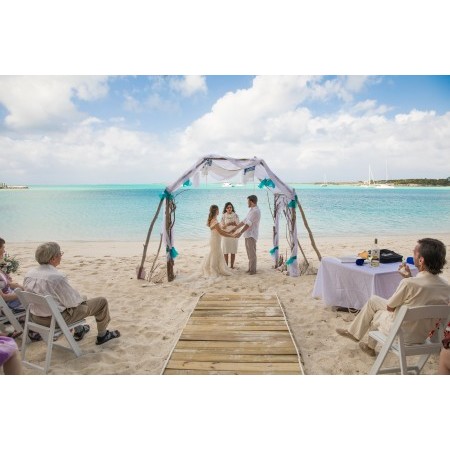 18/25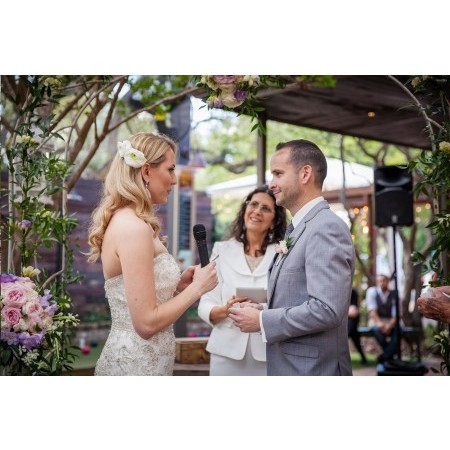 19/25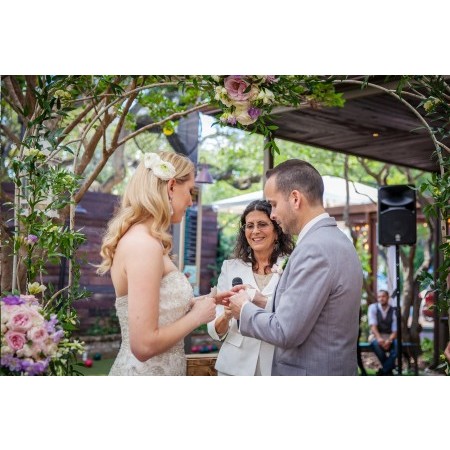 20/25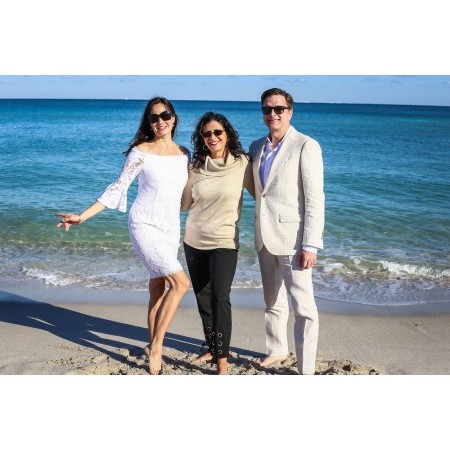 21/25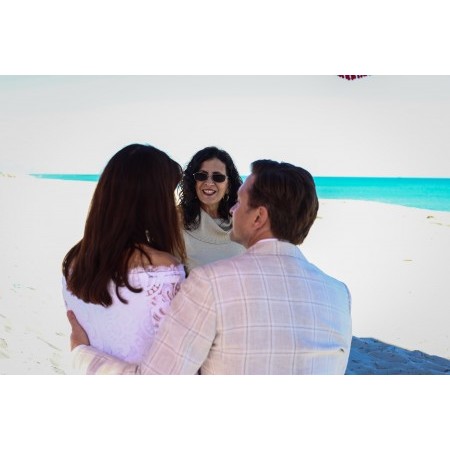 22/25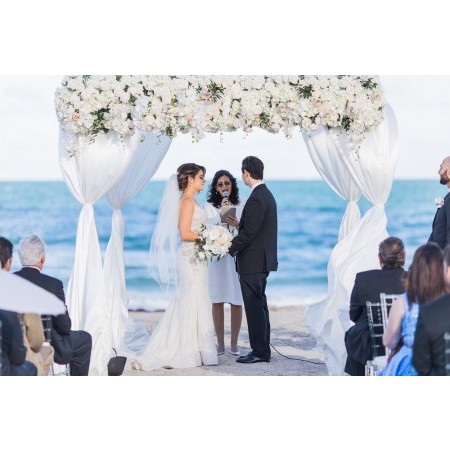 23/25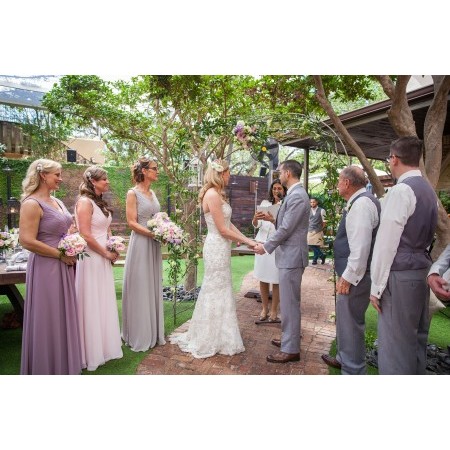 24/25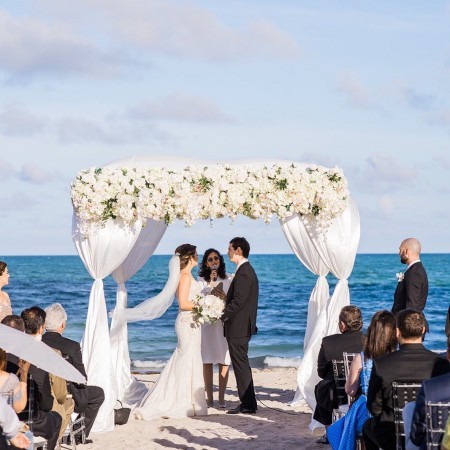 25/25
‹
›
"If you want a personalized, warm and creative ceremony Rabbi Melinda is the Rabbi you should have perform your ceremony! Yesterday my husband and I renewed our vows on our 50th wedding anniversary. Rabbi Melinda worked with us to make our event meaningful and special. We were so happy that we were lucky to have such a wonderful event. Thank you Rabbi!"

Gail
"Melinda was very considerate and calm throughout the whole process with us. Even when we were running behind schedule she was patient and still very graceful through the whole ceremony."

L.G.
"I have to give Rabbi Melinda 5 stars! She was kind and considerate. She even made me a beautiful chuppa in a flash because the venue I was using didn't have any (and neither did I). She showed up promptly and ready to say the most beautiful words to my guests. She also spent a lot of time in the weeks before the wedding asking me what type of ceremony that I wanted and what kind of ketuba I wanted. She even met with my parents one night to include them in the process. Thank you Rabbi Melinda!"

Amy Edelman
"Had such a wonderful experience with our pre-marital counseling and the writing of our vows. Melinda was very warm and sweet when it came to our personal challenges before our big day."

Beatriz
"My wife and I were very happy with all the service she provided, especially the pre-marriage counseling. I would highly recommend Ms. Melinda to all friends and associates."

Todd
"Rabbi Melinda tweaked the ceremony to match our specific needs and requests and she was flexible, calming, and friendly. Highly recommend!"

Alberto
"We weren't really sure where to start when we first met with Melinda, and she took control and walked us right through the ceremony planning, giving us plenty of options to figure out what we wanted. On the day of the wedding, she wore a beautiful white suit and had everything neatly organized on her tablet. The ceremony went flawlessly and everyone was just so touched with how intimate and beautiful it was. Highly recommend her!"

Stacey
"Fantastic beautiful ceremony. Positive energy and good vibes. Reçcomend her highly. Thank you for making our day special!"

Izzy
"Melinda was an officiant at our beach ceremony and did a wonderful job. She was very friendly and had a positive energy about her, not to mention very professional. She gave us exactly what we wanted and I would definitely recommend her to other couples!"

Regina
"Melinda was professional, funny and flexible. We had arranged to have a very small service on the beach in Del Ray. When we had to change the venue from the beach to the hospital chapel due to an illness with my father-in-law she was there bright and early. Everyone thought she was funny and professional and it was just what we had hoped for. We highly recommend Melinda."

Scott & Anna Lieberman
"Professional, very nice person. All we can say to describe her is just the best!"

Milos
"A friend of ours found Melinda for us. We were very happy with everything, she must have taken a lot of time with our friend to really get who we are and our story."

Steph
"Melinda performed the wedding ceremony for my wife and I in Riviera Maya, Mexico and did a fantastic job. Melinda was always very responsive to messages, flexible throughout the planning process, and allowed us to customize our ceremony to our liking. Melinda was warm, friendly, and professional and did an outstanding job. I would recommend her to anyone looking for a wedding officiant."

Craig
"My name is Vicki and my husband and I attended a wedding where Rabbi Melinda performed the service. When she first approached, it was if a beaitiful light was seen. The ceremony was wonderful as her words were from her heart and not read from prepared writings. It felt like she was part of the wedding as opposed to someone just officiating. I was so proud to see such a beautiful, kind and well spoken woman be the rabbi."

Vicki
"Rabbi Melinda Bernstein was a wonderful, kind, and sincere officiant for our small wedding ceremony. My now husband and I couldn't have been happier with her marrying us on the beach. We highly recommend Rabbi Melinda for her honesty and genuine kind nature and open communication."

Lisa
"Our wedding was the best and all of our guests felt basically the same. Rabbi Bernstein did a great job putting together the wedding. She has an ability to relax people and make people feel welcome. I recommend her!"

Andy
"Melinda was wonderful at our wedding! I highly recommend her for your ceremony. She was very easy to talk to and very professional. Thanks Melinda!"

Toni
"My husband and I were married by Rabbi Melinda Bernstein on March 10. She is simply wonderful. She has a kind, beautiful soul. She worked with us in person and through phone and email to make our vision of our wedding ceremony come to life. She wrote a lovely ceremony and performed the ceremony beautifully. She is incredibly easy to work with and her goal was to make sure she carried out our vision. I could not have asked for a better person to marry us. I wholeheartedly recommend Rabbi Melinda."

Brenda
"Melinda was nothing short of amazing to work with from start to finish. She took time to chat with us a few times before the wedding date and ensured everything was set the day of. We were confident we had chosen the right person to handle our Special Day!"

Megan & Jen
"Melinda was very professional and approachable. She was the officiant for my girlfriend's destination wedding in the Bahamas. The words she spoke were beautiful and inspiring in uniting two wonderful people together. I would recommend Melinda for any event."

Juliet
"Rabbi Melinda Bracha was wonderful! She was very responsive to emails and helped us build an incredible ceremony on our ideas and religious preferences. We would use her again in a heartbeat for any vow renewals or other spiritual services. Travel was no problem for her and she worked so well with our Bahamian officiant as well, truly a gem!"

Gina
"Melinda was wonderful and she saved our wedding. We contacted her one day before the wedding because our previous officiant couldn't make it to our wedding due to health collapse. We contacted her and she said yes right away. She worked with our script and edited by adding more wonderful details to the script. Thank you so so much."

Milton & Jonathan
"Rabbi Melinda did such a beautiful ceremony for us! She guided us through planning the ceremony and listened to what we wanted to include to make our ceremony perfect. She was very patient and kind. She made our wedding day that much more special."

Jeanine
"It was truly amazing to work with Melinda. She really got us as a couple and what we wanted for our ceremony. We felt her enthusiasm, good wishes, and blessings throughout the entire process and the ceremony was special. She included what we felt was important for us and it was beautiful. Thank you Melinda!"

Angie
"Melinda was wonderful as the officiant of our wedding this weekend! We were referred to her by our planner and she was very responsive from the get-go. Melinda was very dependable and also had a calmness about her which made us very comfortable on our rehearsal and wedding day. I would highly recommend Melinda to anyone looking for a professional and loving officiant for their special day!"

Alexandra
"Rabbi Melinda was a great choice to be the officiant of my wedding. She was very accommodating in helping my wife shape how we wanted our wedding to be. She was well-prepared, and very responsive."

David
"We had a 50th anniversary renewing our vows. Rabbi was so great. She was very professional and performed a beautiful ceremony. I would recommend her to anyone."

Barbara
"We did a destination wedding and Melinda Bracha did everything to put our minds at ease. Her calming demeanor is really what we needed for our special day!"

Stephanie
"My husband and I were very lucky to have found Rabbi Melinda Bracha to marry us. She was absolutely wonderful! Our special day was better than we could ever have imagined. We were blessed by her words of wisdom and loving ceremony. Our friends were so touched and complimentary for the beautiful wedding ceremony. We highly recommend using Rabbi Melinda for your celebrations!"

Wendy Cooper
"We felt the love! Rabbi Melinda was a pleasure to work with. She was always pleasant and went above and beyond in every aspect. I did not have to worry about anything with Rabbi Melinda. She showed up early and even helped out where help was needed before the ceremony. Do not think twice about using Rabbi Melinda for your occasion."

Lauren Katz
"My husband and I were so blessed and happy to have had Rabbi Melinda officiate our wedding. She is a very warm, sweet, kind, and interesting person. She truly went out of her way to make our wedding details perfect. She was knowledgeable with regards to planning out all of the details of a Jewish wedding, enabled us to personalize the ceremony with our own details. Rabbi Melinda did a fantastic job and we highly recommend her!"

Jennie
"Melinda was amazing! Her soothing voice had everyone in harmony! She was punctual and very professional. You will love her. Thanks Melinda for your special touch on our beautiful day!"

Emily
"Melinda was amazing from the start. She really took the time to understand what we were looking for and created the perfect wedding for us. Thank you Melinda!"

Josh Boxer
"There are absolutely no words to describe how grateful I am to Melinda for such a beautiful ceremony. She asked all the right questions to get to know us and integrated what she learned to make our day feel natural and unique to us. The vibe was perfect. She was a pleasure to work with and I highly recommend her."

Bobbi Boxer
"Melinda was perfect for our ceremony. We wanted a jewish wedding that our families could be a part of, held in our backyard. Melinda met with us prior, in a convenient location to get the details settled and to get an opportunity to personalize the ceremony for us. The day of the wedding, she showed up, chupa and all. The ceremony was short and sweet -- just what we were looking for and we couldn't have been happier. Melinda is vibrant, positive and exactly what we needed."

Ellen
"Rabbi Bernstein is a true blessing. 5 stars aren't enough to express the magnitude of the kindness, caring, and professionalism Rabbi Bernstein brought to our son's wedding in Coral Gables. Reaching the Rabbi over the internet justifies its existence."

Helen & Allan Schwartz
"Melinda lives up to her tagline. Her ceremony performance was perfect. She walked us through the entire process of our wedding ceremony and the license process. She was courteous, kind and always made herself available for questions to us. Melinda is also fun and very friendly and I would recommend her to my family for future ceremonies!"

Bertie
"Melinda is an amazing woman. She is passionate about what she does, her attention to detail is superb, her professionalism and communication style are perfect. Everybody who attended our wedding said something great about her. She offers great value and you will not be let down by her. Hire Melinda!"

Sherri
Add Your Review of Non Denominational Officiant/Rabbi Melinda Bracha

Non Denominational Officiant/Rabbi Melinda Bracha
Fort Lauderdale, FL

Michael & Andrew
Fort Lauderdale, FL

Courtney & Stephen
Miami, FL

Kandice & Aaron
Fort Lauderdale, FL

Tracy & Sean
Boynton Beach, FL

Rachel & Ricky
Miami, FL

Robert & Erick
Fort Lauderdale, FL

Ariana & Alexia
Lake Worth, FL

Anna & Alexis
Hollywood, FL

Inga & Kap
Boca Raton, FL

Tiffany & Cheyenne
Fort Lauderdale, FL

Heather & Chris
West Palm Beach, FL

Alyssa & Emanuel
West Palm Beach, FL

Victoria & Steve
West Palm Beach, FL

Areatha & Syntheria
Miami Beach, FL

Amanda & Juston
Fort Lauderdale, FL

Gabriele & Rory
Boynton Beach, FL

Janice & Paul
Miami, FL

Markham & Stephanie
Hollywood, FL

Therese & Aaron
Palm Beach Gardens, FL

Brigitte & William
Fort Lauderdale, FL

Carlos & Boris
Pompano Beach, FL

Amanda & Edgar
West Palm Beach, FL

Shanice & Frank
Miami, FL