Congratulations to the both of you! Making your ceremony simply elegant, meaningful, and memorable, while being mindful of your budget is my total mission. I am sensitive to where couples are at on that journey & my desire to help them create a ceremony that's both meaningful & memorable; a ceremony that fits who they are as a couple - their wishes, desires & beliefs. My ultimate goal is to help couples launch healthy marriages that go the distance. No contracts & pre-payment are required.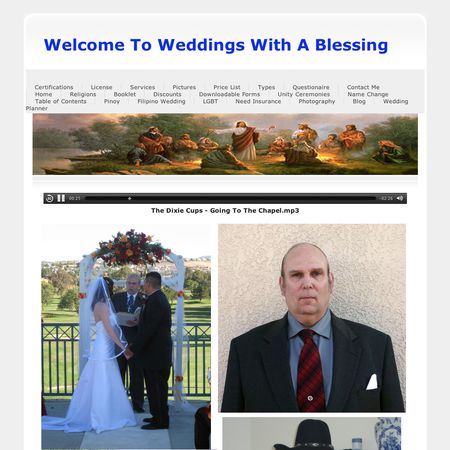 Add Your Review of Weddings with a Blessing

Carlee & Brandon
Auburn, CA

Ashley & Terrell
Fairfield, CA

Rebecca & Bernie
Ione, CA

Jose & Nia
Fairfield, CA

Felecia & Tanesha
Stockton, CA

Monica & Juan
Carmichael, CA

Jeff & Lauren
Walnut Grove, CA

Whitney & Zachary
Roseville, CA

V & Claudia
Sacramento, CA

Beverly & Michael
Sacramento, CA

Michael & Lynn
Orangevale, CA

Marissa & Kyle
Roseville, CA

Bridget & James
Sacramento, CA

Jodi & Nick
Rocklin, CA

Michelle & Kyle
Suisun City, CA

Llovana & Brandon
Sacramento, CA

Elizabeth & Jeff
Citrus Heights, CA

Modou & Melissa
Sacramento, CA

Desiree & Derrick
Stockton, CA

Kendall & Michael
Modesto, CA

Jenny & Greg
Rancho Cordova, CA

Alice & Rickey
Sacramento, CA

Amber & Jesse
McClellan, CA

Nathalie & Jeremy
Stockton, CA

Brianna & Fermin
Fairfield, CA

Lorraine & Michael
Valley Springs, CA

Jacqueline & Christian
Galt, CA

Charles & M. E.
Sacramento, CA

Brittney & Frank
Sacramento, CA

Angelina & Mike
Citrus Heights, CA

Cristina & Jeremiah
Citrus Heights, CA

Michelle & Darrell
Stockton, CA

Janette & Gonzalo
Sacramento, CA

Angely & Marco
Stockton, CA

Christine & Phil
Placerville, CA

Paula & James
Citrus Heights, CA

Raghu & Satyasai
Sacramento, CA

Kris & Phillip
Sacramento, CA

Jennifer & Jason
Stockton, CA

Diana & Javi
Manteca, CA

Ariana & Erik
Stockton, CA

Brooke & Christian
Stockton, CA

Sabrina & Adam
Sacramento, CA

Becky & Aust
Stockton, CA

Charnetta & Julian
Sacramento, CA

Cindy & Bill
Woodland, CA

Suzan & Jerry
Woodland, CA

Tanya & Mauricio
Roseville, CA

Jose & Janelly
Wheatland, CA

Stephanie & Joseph
Lodi, CA

Bruce & Jordan
Folsom, CA

Robert & Madelyn
Concord, CA

Kayla & Randy
Roseville, CA

Rachella & Austin
Copperopolis, CA

Megan & Landon
Pittsburg, CA

Alan & Liz
Ripon, CA

Nina & Jetty
Sacramento, CA

Jamie & Mike
Rocklin, CA

Jessica & Christopher
Orangevale, CA

Brian & Danielle
Vacaville, CA

Sandy & Louis
Shingle Springs, CA

Mellisa & Justin
Walnut Creek, CA

Nancy & Juan
Pittsburg, CA

Effie & Stacy
North Highlands, CA

Deborah & Thomas
Sacramento, CA

Mary Ann & Morgan
Brentwood, CA

Rhonda & Robert
Vacaville, CA

Suzan & Jared
Stockton, CA

Joanne & Chris
Citrus Heights, CA

Lenore & Brendan
Carmichael, CA

Daunyea & Joacquin
Sacramento, CA

Janay & Wilfredo
Lincoln, CA

Loyd & Marilyn
Elk Grove, CA

Samantha & Timothy
Antioch, CA

Deanna & Ken
West Sacramento, CA

Sugeily & Aldo
Antioch, CA

Megan & Lawrence
Stockton, CA

Melissa & Joseph
Stockton, CA

Bill & Debbe
Sacramento, CA

Carrie & Randy
North Highlands, CA

Melissa & Casey
Loomis, CA

Carla & Lamar
Sacramento, CA

Brittney & Michael
Placerville, CA

Carol & Will
Fairfield, CA

Mandy & Jeff
Sacramento, CA

Hilary & Jeramie
Vacaville, CA

David & Lela
Rancho Cordova, CA

Angelita & Alejandro
Vacaville, CA

Kattie & Kazem
Sacramento, CA

Sue & James
Jackson, CA

Sarina & Steven
Loomis, CA

Yasmeen & David
Lodi, CA

Eric & Alexandra
Napa, CA

Simone & Michael
Sacramento, CA

Dina & Ernie
Sacramento, CA

Connee & Miguel
Carmichael, CA

Cari & Tanner
Sacramento, CA

Brenda & Elias
Napa, CA

Amanda & Steve
Lincoln, CA

Maria & Elyas
San Ramon, CA

Roger & Jeannette
Valley Springs, CA

Denise & Jacob
Brentwood, CA

Lana & Aaron
Rocklin, CA

Natalie & Camillo
Fairfield, CA

Melissa & Garett
Sacramento, CA

Maria & Emanuel
Stockton, CA

Tiana & Michael
Lodi, CA

Richard & Laurel
Antioch, CA

Tracy & Raymond
Plymouth, CA

CJ & Clark
Sacramento, CA

Britney & Pablo
Lodi, CA

Melinda & Samsand
Stockton, CA

Lashawn & Nicholas
Antioch, CA

Amanda & Preston
Lodi, CA

Olga & Danny
Davis, CA

Paul & Marilyn
Davis, CA

Inju & See
Antioch, CA

Sheneka & Nicholas
North Highlands, CA

Raven & Daniel
Sacramento, CA

Janice & Janice
Antioch, CA

Megan & Jeremy
Danville, CA

Keyara & Laquanda
Pittsburg, CA

Linda & Leo
Lodi, CA

Riana & Anthony
Sutter Creek, CA

Amber & Justine
Brentwood, CA

Christina & Adam
Lodi, CA

Melanie & Jeb
North Highlands, CA

Julia & Lance
Woodland, CA

Lyndsay & Christopher
Brooks, CA

Dylan & Victoria
Sacramento, CA

Zenith & Derrick
Sacramento, CA

Lloyd & Mary
Stockton, CA

Brittani & Mark
Folsom, CA

Heidi & Rich
Oakley, CA

Lydia & Michael
Elk Grove, CA

Paulina & James
Sacramento, CA

Shanna & Kevin
Fair Oaks, CA

Kimberly & Timothy
Fairfield, CA

Lisa & Nick
Galt, CA

Bernadette & Leo
Brentwood, CA

Michell & Jessie
Stockton, CA

Matt & Nicole
El Dorado Hills, CA

Jim & Bridgett
Concord, CA

Joseph & Mary
Fairfield, CA

Angelita & Matthew
Stockton, CA

Gloria & Tom
Oakley, CA

Sandi & Jose
Vacaville, CA

Serafin & Christine
Vallejo, CA

Jessica & Ryan
Escalon, CA

Sabrina & Jimmy
Concord, CA

Jennifer & Neil
Orangevale, CA

Kimberly & Joseph
Roseville, CA

Jen & Steve
Brentwood, CA

Tara & Barbara
Stockton, CA

Jesse & Edith
Sacramento, CA

Kiersten & Robert
Brentwood, CA

Stephanie & Steven
Walnut Grove, CA

Jennifer & Travis
Brentwood, CA

Karen & Danny
Napa, CA

Jamie & Anthony
Brentwood, CA

Brittany & Zach
Rocklin, CA

Andrea & Frank
Yuba City, CA

Nancy & Pablo
Roseville, CA

Terri & Eddie
Citrus Heights, CA

Derick & Diana
Elk Grove, CA

Alexandra & Brian
Auburn, CA

Lisa & Nick
Citrus Heights, CA

Heather & Bobbye
Fairfield, CA

Cortney & Thomas
Orangevale, CA

Danny & Alexis
Antioch, CA

Erika & Terry
Lodi, CA

Ellen & Daniel
Vacaville, CA

La Shanika & Ryan
Sacramento, CA

Cassie & Jeff
Antioch, CA

Matthew & Bridgette
Elk Grove, CA

Kayla & Matthew
Acampo, CA

Nikki & Jharaun
Sacramento, CA

Robert & Pamela
Manteca, CA

Davina & Jacob
Sacramento, CA

Pierra & Larasha
Sacramento, CA

Martha & Hameed
Suisun City, CA

Virginia & Tony
Sacramento, CA

Patrick & Alyssa
Placerville, CA

Meranda & Shane
Lodi, CA

Miguel & Cristina
McClellan, CA

Lagacia & Edwin
Roseville, CA

Shawna & Kenny
Sutter Creek, CA

Danielle & David
Meadow Vista, CA

Mariah & Eric
Sacramento, CA

Selina & Glenn
Lodi, CA

Brandon & Drew
Antelope, CA

Adrienne & William
Travis AFB, CA

Betsy & Alex
Acampo, CA

Shante & Jamil
Elk Grove, CA