Since 1996 I've officiated 475+ weddings, renewal, and other ceremonies, the way that they wished. We offer 100s of sample ceremonies & vows. Spiritual, religious, secular, non-traditional ceremonies as YOU wish. Reception MC services also available. Serving SW WA and NW Oregon. I have been awarded and placed on TheKnot "Honor Roll". A full e-packet, w/testimonials & sample vows. Elopements still require 2 witnesses and valid marriage license (from any county from the state you ste to marry in).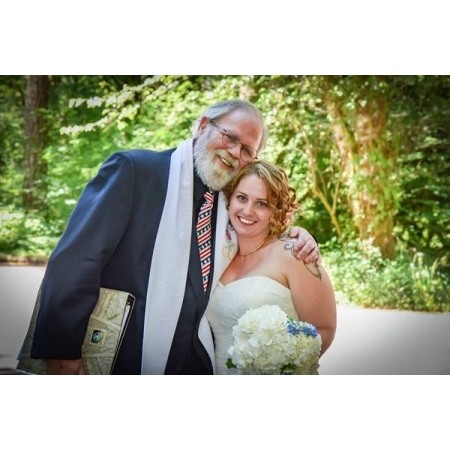 1/25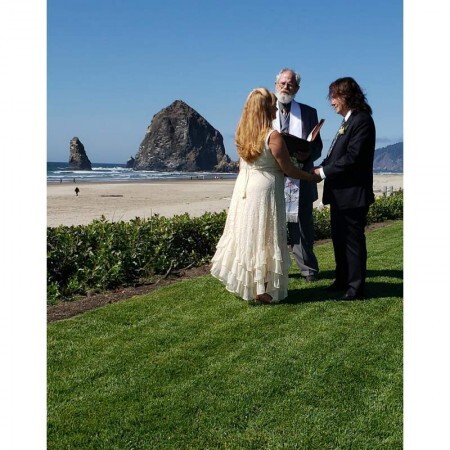 2/25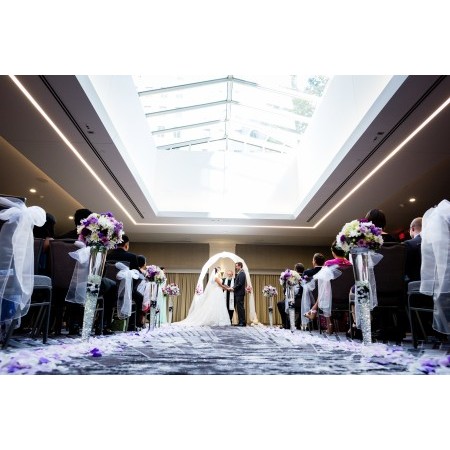 3/25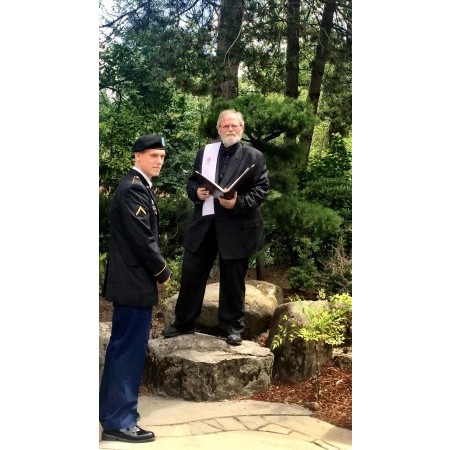 4/25
5/25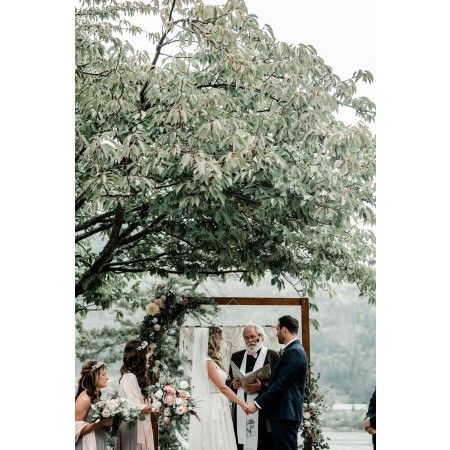 6/25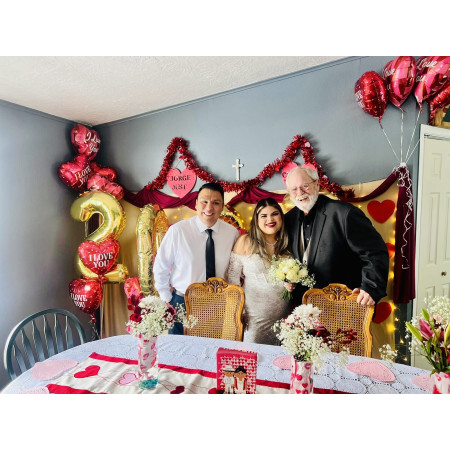 7/25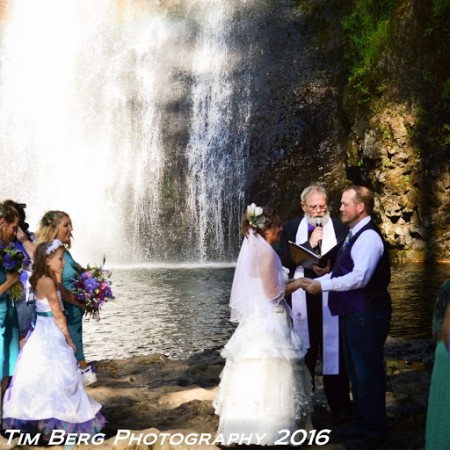 8/25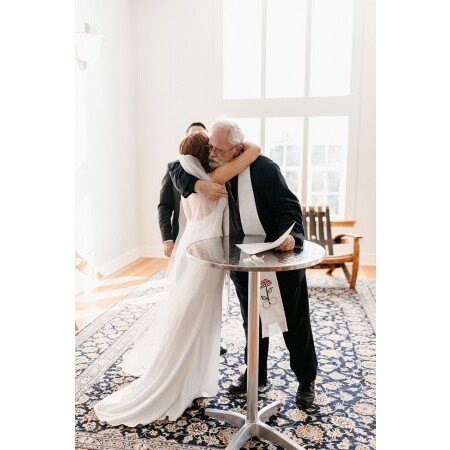 9/25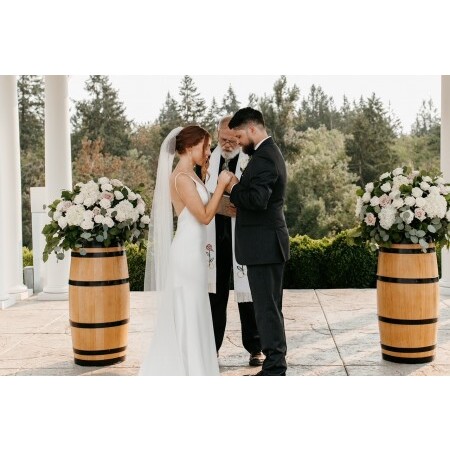 10/25
11/25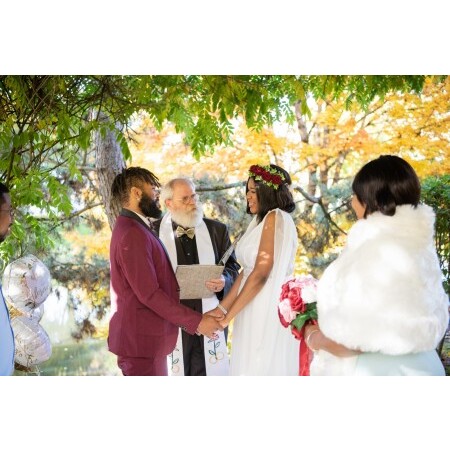 12/25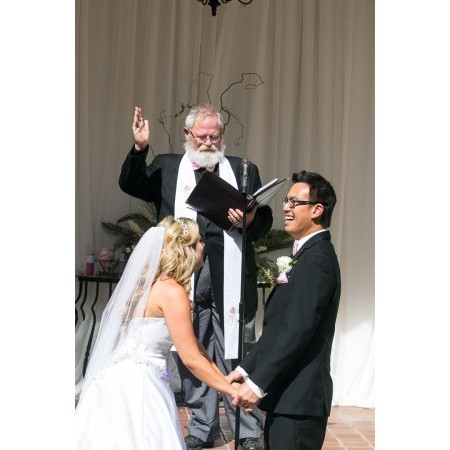 13/25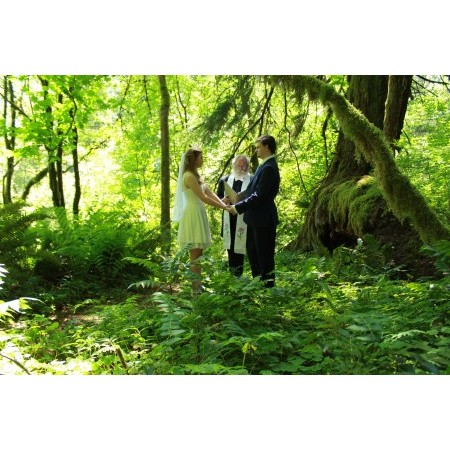 14/25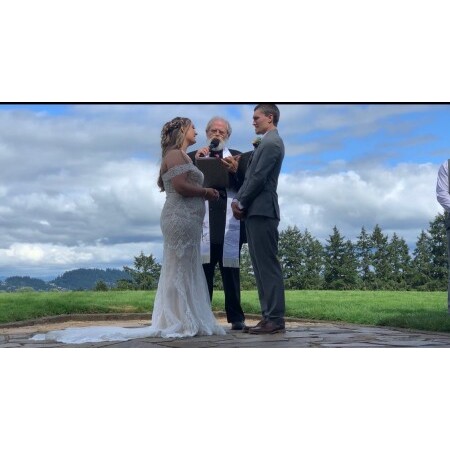 15/25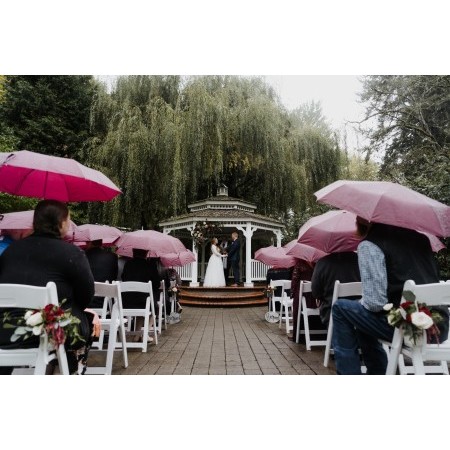 16/25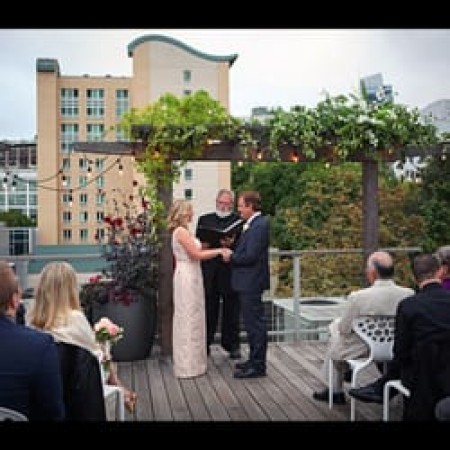 17/25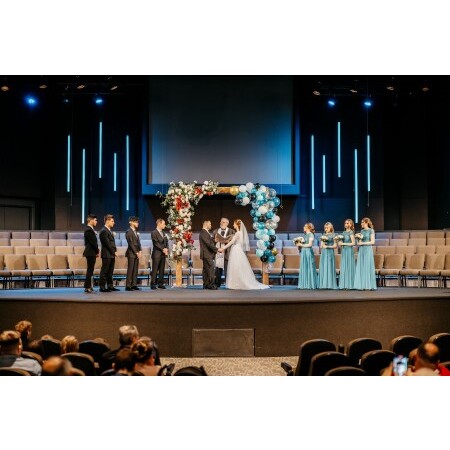 18/25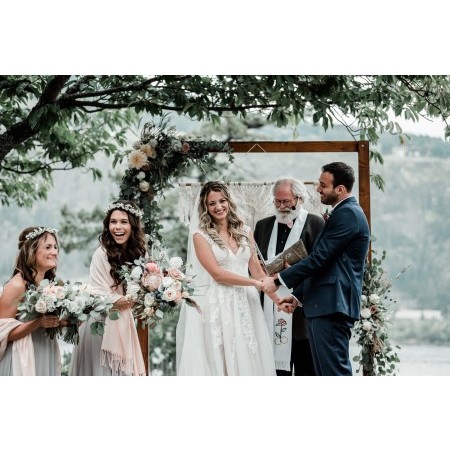 19/25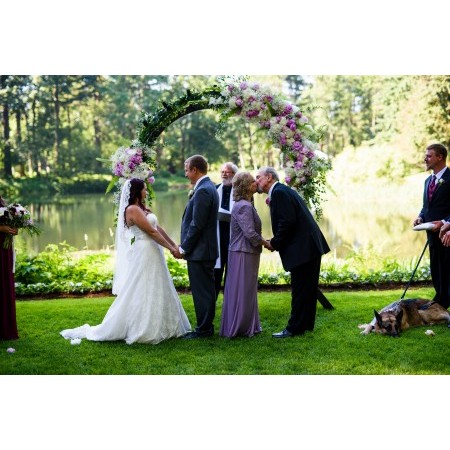 20/25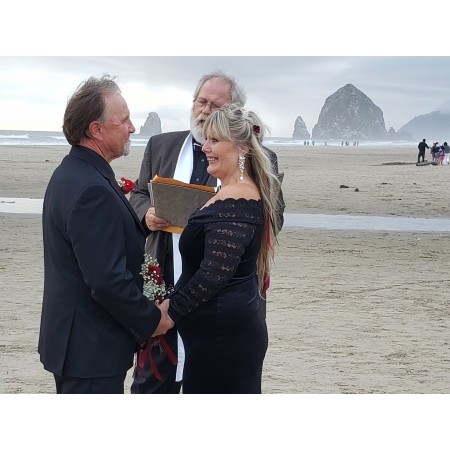 21/25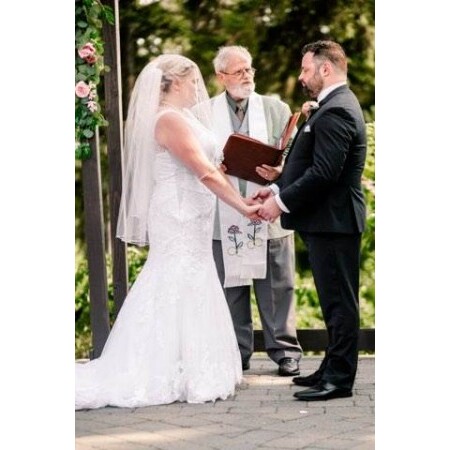 22/25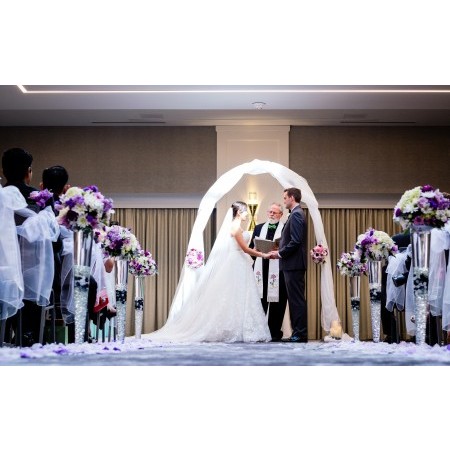 23/25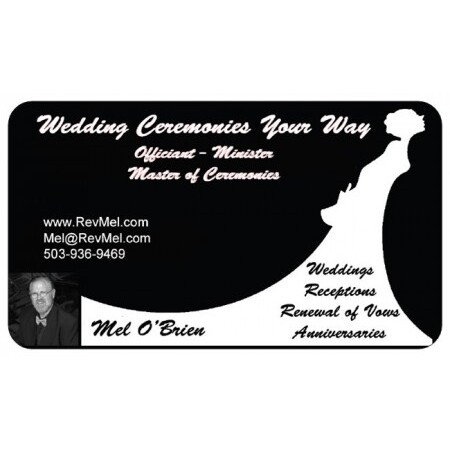 24/25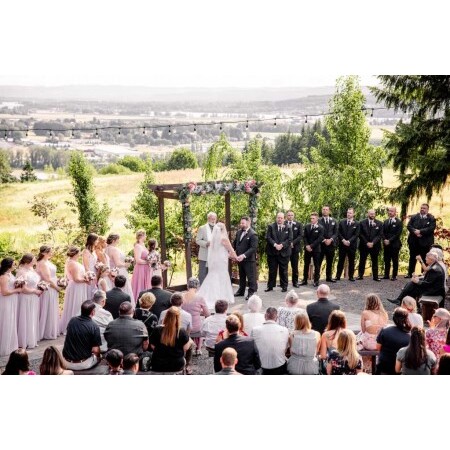 25/25
‹
›
"Mel was a perfect fit for us. We loved his personality and how easy he was to work with. He made the ceremony feel more relaxed an made all my guests laugh. Every one of my guests said he was very sweet and funny. They loved him. Thank u so much Mel for marrying me and Ryan."

Shyleen Lindstrom
"Rev Mel was incredible! He took the time to listen to our needs and to help suggest things that we didn't even think of. He was very communicative. He was very friendly and reliable. I appreciate him so much. I recommended him to my friend even and she hired him as well because she liked his style so much. I would recommend him to anyone getting married -- just an overall great human."

Paetra Chew
"Mel was the perfect person for our ceremony! Very easy to work with, clear with expectations, and professional. Had many vow options to help you get started if that's something you need help with. Put his own personal touch on the ceremony so it didn't feel "stale". Very warm and caring person, exactly what you'd hope for in the person who is about to marry you."

Morgan and Stephanie
"Reverend Mel was fantastic! His warm and friendly presence put us at ease, and the ceremony he did was perfect for us. We had the pleasure of meeting him ahead of our ceremony, and we knew we made the right choice based on how welcoming and friendly he was from the start. We'd highly recommend Rev Mel to anyone looking for a meaningful and special ceremony!"

Alyssa and Dom
"Rev. Mel is the best of the best! He is very communicative and thorough every step of the way. Highly recommend!"

Emmylea Williams
"Mel did a magnificent job with providing us with a very beautiful ceremony on such short notice. He handled everything and even showed us the perfect place for the matrimony pictures!"

Shannon And Derrick Lopez
"The wedding was spontaneous and beautiful. Reverend Mel was very understanding of our situation (both military members) and made our elopement memorable and perfect. Thank you!"

Natalya Pilozo
"Rev Mel did an amazing job marrying us. Extremely helpful during the whole process. Even though Brad and I screwed up during the ceremony, he managed to make it unnoticeable to our guests. Thank you, Rev Mel. We are forever grateful."

Christina and Brad
"We could not have asked for a more heartfelt, romantic, warm and fun ceremony. Rev Mel was most helpful through our planning and ALWAYS got back to us when needed. He was gracious and made us feel at ease. He also offered many ideas we never thought of to make our ceremony special FOR US. Our anxiety over planning went from 100 to zero with his help. If I could rate him 100 stars I would. Jeff was impressed with his personal service and the desire to help in making our wedding what we wanted."

Cindy and Jeff
"Rev Mel was GREAT! He responded promptly, treated us as special, was friendly, calming and very accommodating to our needs on our special day. Overall vibe was sweet, caring, relaxing and good humored. Would highly recommend!"

Lianne and Daniel Coslic
"So easy to work with, very personable, and gives you full reign on how you'd like the ceremony to go! He was kind, professional, and early to the venue which made everything go so smooth and stress free! I would recommend Mel for anyone!"

Katie Britten
"Mel was simply the best! He provided us with the quaint simple but memorable family elopement that was wanted. Mel was so sincere and kind helping make the day a lovely one. We are sincerely grateful he was the one that we chose to officiate our ceremony!"

Claudine Wade
"We started working with Reverend Mel a few months before our marriage. We lived in Indianapolis and were looking for someone who could marry us in Washington. Mel was such a gracious man. Her performed a beautiful and quick service. Highly recommended!"

Brent Koenig
"Reverend Mel was just incredible! Our ceremony was so beautiful and just what I had hoped for. He is so kind, and has this presence that truly makes everyone feel welcome, and calm. He communicated really well leading up to the wedding and helped us plan the perfect readings and vows for our ceremony. I am so happy we chose Reverend Mel for our wedding and I highly recommend him to anyone looking for the best!"

Lucy
"Mel was perfect. He was helpful, kind, and arrived on time despite hazardous weather conditions. He brought a smile to everyone's face whom he spoke to. I couldn't imagine a better experience!"

Jen and Lance
"I couldn't have asked for a better person to officiate our wedding! Mel was very sweet and accommodating. He made everything go by smoothly and helped us with the whole process. I would 100% recommend him for anyone's wedding. Thank you for everything Mel!"

Gwenyth & Luke
"When I first contacted Mel about his services, he responded in a timely manner. We went and met with him in person and decided we wanted him to officiate our wedding. He came out to the place we picked for the ceremony. He showed up early and socialized with those who showed up. He has a great personality and sense of humor. I would 100% recommend Mel to anyone who's looking for an officiator. We couldn't have had anyone better than Mel marry us! Thank you Mel for being our officiator."

Linda Masterson-Culter
"Reverend Mel was cool, calm, and capable like he's done this before 100's of times. It definitely showed, and despite my own personal reservations of "shopping" around for an officiant, I was very pleased with the outcome, so much so that I genuinely believe he deserves 5 stars. I recommend him and I'm grateful for his experience."

Wade N Rogerson II
"Rev. Mel was awesome. He was super nice, on time, and helpful throughout the whole process. I would recommend him to anyone who needs to get married. 5 stars isn't a high enough rating."

Brian Fitzgerald
"Rev. Mel is an excellent choice. He is very kind and has a great sense of humor. He made our wedding headache and hassle free. We absolutely recommend Rev. Mel. Thank you again for the extra help."

Steven and Melissa
"Mel was so warm and welcoming when we contacted him. He put our minds at ease when things were so crazy and hectic. Even though I fainted during vows, he quickly reassured me that everything was alright and that I definitely wasn't the first bride to do so haha. It made me feel so much better and we had a wedding to remember. We would highly recommend him to anyone."

Brandi J.
"Mel was such a pleasure to work with! He has a great sense of humor and made our ceremony special and fun!"

Julieyago
"Mel was terrific! He was professional, warm, and funny. It was a pleasure to have Mel officiate our wedding. We went with Mel's suggestion to be married on the local ferry, and that ended up being a wonderful idea. Thank you, Mel, for making our special day that much more special."

Ken and Susan
"Could not ask for a better person to conduct our wedding. Mel goes above and beyond to make our wedding day very special. Just a great person, we are thankful for everything you have done for us. God bless."

David and Tylor
"Mel was fantastic! We first met him at his home to have our first meeting and he was so welcoming and down to earth! We ended up having to switch venues and dates due to our venue getting ruined by the ice storms this winter. Mel was so great at keeping communication as our plans changed and was very flexible about having our ceremony sooner! We also loved how customizable it was and liked that he had premade vows and poems for the ceremony that we could mix and match. We would totally recommend!"

Hope and Patrick Beeler
"I was having trouble finding someone to marry us when I came across Mel's page. He quickly responded to me every time I had question and was very helpful. We asked him to marry us a month before our wedding. He is very easy to get along with and did a great job at our ceremony. He had a lot of options for vows and helpful tools for planning. He was also willing to do the ceremony how we wanted! I highly recommend him to do your wedding."

Alyson Gates
"Prompt and helpful communication, very accommodating, and such an amazing officiant. He made our wedding so easy to plan and worked with us to make our ceremony as personable and smooth as possible. We highly recommend!"

Austin Biaggne
"I just want to say that we loved Mel from the get go, such a warm and knowledgeable person. Gave us information we needed and helped guide us for a beautiful day! I could not have asked for a better officiant. Thank you for making the day special and beautiful Mel."

Kaitlynn Van Ness
"Dealing with Wedding Ceremonies Your Way was just easy and great. My wife and I are very pleased and would highly recommend to anyone!"

Alejandro Pena
"Mel was absolutely perfect. Completely professional, personal and exactly what we were looking for. During these interesting times of Covid, Mel was our shinning light in the year of 2020 on our blessed day. We would give a 6 star review if possible. We highly recommend Mel and his insight, warmth and his unforgettable smile will always be a beautiful memory in our lives. We could not have found a better person for our perfect day. Two thumbs way up!"

Erik Bond
"Such an amazing experience. So grateful to have Mel be there on our biggest day! Highly recommended to any newly engaged couple to seriously consider this amazing man to be there for your best day!"

Chris Henderling
"Reverend Mel is the whole package! From the time we first contacted him to let him know we were traveling from Illinois to Washington to be married to this day still, he has treated us as friends. We loved having you to marry us! Things could not have gone better and we thank Rev. Mel for that. He is a very generous soul with a great sense of humor and a love for people. Thanks for everything Reverend Mel. You are definitely on our Christmas card list!"

Matthew Barnes
"We loved having Mel as our officiant for our wedding! He understood we wanted a simple and sweet ceremony. He was very personable and we would highly recommend him!"

Emerald and Leighton
"We had the most wonderful and personal ceremony last week. Reverend Mel officiated and was most kind and generous in helping us through planning our wedding ceremony and even our reception; incorporating what we wanted. He was always there for us and gave us ideas we had never thought of before. Fantastic experience."

Amber and Terry
"Our officiant, Mel, was so helpful is helping us create a personal and warm wedding ceremony and vows. He was gracious and helpful throughout our relationship with immediate call backs, emails and texting. We had no worries. Our ceremony was very special (without embarrassing him, Mel was too) and meaningful to us and our families, which he encouraged us to include in the ceremony in some way. Thank you so much, Rev. Mel."

Amber and Tom
"After giving my couple 3 options for officiants, Rev Mel was the one they choose and I was SO HAPPY! Being in the industry myself, I really appreciate an organized and responsive vendor. He would often reply within minutes. He was also kind and just all around sweet. I would highly recommend Rev. Mel to couples looking for a great officiant. I'll definitely continue to pass his name along to my couples. Thanks, Rev Mel! You were great!"

Amanda Day
"We live in California and knew we wanted to get married in Oregon. We realized we didn't know how or where to begin. From our very first contact with Reverend Mel, he helped us decide on a location and advised us how to get our marriage license. Our evening wedding on Cannon Beach was magical, exactly as we pictured it would be. Reverend Mel is professional, charming, caring and kind. Yes he married us, but we now consider him a life long friend. We feel blessed to have met him."

Laura Kogeler
"We are very happy to have found Rev. Mel. He understood that we just wanted a quick, stress free ceremony. After talking with him for just a couple of times, we meet at his house where he and his wife made us very comfortable. We had a great conversation that leaves you believing we have known each other for years! We left his lovely home and drove to the ferry where he performed our wedding as we crossed the river into Oregon. A great time and a forever memory. Thank you again!"

Mitchell
"Our camp fire wedding on the beach in Cannon Beach was more than we expected. Reverend Mel from our 1st consult and through the ceremony was flawless, warm and personable. He follow-uped ever so often to check on us before the wedding to see if he could assist in any way. In fact, we chose Cannon Beach rather than Seaside because it was more picturesque for photos and at his "to think about it" suggestion. We are so grateful to Rev. Mel. Thank you."

Amanda and Derek
"Rev. Mel was fabulous from our 1st meeting through the wedding, responded back to us immediately. He was so very helpful with ceremony vows, and ideas about the ceremony and the reception. He kept reminding us "it was our" ceremony with ideas to make it unique. Rev. Mel was exceptional before the ceremony speaking with us, my family and guests, bringing a calm to an otherwise very busy and stressful day. Wes and I can't say enough and we HIGHLY recommend him."

Brittany and Wes
"Planning a wedding 1000 miles from home in Minnesota was a challenge: finding a venue on the Oregon Coast, and our other needed people for the ceremony and the reception; but we found Rev. Mel who helped us find everybody we needed (cake, DJ and vacation rental venue) AND the "challenge" was GONE. Our ceremony was perfect. He was like "family" with our families, fun and very engaging. Dick and I can't say enough positive. Ten stars."

Richard and Debbie
"Thank you Reverend Mel! Would not be possible without you! You made it such a breeze. Not a lot of worries plus made it as personal as we can! He is highly recommended for your ceremonial / minister needs!"

Ann Albo-Weiland
"This was a special day. Rev. Mel was a very important part of celebrating our marriage and our parents' renewals of their vows; their 50th and 45th anniversaries: 3 ceremonies in one. Reverend Mel was gracious to all of our families and friends, socializing prior and after the ceremony. We heard nothing but high praises for his casual, yet professional and sometimes fun (when we goofed up) officiating our ceremonies, and we do too! We could not have asked for a better ceremony and day. Amazing."

Joshua and Sally
"Our wedding ceremony was the most important part of our wedding day. It was important that it be both meaningful and memorable. We did a lot of DIY for our wedding, but we wanted someone who really knew what he was doing for the actual ceremony. We were so fortunate to find Reverend Mel, who was both very experienced and affordable. He helped us put together a very personal & unique ceremony which focused on what was important to us, and also put us at ease both before & during our wedding."

Nancy and Bruce
"We thought it would be difficult to have a wedding in Cannon Beach, Oregon living in Victoria, BC. We found Rev. Mel who walked us through everything and all was perfect. Now getting our guests and family there was a challenge, but that was our issue. Mel is highly recommended."

Eli
"Rev. Mel was very friendly, caring and from the moment you meet him, made you feel at home - at my own wedding. We were nervous as it was but he led with confidence. He provided us many samples of vows since we were having a tough time coming up with some on our own -- phew! Our ceremony was warm and magical thanks to him. We recommend him to any and everyone."

Bobby and Sarah Crosby
"He was amazing. He does it simple, beautiful and quick! Super recommended. He works really well on your schedule, on time. And most importantly makes you feel confident! Loved it!"

Jessica Garcia
"An absolute pleasure to work with. Mel made us very at ease upon our first meeting. We fully enjoyed our day with him. He was very prepared and organized at all times and answered all emails right away."

Jennifer and Matthew DiMatteo
"We searched for just the right minister for our renewal of vows. It was important being our 50th year together, of course. After several officiants and ministers we met, we finally found the one, Reverend Mel. He assisted us in every way and offered suggestions, always responded back to answer any and all questions. The ceremony was warm, friendly and unique, just like him. 10 stars if we could give for Rev. Mel. We highly recommend his service."

Joshua and Tammie
"Rev. Mel drove through ice and snow to make it to Astoria and perform our wedding. Actually arrived before we did! Excellent ceremony, made the wife cry, perfect! You will not find a better officiant for your event."

Eldon and Tracy Maurer
"Our ceremony using Rev. Mel could not have been better even with the rain. He was like family, generous and professional. We cried, we laughed and will forever be grateful. Wonderful."

Jane and Paul
"Rev. Mel was great. He worked with our difficult situation and helped turn it into an amazing day. Thank you for a happy memory we'll always remember."

William Mattingly
"Reverend Mel was wonderful, easy to work with, patient, and gracious throughout our whole planning and wedding process. I recommend him to anyone!"

Diana Post
"Reverend Mel is very personable, easygoing, versatile. He provided us with a large sample of ceremony vows to choose from and allowed us to make our ceremony the way we wanted. We were complimented by a lot of family on the beautiful ceremony."

Ben and Michelle
"Nothing but amazing things to say! Rev Mel made sure our ceremony was exactly what we wanted. He was so personable and made everyone there feel like he was a long time friend. I loved that he makes it very easy for you to personalize the ceremony exactly how you want yet had all the resources for areas that I needed help with as well. I would recommend him for everyone!"

Annie Richardson
"From our first meeting we enjoyed Mel's company and suggestions, but the choices were always ours. He was gracious with our guests and professionally friendly, funny at appropriate times as well; like the time Matt froze during the ceremony and could not remember "I do". Rev Mel made our day more special. Seemed like family."

Linda and Matt
"Rev. Mel is amazing, he took the time to meet with us and really get to know us and what we wanted for our wedding. When the day finally came he made sure that our wedding was as stress-free as could be, he took care of everything. He also took the time to talk with our family and friends which meant a lot to us, as our family and friends mean everything to us. He is professional, very friendly, and a amazing to talk to. I would recommend Rev. Mel to anyone. He is truly the best."

Nicholas Reis
"My wife and I were very happy about Mel and what he was able to do for us and our ceremony. We asked him on short notice as our other option fell through and he was more than happy to help us out. He was so nice and very gracious on the day and was able to meet our requests while having his own charm at the ceremony. Very easy to get a hold of too! We would recommend Mel to anyone looking for a fun and easy to work officiant who can take the stress off the paper work things."

Annie and Guy
"Rev. Mel was absolutely wonderful! We decided to renew our vows on our anniversary. He sent us samples of ceremonies which we used to create our own special day. He was also very accommodating and traveled to our requested venue. Rev. Mel is warm, genuine and truly caring. He has a twinkle in his eye that radiates God's love in his heart. My adult children even commented on how special he made us all feel."

Jackie and John Moulthrop
"We have nothing but praise for Reverend Mel! He was accommodating, warm, humorous and thorough. We loved meeting with him prior to our ceremony and felt a true connection with him during our ceremony. We could not have asked for a better officiant for our wedding! Reverend Mel played a huge part in making our wedding ceremony truly memorable and special. Thank you, Reverend Mel for a lovely wedding!!"

Kristi and Tom
"Mel is such a fun person to work with! He was helpful from start to finish and even sent sample vows and ceremony ideas for us to look over. He was totally on board with me writing our own ceremony wording and delivered it perfectly. We are so blessed to be able to work with Mel, we highly recommend him to compliment your special day."

Michelle Gowins
"Mel was so great on our special day! I was in a bind and he quickly and professionally helped us out. I couldn't be happier with our decision! I instantly felt comfortable and at ease - his experience and caring is evident immediately. It's very apparent that he has outstanding integrity and truly loves what he does. Mel was so accommodating and kind, I would recommend him to anyone! Thanks again Mel, we had a perfect day!"

Crystal and Vitaly
"We are so happy we chose Rev. Mel to officiate our wedding ceremony. He did a wonderful job helping us pick vows that would make the ceremony memorable for ourselves and our guests. Thank you so much!"

Erin Holdgate
"From the moment we met Mel, we knew right away he would be our officiant. Communication was made easy seeing as we both have similar senses in humor. Mel is very kindhearted and has a "go with the flow" vibe - which proved to be very helpful during my incessant giggling during our ceremony! We loved Mel, and we had bribed him with Costco hot dogs and voodoo doughnuts to meet our family at the reception. He is a very experienced officiant who you can rely on -- and I'm glad we chose him!"

Jacqualine
"Mel was the best. His vow samples helped us immensely in organizing and writing our own, which Mel executed to perfection. We were also greatly appreciative of Mel's flexibility to approach the service in a way consistent with both of our values and beliefs. Mel was a calm and welcoming figure in the craziness that can be your wedding day. Working with Mel felt like working with someone in your own family."

Michael Farnsworth
"I would recommend him any day! Such a nice person and added that perfect touch to our wedding. I can't thank him enough! He was on time, very professional with a great sense of humor!"

Kelsey Burkhardt
"Rev Mel is the sweetest. He's been very responsive and supportive throughout the whole process. We have never met him till the day of the wedding. From what I've heard from my guests, Rev Mel has taken the time to greet my guests. He's funny during the ceremony and he caters the ceremony service according to what we like. We are very pleased with Rev Mel and will recommend him to everyone we know."

Kellie Seetho
"Rev. Mel was very kind and welcoming to us and sent us a great sample of vows to customize as we saw fit. He respected our wishes to recite the vows in the way we requested, without adding or inserting anything further."

Melanie and Jared
"Rev. Mel married my wife and I in June 2017 and he was very flexible with respect to ceremony procedures. We wanted our wedding to be more on the secular side and he was willing to oblige. He had many of his own vows that we based ours upon and was very helpful in helping us choose what was to be said on the big day. He's a warm and friendly person that I would recommend any day to any couple looking to get married!"

Nick O
"Great job for July 8th wedding. He really let us do things our way. He gave us a lot of different ideas and then let us customize. He also was very good about keeping us on schedule before and during the ceremony."

Jared+Marie
"We're so glad we chose Rev. Mel. A nicer person can't be found. Even though our ceremony was a little late and Rev. Mel had an appointment he was going to be late for, he didn't make us feel like we were inconveniencing him. He delivered the ceremony in a professional and fun way. All of our guests kept telling us what a great job he did. I recommend him to anybody who is looking for a great officiant."

Carol Lawson
"Rev. Mel was great! From the first meeting I knew he would be a great officiant and he was. Working with him was easy and enjoyable."

Melisa Bourgo
"We were extremely happy with Rev Mel. He gave us lots of ideas on how to create the perfect ceremony for us. All I can say is everything was perfect!!! A great ceremony! Thanks Rev Mel!"

Melinda & John
"He made our wedding so special. He had so many great ideas for our vows and ceremony. He helped as much as we asked him, because we were pretty clueless as to what we were doing! He helped us involve our children in the ceremony so it really felt like our families were becoming one. We highly recommend Mel, he knows how to make a wedding truly memorable! Mel is truly amazing."

Courtney and Ben
"We knew Mel was right for us after our first meeting! He is so kind, and willing to work with us every step of the way. He was very respectful towards us, as well as our guests. He is professional while being personable. We definitely would recommend Mel."

Melissa Sutton
"Mr. Mel was very kind and very helpful, and if you are looking for a minister for your wedding, I recommend him 100%. He takes his time to listen to you and what you want for your wedding! My wedding was a dream come true and I wouldn't have it any other way! Both me and my husband are very happy. He made our day. He really cares about what you want for your wedding. He listens and gives wonderful ideas! We really want to thank you, Mr. Mel, from the bottom of our hearts!"

Chara & Derek Gorden
"Mel was incredible! Very personally involved. He is a minister of choice."

Jo Smith Simons
"Mel was a great officiant. After interviewing a few other officiants, we determined that Mel was by far the most helpful, friendly, kind, and welcoming person. Our ceremony was meaningful and amazing thanks to him. I would highly recommend choosing Mel!"

Mackenzie & Nick
"Rev. Mel was wonderful! He made things super easy, classy and fun! He has a special and unique way of connecting to the guests and family of the Bride and Groom, unlike anything I've ever experienced."

Jacob & Laura Skidmore
"We are so happy we found Rev. Mel! Our initial meeting with him was such a blast, I can't imagine picking anyone else. He has a great sense of humor, a fantastic voice for the job and so many stories we just wanted to sit and listen to him all evening! He gives you many options for the vows to get you started, and is truly open to doing the ceremony YOUR way."

Liliya G.
"We're so glad that we chose Rev. Mel for our wedding! He was amazing to work with and followed up with me to make sure everything was going well afterwards as well. Thank you so much for being a big part in our day, Rev Mel!"

Heaven & Cody Hammond
"Rev. Mel officiated my daughter's wedding in Stevenson, WA. The couple was offered choices for the vows and the ceremony turned out exactly how they wanted it to be. Rev. Mel was great to work with, showed up early and performed a wonderful ceremony. I recommend contacting Rev. Mel if you are looking for someone who will care about you and your family. I'm not sure if he would want me to share that he suffered an injury the day before the wedding and still showed up and did a great job for us."

Deb S.
"In all the midst of excitement & celebration of our wedding planning, I knew that the ceremony & vows had to be perfect & unique. I was worried that we might not find someone engaging & fun, & really willing to work with me to create the perfect ceremony. When I met Reverend Mel, my concern vanished. He offered wonderful, experienced advice, helped us incorporate our own flare, & create the perfect blend of fun & romance as we said I do. I could not imagine a better outcome!"

Jennifer Hayes
"Mel was the best officiant we could have asked for. From the time we first met, something just clicked and we knew he was the one for our special day. Our ceremony was beautiful and it was all thanks to him!"

Khristyl and Cory
"We had a super short ceremony, by design, and Rev. Mel helped it flow through without a hitch. Rev. Mel is very warm and sweet in his mannerism. He made sure that we knew exactly what our parts were during the ceremony and officiated beautifully. He went above and beyond, coaching us through the whole process from the very first moment that we met down to the very last form that we needed to make it all legal. He is a very special person and very highly recommended."

Andrew and Natalie
"Rev. Mel married my son and daughter-in-law 10 days ago. He did a great job and we all felt he took the time to understand what they wanted and made it feel as if he knew them. The ceremony was the perfect length and we felt he was part of the family."

Angie
"Rev. Mel made our day, literally! After our Pastor herniated his disc two days before our wedding, I was blessed to find Rev. Mel. He did a wonderful job and was available at short notice. I would recommend him to anyone in the area. Absolutely fantastic!"

Sasha and Kai
"Our wedding ceremony was as we wanted, including our families. Your MC personality and service made our reception flow seamlessly. Many thanks helping with both. You'll be hearing from two couples we know getting married. You have our highest recommendations."

Jack and Jane L
"My mother reminded me today how wonderful our ceremony was is June. I am leaving this to tell you just that and 'sorry' it took me so long to say something, but doing it now because you helped us so much in with our unique and uber romantic ceremony. Thank you very much and Merry Christmas, Mel."

Amanda and Josh
"Rev. Mel gave us the exact ceremony we wanted. He welcomed us into his home like part of the family. His deck is also great for pictures!"

Omar and Jillian
"I had my ideas of how my wedding was to be for years. Rev. Mel was excited to make those dreams of mine happen including suggesting enhancements beyond my and Ronnie's thoughts. My wedding was wonderful beyond my expectations. My guests and family said they also enjoyed our unique ceremony which included them too. Thank you many times over."

Ron and Melinda
"Rev. Mel gave us the exact ceremony we asked for. He welcomed us into his home like part of the family. His deck also makes for beautiful pictures!"

The Borjas
"His officiant services made our special day a wonderful memory we will forever remember and cherish. Thank you so much."

Brandy O.
"Went over and beyond to accommodate our vows to include a scene from my father's favorite movie and helped make our special day a most incredible memory!"

Michelle and Paul
"Reverend Mel was the first officiate we spoke to, but kinda wasted our time seeing to 3 others, we chose Rev Mel. His openness to our wishes with our unique wedding (we wanted a blend of humorous and serious) was refreshing without judgement, offering suggestions. Even though our wedding was an hour late due to late arrivals, he didn't blink and actually helped us stay composed and uplifted. Special guy, that Rev. Mel. Thank you."

Amanda and Jim
"We found Rev. Mel online and contacted him among several other officiants. He was quick to respond to our inquiries and guided us throughout the whole process. Two essential requirements for our wedding were for it to be nondenominational and brief. Rev. Mel was able to meet these requirements. If you are looking for an expert officiant, who will do the wedding the way you want it done, Rev. Mel is your man."

Vic & Holly
"Thank you oh so much for your support and being like "part of our family" on my and David's special day. We also want to thank you for getting our families to participate. We were worried about that. You made everything so easy for us, especially your heartfelt help with our unique vows."

David and Jay
"Thank you, Mel (Rev)., for your openness to our out-of-the-box, as you say, wedding. My family had fun, Jerrie and I as well. Your laughter helped with what we wanted. Thank you for all your help --- we were lost --- you helped us find the center for a wonderful ceremony."

Jerrie and Gavin
"I could not have been more satisfied with my officiant. Mel did everything he could to make it as stress free of an experience as possible. I was able to completely customize my ceremony by piecing together samples of ceremonies he had. He paid so much attention to the little details, and he was very affordable!"

Mrs Glimpse
"Thank you, Rev. Mel, for help with our unusual wedding, including the traditional things but being part of the 'a bit unusual'. Thank you for the suggestion to include our families in the actually ceremony. The 'rose' ceremony was perfect for our mothers. Again, thank you so much. Toby and I send you a BIG hug!"

Janice and Toby
"Thank you for the your help with our ceremony and vows. We were lost and glad we found you. Your sense of what we wanted and unique ceremony was everything we could have asked for and more. Getting our families involved was special to us and them. Thank you, thank you."

Toni and John
"Thank you for your addition to our wonderful ceremony. We appreciated all your help from the 1st time we met until even now, 3 months after our wedding. You are the sweetest man. We consider you a family friend now! I hope that is okay. Hugs, Dannie."

Dannie and Justin
"WOW! Unique vows we chose without hesitation. Review Mel was certainly a presence but did not overwhelm our ceremony. We appreciated his ability to make our vows seem "un-canned" and spontaneous. He drew our families and friends into our ceremony. His ideas to make our ceremony unique and special was welcomed. Thank you again. We also liked our gift wedding certificate so much we had IT framed."

Alice and Leland
"We loved have Mel to marry us. He was the best I believe to make a special moment perfect. He has a great personality and fits perfectly in with the family. We will remember him always and recommend him to everyone that we know. Thanks Mel."

Eric & Candice Stewart
"Thank you Rev Mel for your officiating our wedding as we wanted. Your help was wonderful working with us. Suggestions to make our wedding ceremony special, including our heritages and different cultures, our families at your suggestion AND what we wanted without any hesitation. It was PERFECT."

Donna and TJ
"Thank you, RevMel, for helping us through our vows. They were very special FOR US and unique FOR US. We highly recommend you not only for your warmth, but your voice and vocal ability, calm and waiting for me to stop crying. I didn't expect you to hand me a kerchief to wipe my eyes. The guests talk about the sweetness of that, but was a little fun too. It was special when you spoke to my guests spontaneously and it helped me calm down.Thank you for everything."

Julianna and Ryan
"Reverend Mel was perfect! I applaud him for taking on our wedding under short notice and for performing the ceremony beyond my expectations. I knew from our first phone contact that he would be the right officiant for our particular wedding: he had the right kind of voice plus the personality to carry this off. Rob & I got married center ice during a hockey game, in front of a crowd of 10,970 cheering fans. We needed someone who could do the big booming "announcer guy" voice in front of that many people and carry it off with confidence, aplomb, and professionalism - and of course, just the right amount of humor, too. We have already heard the playback from the arena audio, and Mel's officiating was spectacular. I would not hesitate to recommend Reverend Mel to others seeking a very special wedding ceremony. Thank you, Mel!"

Rob and Lulu
"We were married after only a 4 week engagement and having to organize everything fast. Rev. Mel was so helpful, even referring me to other professional for the wedding who all dine a most fine job. Rev Mel was simply a presence at our ceremony, but not overwhelming and made his voice, deep and rich, kept my family and guests involved. We managed to great our vows with his help and it included everyone. He also encouraged us to make it special for US. We did and he made it seem as though we had worked on our wedding for a year... flawless, elegant and with a little fun too. 10 stars."

Regan and Lee
"Rev Mel was awesome. He was very professional. He performed the ceremony just as we had asked along with some of his great suggestions. He made the ceremony worry free and relaxed. I would recommend Rev Mel to anyone getting married not matter their religious background."

Todd and Danielle
"We were very pleased with Rev. Mel's service - both pre-and post wedding. He was professional, courteous, respectful, and a delight to work with."

Martin and Sabina
"On short notice Mel was available, lucky because it was 4 hrs and our original minister was in an accident. Reverend Mel was a calming influence on us, knowing that he could come. He asked us about 10 questions to design our wedding vows. He came, he did. It was though we had worked with him for months. Amazing. We read some of the other reviews and we cannot disagree. Rev Mel and everything and more. We were in a real jam, and he made it PB and J for us. Hugs and kisses."

Elena and Gerald D - Longview
"Rev Mel was AWESOME! we forgot our wedding license and he stayed late for us no extra charge! He was funny and easy going, we couldn't have picked anyone better."

Darlene & Aaron
"We wanted a unique ceremony last month. We were helped by Rev. Mel to be inclusive of family current and past. We wanted participation from our guests and family. His suggestions made our ceremony like no other. He was supportive of the unconventional/traditional ceremony but included or spiritual wants. Rev Mel was so welcoming of our wants, we could not have been any happier. All our family was impressed with his delivery, but yet kept us the focus. We are so grateful."

Jeremy and Tamara
"Thank you so much!"

The Silbernagels
"Simply wonderfully customized ceremony last month. Unique vocal talent that made every word seem so important. Maybe just the moment. But everybody else was impressed how personal he made our ceremony feel. Including everybody as well. Thank you."

Sara and Jay
"We were so impressed with the warm of our ceremony for us, my family and my guests. We and Rev Mel included them all. We he spoke directly to us, and when he looked into our eyes I lost it. It was so moving. It was so real. And Rev Mel magically gave me an Irish linen which was really needed. His ad lib also lightened the mood when necessary. His presentation is real and felt from the heart. If you want a special ceremony get Rev Mel. And thank you again."

Y and J
"Thank you Rev Mel for the special ceremony that included all our families and cultures. The rose ceremony made our mother feel so special and adding our two cultures into this warm and celebratory ceremony made our day so special. Thank you. Liz says to give you another hug."

Tyler and Liz
"We wanted to thank Rev Mel for his heartfelt and special services for our wedding. Their suggestions to include others, and "ceremonies within the ceremony" made our wedding unique not just to us, but to everyone by what mt guests and family are still saying after 3 months. We had seen Rev Mel at another wedding and were impressed with his personal style during the ceremony... We really felt his words in our hearts."

Linda and David
"Rev Mel is warm hearted and heart felt in his celebrant presentation. That was nice considering the stormy day and all the changes we had to make that day. Mel drew our families into, and engaged them into, the ceremony to make even more memories for everyone. We had no idea about what we wanted said, but Mel worked with us and provided many samples from which we could choose bits and pieces from each to make our own. Our ceremony certainly was not canned. We personalized it and made it our own. Thank you so much."

Stephanie and Rog
"Rev Mel worked with us on customizing our vows to OUR wishes. Wonderful ceremony. Family still tells me how meaningful and heartfelt your delivery was, and our including everyone. Thank you again."

Tonia and Ethan
"Our original minister couldn't make it to the ceremony. We called Rev Mel and he conducted our wedding at the last moment,and you would not have known that. It was as thought we had spoken to him for months. It was literally one day. He is a Warm hearted and enjoyable man who made my wedding seem like it was the only important one in the world."

Cody and Darla
"Special is too simple a word for Rev Mel's presentation of our ceremony. Wonderful is a better word. He worked with us customizing our vows to make them "ours". Not to embarrass him but he was impressive with the presentation, like speaking to us and our family/guests, not "at" us. Everything seemed spontaneous and natural, and certainly NOT boring. The ceremony was actually fun, yet romantic."

A VERY HAPPY new Mrs Murray
"Jane was our officiate. Her husband was our photographer (absolutely Only Wedding Photography). She helped make our ceremony very special. She worked with our customized vows and gave us many suggestions to enhance the ceremony. She was gracious and included everybody in the ceremony as we wanted. It felt like we had all been friends for years. She has one of those big hearts."

Parker and Paige
"Thank you for officiating our wedding. You made it special and we didn't have a clue what we wanted except we wanted it traditional somewhat. Thank you for getting our guests involved. My dad said it was the best ceremony he had ever been too. We really appreciated all your suggestions. Thank you for the gift marriage certificate too. If was much nicer than the one provided for the county, and we have two too."

Jacqueline and Tad
"We thought we had a complicated ceremony, but Rev Mel didn't miss a beat, helped us orchestrate the ceremony and vows. And he, he says "we", did fantastic. Included in our vows were the rose and sand ceremony. We also had a native Apache special moment, and memories for relative's who had passed away that we wished were there (and they were in spirit). We had a "professional" photographer who didn't seem to know much about photos of things like the signing of the license or didn't seem to know what was important (which is weird) so Rev Mel advised him of the important pictures. Mel was our not planned coordinator for the wedding ceremony. Matt says to say "he is funny too at the right moments" like Matt's crying and not being able to repeat the vows without being embarrassed. Rev Mel made those moments special."

Becky and Matthew
"Reverend Mel was exceptional. He conducted our ceremony so our quest remained a part of the ceremony, not just observers. We were able to see over 100 sample ceremonies from which we could chose or make our own special vows from. We didn't have a clue, but Mel walked us through every step making it fun and personal. 1000 stars, Mel. Thank you for being part of our day."

Josie
"I don't know what got into me giggling most of the way through the ceremony. I was just so nervous. Rev Mel was wonderful, paused when he had to, and made my nervousness fun for everyone, Even though it was our wedding, it was the most fun wedding ceremony I was ever at, we hadn't even started drinking yet; Rev Mel didn't skip a beat and rolled with my issue at hand. Some of the weddings I've been too are very "dry". From what I hear from my family and friends, this wedding was anything but. And Mel helped make it so. He was wonderful. Chrissy has it right (below), but he is a FUN officiant, who happens to sound like Moses in the 10 commandments if I can say that. Mel is very unassuming too, so he might be embarrassed by this review but he will "roll with it", like with my nervous giggling."

Jessica and John
"From reading other reviews I can say "ditto" and it looks like Mel brings that "hankie" with him a lot, because he used it at our wedding too, except not for me, but for Will. The guests LOVED it. Mel made my ceremony very special. How he makes it GRAND, yet sweet and soft is beyond words. We just loved him. His sample vows say it all, and we have a had time putting one together. He helped us to make it our own and unique, yet not overly flowery. His presentation includes everybody and got everyone involved. He is gracious and does your "ceremony your way"."

Will's Patricia
"Reverend Mel was completely wonderful. He had sent us hundreds of sample vows that we could cut, copy and paste to make our own. He recommended special little add on ceremonies within our ceremony to include our family and especially our parents. Our ceremony was truly unique. He waited at appropriate moments because I "lost it" 3 times. He even pulled out a hankie for me when I needed it. The Rose ceremony he recommended was the crowning jewel of our ceremony it seems because that's what my and his mother still talk about. Tom thinks the kiss was. Rev Mel did our ceremony exactly as we wanted, humorous yet traditional yet unique."

Jan and Tom
"Rev Mel preformed a wonderful ceremony. He provided us with 100s of sample ceremonies that we copy, cut and pasted together to make our own. We added some things to make it even more personal. He recommended a couple special moments to honor our parents and our guests which we had never seen before and our mothers still talk about. When I "lost it" during the ceremony he handed me a hankie which ended up being a special moment too. He waited for me to collect myself, and continued without skipping a beat. He is very special, and to us too."

Sally and Jack
"Our ceremony was perfect. We wanted some special parts to be included. Todd and I also appreciated Mel helping us come come with our vows that spoke to us in a special way. We wanted a sentimental, yet at times humorous ceremony to involve everybody. Our wedding was in March and our friends and family still tell us how wonderful it was. A big part was Reverend Mel."

Letha and Todd
"Yes, they did it our way... with their help. We had a most beautiful wedding ceremony."

Anna and Jason
"Rev Mel did our ceremony exactly like we wanted. We had trouble finding someone who would. We didn't have any idea about our vows but had an idea of how we wanted the ceremonies and wanted vows to fit our personalities and beliefs. Rev Mel sent us many samples and we changed them to make them our own. He also suggested special ceremonies within the ceremony to make our mothers feel special and included and a special part that included our heritage. I know my grand mother was joking, but she said " That minister sounded like Moses, with a twinkle in his eye", maybe she was not joking."

Chrissy and Joel
Add Your Review of Wedding Ceremonies YOUR Way -Officiant/Minister/MC

Jazel & Abhi
Seattle, WA

Jaclyn & Jeff
Tillamook, OR

Ryan & Tracey
Leavenworth, WA

Gabrielle & Shane
Kent, WA

Becca & Kyle
Centralia, WA

Kris & Dave
Long Beach, WA

Jasmin & Joseph
Portland, OR

Cindi & Michael
Portland, OR

Mason & Ashley
Puyallup, WA

Guadalupe & Carlos
Salem, OR

Kristina & Connie
Astoria, OR

Hanna & Darius
Tacoma, WA

Gina & Brent
Kent, WA

Andelynn & Christian
Seattle, WA

Rebekah & Stephen
Portland, OR

Dayana & Cesar
Molalla, OR

Lizette & Stephen
Astoria, OR

Connor & Devanie
Tillamook, OR

Joey & Katie
Gig Harbor, WA

Travis & Alexandria
Shelton, WA

Carolina & Teodor
Renton, WA

Margaret & Allen
Lincoln City, OR

Nikki & Robert
Rockaway Beach, OR

Jennifer & Peter
Port Orchard, WA

Lay-loni & Joseph
Seaside, OR

Gina & Christian
Port Orchard, WA

Jamie & Jason
Tillamook, OR

Suzanne & Greg
Troutdale, OR

Sadie & Kevin
Astoria, OR

Jamie & Alan
Cascade Locks, OR

Nancy & Patrick
Eatonville, WA

Sarah & Cody
Sublimity, OR

Ami & Rich
Cannon Beach, OR

Breeann & Stephan
Kelso, WA

Jill & Joe
Kent, WA

Andrea & Emmanuel
Elma, WA

Ashley & Deyby
Boring, OR

Anna & William
Port Orchard, WA

Travis & Bethany
Tacoma, WA

Kristen & Andrei
Yelm, WA

Katie & Bryan
Longview, WA

Ross & Bridgette
Crescent, OR

Steve & Serene
Chehalis, WA

Joelle & Roman
Rainier, WA

Lianna & Patrick
Tacoma, WA

Tiffany & Nathan
Gresham, OR

Ida & Don
Renton, WA

Sherri & William
Lincoln City, OR

Maria & Jesus
Renton, WA

Gwenyth & Luke
Astoria, OR

Stephanie & Kenneth
Portland, OR

Cassandra & Martin
Spanaway, WA

Britney & Skylar
Gales Creek, OR

Andrew & Hannah
Portland, OR

Kim & Ted
Shelton, WA

Christy & Chris
Tacoma, WA

Julie & Stephen
Cannon Beach, OR

Janice & Faraz
The Dalles, OR

Heather & Doug
Oregon City, OR

Joshua & Miriam
Vancouver, WA

Elizabeth & Larry
Portland, OR

Darren & Amanda
Portland, OR

Baylee & Mason
Tacoma, WA

Jasmine & Dominic
Oregon City, OR

Erin & Jesse
Puyallup, WA

Hailey & Joe
Graham, WA

Larissa & Roy
Colton, OR

Nicole & Ryan
Rockaway Beach, OR

Xanthippe & Sean
Portland, OR

Amber & David
Vancouver, WA

Celeste & Iran
Dundee, OR

Lorena & Mark
Forest Grove, OR

Nickolas & Cassandra
Battle Ground, WA

Sephora & Joseph
Lincoln City, OR

Katie & Jonah
La Center, WA

Kelsey & Christopher
Cannon Beach, OR

Cody & Claudia
Cannon Beach, OR

Jessica & Christopher
Renton, WA

Ashley & Billy
Warrenton, OR

Carolina & Elias
Rainier, WA

Amber & Jorge
Renton, WA

Lillian & Charles
Clatskanie, OR

Sara & David
Vancouver, WA

Kelly & Brian
Cornelius, OR

Kayla & Sean
Arch Cape, OR

Leisa & Eric
Ridgefield, WA

Kayla & Conner
Beaverton, OR

Breeanna & Seth
Lincoln City, OR

Jillian & Keith
Gig Harbor, WA

Robert & Jairie
Portland, OR

Jayce & Daine
Battle Ground, WA

Norma & Kevin
Federal Way, WA

Kayla & Kai
Rockaway Beach, OR

Jessica & Robert
Battle Ground, WA

Anissa & Jacob
Gresham, OR

Rochell & Ken
Salem, OR

Valarie & Vance
Tacoma, WA

Bekah & Alex
Westport, WA

Edwina & Kevin
Government Camp, OR

Sydney & Cesar
Vancouver, WA

Edith & Tyler
Independence, OR

Brianne & Casey
Buckley, WA

Suzarah & Nabil
Portland, OR

Cheryl & Robert
Portland, OR

Andrey & Helen
Portland, OR

Mackenzie & Jake
Rochester, WA

Jen & Efren
Puyallup, WA

Angela & Robert
Bremerton, WA

Rita & Robert
Ocean Shores, WA

Diana & Deriel
Tacoma, WA

Haley & Thomas
Cannon Beach, OR

Cindee & Todd
Long Beach, WA

Rita & Joey
Estacada, OR

Justin & Jocelyn
Black Diamond, WA

Samuel & Taylor
Olympia, WA

Nicholas & Sumer
Salem, OR

Diego & Brittney
Yelm, WA

Chuck & Dorothy
Lebanon, OR

Anna & Jacob
Astoria, OR

Megan & Rick
Camp Sherman, OR

Tonia & Henry
Lakeside, OR

Jacqueline & Parker
Oregon City, OR

Kaitlynn & Alex
Woodland, WA

Natasha & Andrew
Madras, OR

Carolyn & Brad
Cannon Beach, OR

Victoria & Dean
Canby, OR

Jannette & Eugene
Vancouver, WA

Shawna & Lee
Bandon, OR

Chad & Katie
West Linn, OR

Camryn & Chandler
Oregon City, OR

Dawna & Timothy
Westlake, OR

Jade & Alan
Otter Rock, OR

Justin & Amanda
Vancouver, WA

Edward & Jenelyn
Albany, OR

Sandra & Eddy
Hubbard, OR

Brittany & Jack
Corbett, OR

Alexis & Emely
Portland, OR

Steven & Gladys
Long Beach, WA

Ghinny & Vladimir
Portland, OR

Shelby & Roman
Yelm, WA

Kaylene & David
South Bend, WA

Meghan & Jesse
Goldendale, WA

Kevin & Elizabeth
Marcola, OR

Jason & Kayla
McMinnville, OR

Joylynn & Taylor
Portland, OR

Hailey & Colton
Chehalis, WA

Margarita & Jose
Forest Grove, OR

Krystal & Clayton
Longview, WA

Yvonne & Steven
Oregon City, OR

Angelina & Scott
Corvallis, OR

Adam & Emily
Welches, OR

Delaney & Zack
Hood River, OR

Elizabeth & Ben
Warren, OR

Charley & Justine
Hillsboro, OR

Kevin & Malik
Salem, OR

Paige & Chris
Eatonville, WA

Nicole & Tyler
Rockaway Beach, OR

Kim & Brandon
Newport, OR

Shelby & Robert
Portland, OR

Melisa & Christopher
Siletz, OR

Francie & Brandon
Seaside, OR

Candice & Jason
Seaside, OR

Kori & Matthew
Pacific City, OR

Terry & Robyn
Seaside, OR

Alexandria & Trey
Dallas, OR

Heather & Tyler
Canby, OR

Monica & Keith
Olympia, WA

Lea & Jerry
Canby, OR

Melanie & Rye
Monroe, OR

Jennifer & Jorge
Clackamas, OR

Christopher & Kaely
Eugene, OR

Kate & Dan
Corvallis, OR

William & Charlene
Longview, WA

Carrie & Jason
Sublimity, OR

Veronica & Anthony
Prosser, WA

Jade & Daniel
Portland, OR

Austine & Brian
Elbe, WA

Paige & Randy
Troutdale, OR

Marie & Joel
Kelso, WA

Ashley & Justin
Cannon Beach, OR

Bob & Deanna
Portland, OR

Katrina & William
Portland, OR

Katrina & Stephen
Troutdale, OR

Kristina & Aaron
Independence, OR

Jane & Gary
Woodland, WA

Samantha & Vincent
Yakima, WA

Tiffany & Brad
Cascade Locks, OR

Erin & Austin
Oregon City, OR

Linda & Ted
Long Beach, WA

Princess & Juan
Tacoma, WA

Nuch & Brad
Maple Valley, WA

Rachel & Dalton
Copalis Beach, WA

Anastasia & Brendon
Beaverton, OR

Valarie & Heath
The Dalles, OR

Jessica & Adam
Fairview, OR

Tanya & Juan
Chehalis, WA

Eloisa & Bavo
Portland, OR

Christine & Andrew
Estacada, OR

Trisha & Jacob
Oregon City, OR

Maria & Glenn
Salem, OR

Christopher & Maria
Portland, OR

Skylar & Alexi
Rainier, OR

Stephanie & Dillen
Estacada, OR

Britini & Chas
Saint Paul, OR

MJ & Tony
Beaverton, OR

Billie & Bo
The Dalles, OR

Stephanie & Gary
Portland, OR

Jenalee & Jamie
Tenino, WA

Debbie & Cary
Seaside, OR

Kylie & Michael
Eugene, OR

Erica & James
Cannon Beach, OR

Michelle & Nathan
Portland, OR

Cari & Winfield
Salem, OR

Linda & Lee
Salem, OR

Anahi & Jose
Portland, OR

Rachael & Joe
Vernonia, OR

Eila & Gary
Battle Ground, WA

Kathlene & David
Brush Prairie, WA

Anya & Mitch
Tillamook, OR

Tatiana & Lander
Portland, OR

Christi & Dean
Lincoln City, OR

Trina & Adam
Seaside, OR

Kristen & Craig
Rickreall, OR

Gene & Tanya
Vancouver, WA

Debra & Randy
Centralia, WA

Maria & Jose
Salem, OR

Jana & Paul
Toledo, WA

Daniela & Emmanuel
Harrisburg, OR

Kerri & Todd
Welches, OR

Salen & Daniel
Fairview, OR

Julie & Heinrich
Madras, OR

Angelica & Aaron
Independence, OR

Tyler & Linda
Vancouver, WA

Julianna & Ross
Boring, OR

Isabelle & Chuck
Vancouver, WA

Katie & Justin
Canby, OR

Kassandra & Mathew
Hillsboro, OR

Suleyma & Francisco
Pacific City, OR

Tanya & Kenny
Washougal, WA

Stephanie & Angela
Vancouver, WA

Kim & Dave
Vancouver, WA

Stephanie & Jeffrey
Scio, OR

Christen & Dennis
Ridgefield, WA

Joni & Kelly
Portland, OR

Morgan & John
Portland, OR

Danae & Wesley
Lincoln City, OR

Aleshiea & Michael
Centralia, WA

Chelsea & Bryan
Monroe, OR

Melissa & Corey
Albany, OR

Ebony & Andre
Lincoln City, OR

Perla & Franklin
Beaverton, OR

Samantha & Zachary
Oregon City, OR

Breanna & Logan
Seaside, OR

Barbara & Gregory
Hillsboro, OR

Susan & Robert
Centralia, WA

Ken & Zulma
Portland, OR

Melanie & Michael
Seaside, OR

Laurissa & Keyten
Toledo, OR

Sarah & Jason
Portland, OR

Lela & Devon
Longview, WA

Tyler & Kate
Corvallis, OR

Courtney & Tim
Washougal, WA

Nichole & Joshua
Astoria, OR

Kim & Dave
Vancouver, WA

Heather & Matt
Wilsonville, OR

David & Sarilyn
Marysville, WA

Aniline & Brandon
Vancouver, WA

Jackie & Jacob
Portland, OR

Pamela & William
Salem, OR

Linda & Jason
Hillsboro, OR

Amy & Lemonday
Portland, OR

Penny & Matthew
Portland, OR

Tammy & Chris
Gresham, OR

Victoria & Mike
Salem, OR

Rose & Chris
Portland, OR

Jamie & Brian
Portland, OR

Phillip & Vanessa
Beaverton, OR

Danny & Lisa-Ann
Beaverton, OR

Maria & Jesus
Aumsville, OR

Cecil & Charity
Gladstone, OR

Beth & Mike
Portland, OR

Cindy & Tim
Washougal, WA

Vu & Thuy
Beaverton, OR

Andrew & Meredith
Scotts Mills, OR

Linda & Jessie
Gresham, OR

Donda & David
Vancouver, WA

Vicki & James
Portland, OR

Shawn & Dani
Chehalis, WA

Dustin & Robbie
Scappoose, OR

Breanne & Matthew
Chehalis, WA

Carrie & Adam
Beaverton, OR

Jaci & Duane
Kelso, WA

Annette & Steve
Portland, OR

Grace & Yuriy
Portland, OR

Christine & Anthony
Camas, WA

Belen & Miguel
Portland, OR

Jaden & Elby
Portland, OR

Richard & Mary Jo
Portland, OR

Adrianne & AJ
Portland, OR

Carolyn & Rick
Albany, OR

Terri & Colin
Bridal Veil, OR

Mickeal & Bridget
Vancouver, WA

Rashelle & Dave
Happy Valley, OR

Dawnett & Jorge
Forest Grove, OR

Brittani & Keith
Springfield, OR

Ashley & Ryan
Portland, OR

Samantha & Bryce
Gresham, OR

Sarina & Brandon
Longview, WA

Courtney & Kiley
Beaverton, OR

Kimberly & Richard
Hammond, OR

Lynne & Matthew
Oregon City, OR

Jacqueline & Braden
Dayton, OR

Laura & Jorge
Lake Oswego, OR

Phyllis & Ronald
Forest Grove, OR

Laura & Monty
Portland, OR

Cherry & Levi
Happy Valley, OR

Kelly & Tracie
Gresham, OR

Djaylan & Scott
Portland, OR

Jamie & Christopher
Salem, OR

Angelia & Dan
Battle Ground, WA

Rosaitzel & Fernando
Hillsboro, OR

Amanda & Skyler
Portland, OR

Elizabeth & Gerson
Portland, OR

Charley & Leah
Salem, OR

Shannon & Brian
Troutdale, OR

Preslee & Jordan
Canby, OR

Vanessa & Jeff
Albany, OR

Brenda & Duane
Rainier, OR

Dale & Dawnette
Wilsonville, OR

Scott & Kerri
Beaverton, OR

Kristen & Tyler
Hillsboro, OR

Tiffany & Jon
Vancouver, WA

Robert & Saddie
Portland, OR
"As an Army LEO veteran myself, I offer a discount to law enforcement, active military and veterans."
"Special for those couples postponing their formal wedding celebration due to COVID19, but wish to marry and later celebrate. Come to me with 2 witnesses in Cathlamet for only $95."
"Please ask for our e-Packet which is jammed backed with information you will want, including sample ceremony vows for ideas, experience, cost and helpful hints without ANY obligation."
"I was honored to officiate the Madras, Oregon TOTAL ECLIPSE wedding as seen on "The NBC Nightly News with Lester Holt" on 8/21/17. Video can be seen at RevMel.com A life changing event!"