Congratulations on your engagement! Athens, GA based ordained minister, Valarie Manning officiates Christian, non-denominational, interfaith, and civil wedding ceremonies, elopements, and vow renewals for ALL couples. With their input, she writes a unique, custom ceremony for each couple. No matter your vision...from the formal, traditional to whimsical and fun, she will help turn your dream ceremony into reality! Fees range from $250 to $500. Contact her for a quote for your unique ceremony!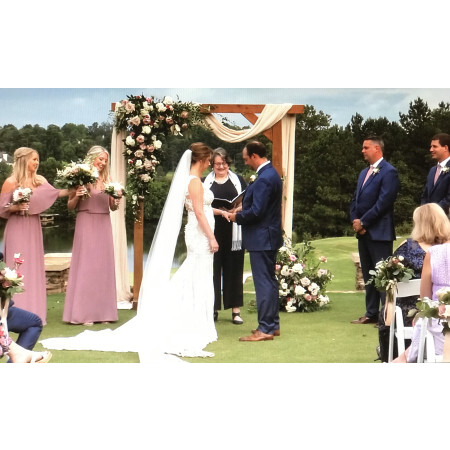 1/25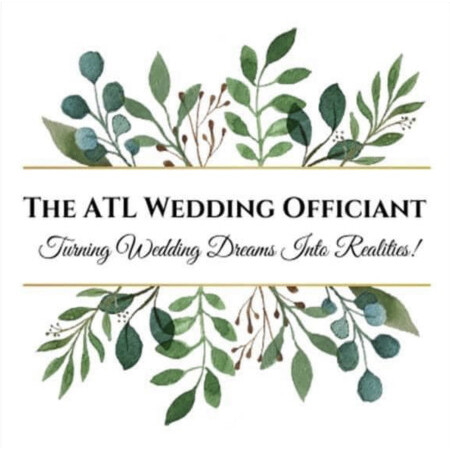 2/25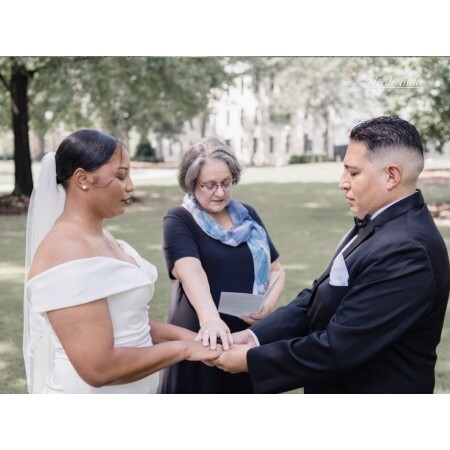 3/25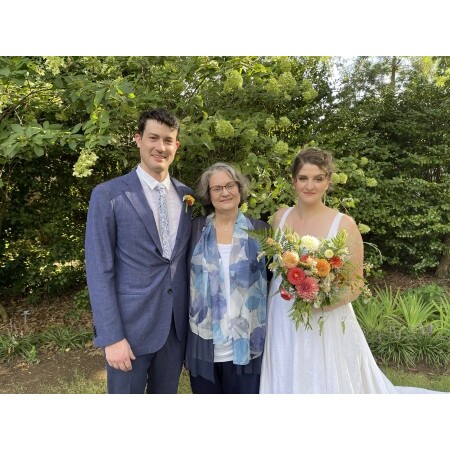 4/25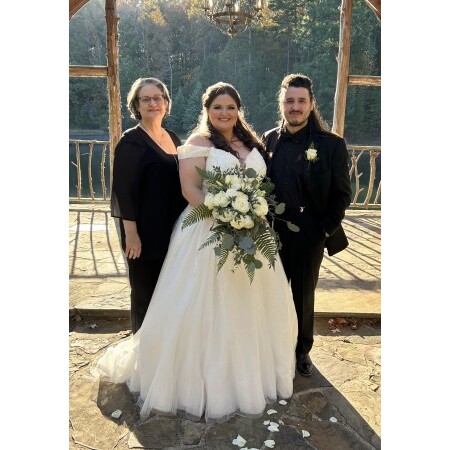 5/25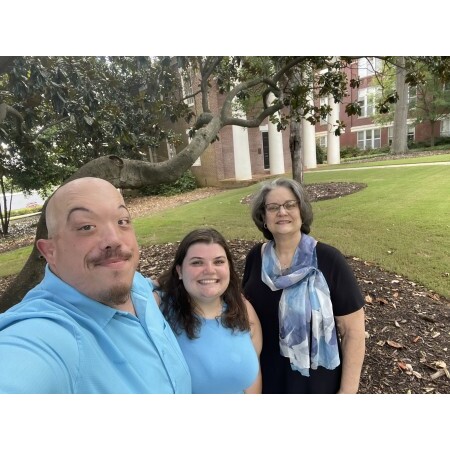 6/25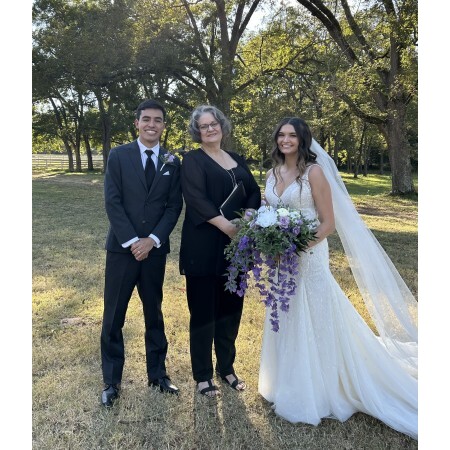 7/25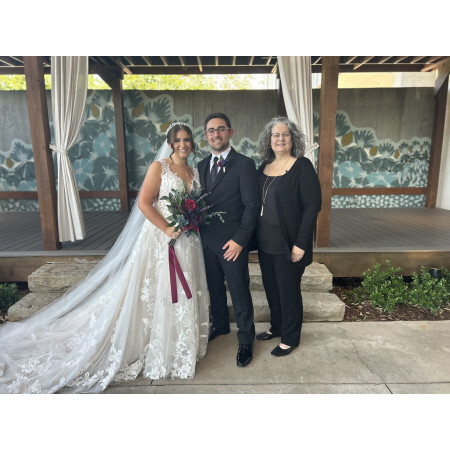 8/25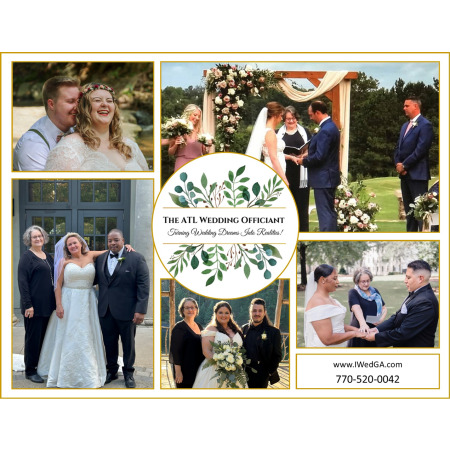 9/25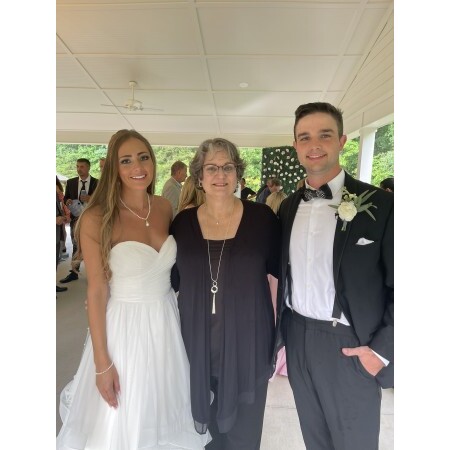 10/25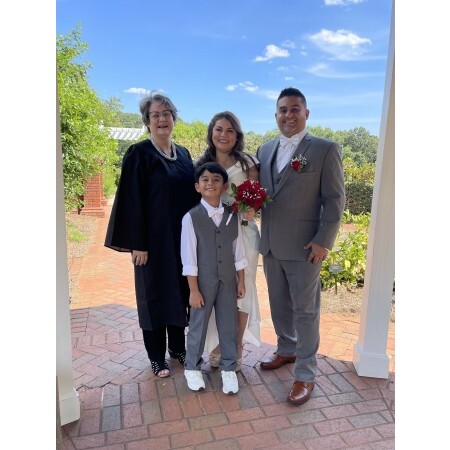 11/25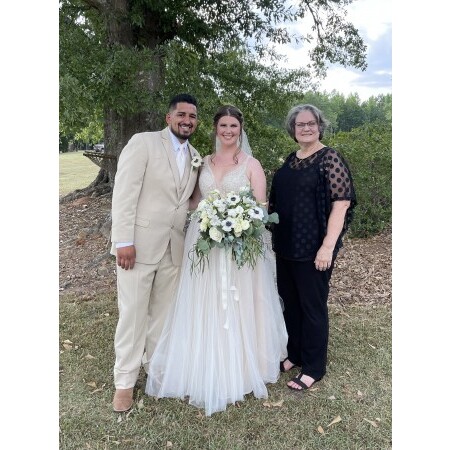 12/25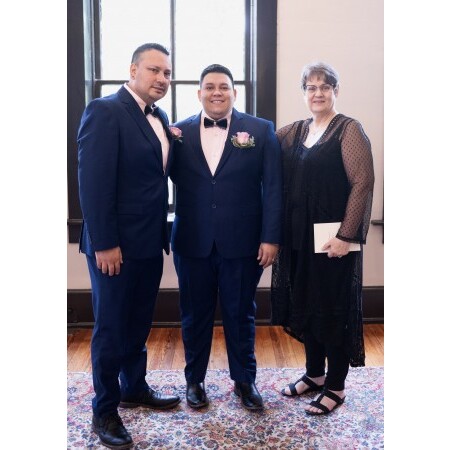 13/25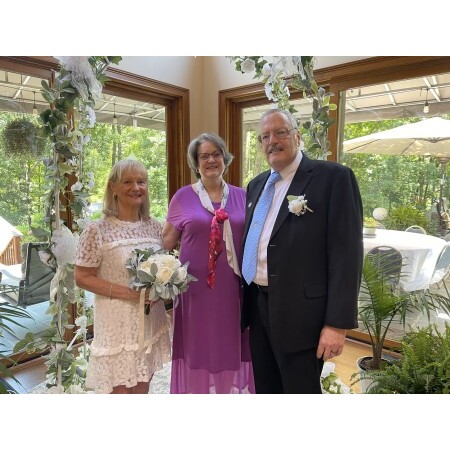 14/25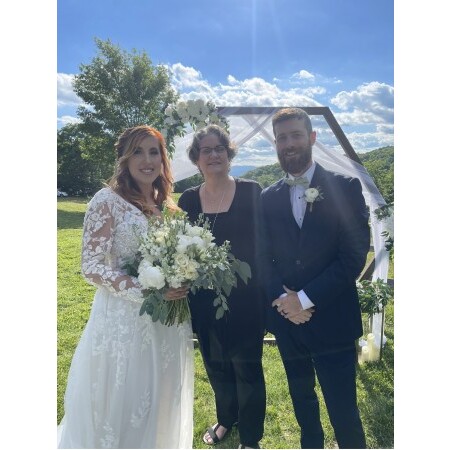 15/25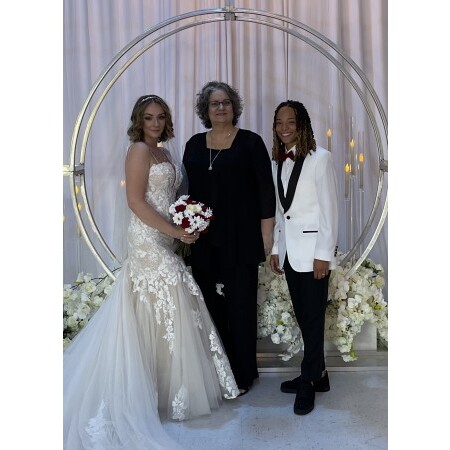 16/25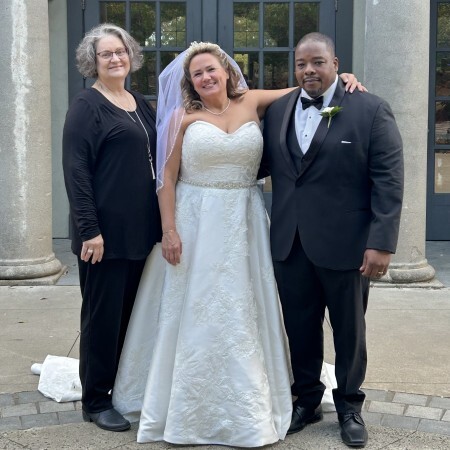 17/25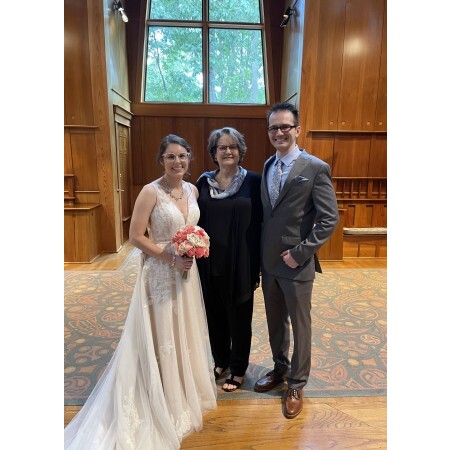 18/25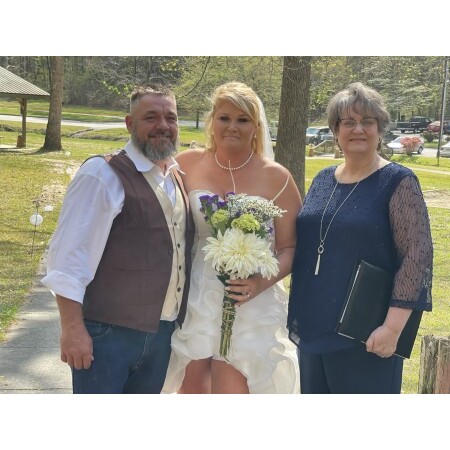 19/25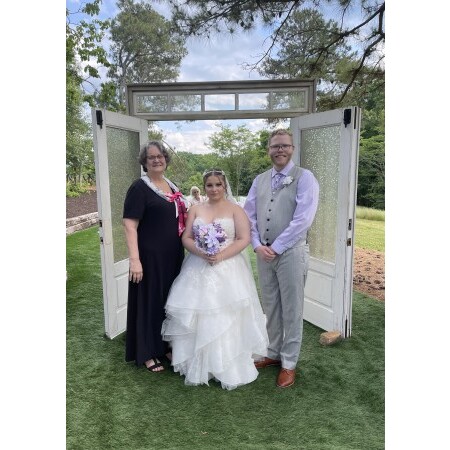 20/25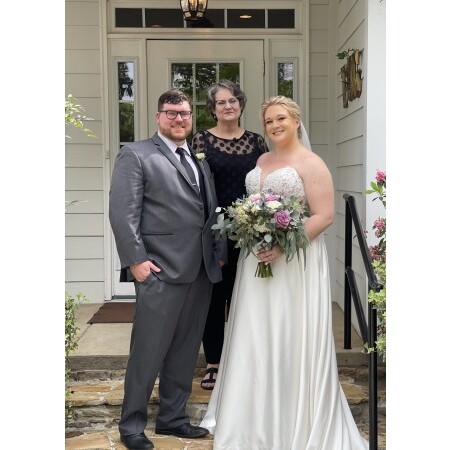 21/25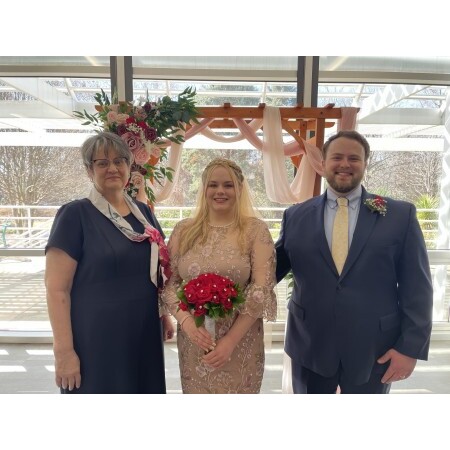 22/25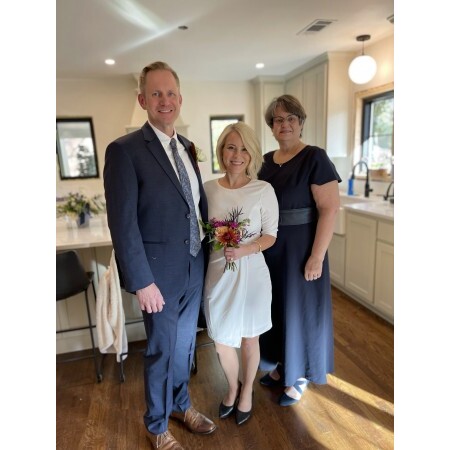 23/25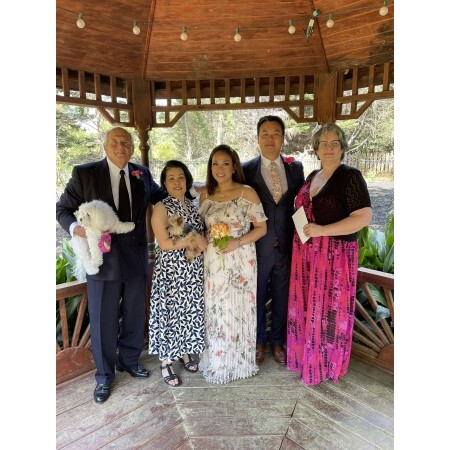 24/25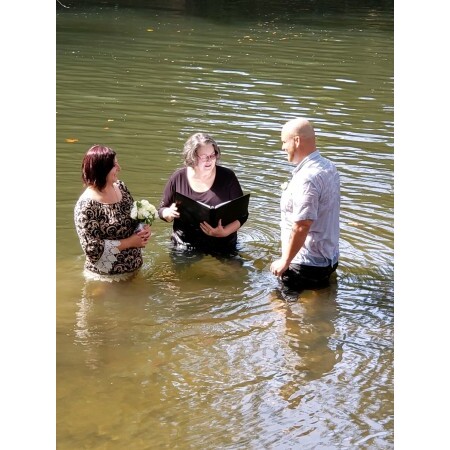 25/25
‹
›
"Valarie, thank you so much for everything this weekend. It was so fun and emotional and exciting, and we could not have asked for a better officiant to help us tie the knot! Your care for your clients and their big day shows so well and we could truly see you enjoy what you do! Thank you from the bottom of our hearts for helping us become The Boatwrights! With love, The Boatwrights."

Abigail Boatwright
"Valarie was very responsive and had great ideas for the ceremony. My husband and I are a bit of the shy type so I was so appreciative of Valarie's input for vows. She helped pick poems and emailed me the whole ceremony outline with different variations for me to chose from before the big day. I could not have done it without her. Very good pricing for the effort she puts into making your day special."

Sommer J.
"I loved Valarie's professionalism & her personality! I loved the speech she gave at our wedding & how comfortable my wife & I were able to be around her! Love Love Love Her!! Even after the wedding she stayed in contact!"

Alyana W.
"We used Valarie to marry us about a week ago. She made the experience easy and was very helpful to all my questions and concerns! She even helped us with the rehearsal. She is great!"

Amy L.
"Valarie is seriously amazing at what she does! She wrote an entire custom ceremony for my husband and I. We had conversations about how religious we are, readings we liked, even about our families. She offered ceremony suggestions and we ended up doing a beautiful cord of three [strands] that's now hanging in our bedroom! She also helped SO much with writing our vows! No amount of Pinterest helped me get started on my vows, but she sent a guide and I finished within an hour! She is your gal!"

Jamie M
"I knew from our first conversation that she was the one for us. She explained her fee and what it included. We wanted to write our own vows so she helped us with that. Since neither of us had ever had a wedding before she helped with that also. Valerie went above and beyond for us and we greatly appreciate it!"

Penicia
"Responsible and amazing. Valarie is so sweet and a comprehensive person that made us feel so comfortable in every moment. Also very flexible with our decisions. I highly recommend her. She definitely makes your ceremony more unique and special."

Adriana C.
"Our wedding was absolutely amazing! It was everything I dreamed about and more. Valerie is great from the beginning to the end. She made our very special day even more special. I would highly recommend!"

Mychelle S
"Valarie is the best! She wrote a beautiful wedding script that we added our input and made our wedding day all we had hoped it would be. I highly recommend Athens Wedding Officiants for your wedding plans."

Ronnie M
"The ceremony turned out beautifully on short notice."

Jeronica D.
"We loved it! Thank you so much!"

Alexandria V.
"Great couple to work with! Very nice and well prepared. My husband and I really enjoyed having Valarie marry us. Felt very relaxed having someone with the experience that she had. Would recommend!"

Shaunne D.
"Valarie was great and came through for us in very short notice. Her pricing was very reasonable and she drove out to our location without it being out of area. She sent helpful options for the ceremony and I was able to customize as needed. She also provided a commemorative copy of the marriage license and a copy of our ceremony. That was a nice extra we didn't expect. Thank you, Valarie!"

Hannah S.
"Valarie was extremely friendly and warm, and she took care of everything from start to finish. She catered the vows to fit us, and who we are. She was prompt in all of her responses and showed great enthusiasm in her work. We are very happy with our choice in Valarie and would recommend her to ANY couple in need of an officiant."

Elizabeth H.
"Valerie and Nick were so kind and thoughtful. They are very professional and considerate. I'm so happy we chose them!"

Lexi M.
"Nick did a great job officiating our wedding! Very happy bride!"

Kayleigh Khan
"My wife and I were guests at a wedding officiated by Nick. He mentioned at the beginning of the service that he had not officiated before, but then he led the exchange of vows with a calm, respectful demeanor appropriate for the occasion."

Paul C
Add Your Review of The ATL Wedding Officiant (Metro ATL/North GA/SC)

Destiny & David
Temple, GA

Jeremy & Jessica
Covington, GA

Arnelia & Damian
Wrightsville, GA

Eilene & Daniel
Alpharetta, GA

Aliciyah & Zachary
Greenville, SC

Shelby & Alexander
Cedartown, GA

Emma & Kevin
Williamston, SC

Tayla & Tajh
Conyers, GA

Sequoia & Viktoriya
Jonesborough, TN

Kyle & Lauren
Flovilla, GA

Matt & Olivia
Greer, SC

Wallace & Giovanna
Macon, GA

Anthony & Jennifer
Savannah, GA

Lauren & Zachary
Helen, GA

Thomas & Jane
Douglasville, GA

Mariana & Victor
Blue Ridge, GA

Melissa & Colby
Greenville, SC

Dana & Solomon
Suwanee, GA

Amanda & Orion
Jackson, GA

Michael & Kelli
Toccoa, GA

Cassidy & Cody
Belton, SC

Janrita & Kevin
Atlanta, GA

Rose & Jack
Peachtree City, GA

Jordan & Keaton
Woodruff, SC

Amanda & Tia
Conyers, GA

Kevin & Tonia
Madison, GA

Mike & Arica
Gainesville, GA

Zachary & Katherine
Canton, GA

Kathleen & Andrew
Snellville, GA

Mitzi & Tony
Buford, GA

Nikki & Corey
Clarkesville, GA

Mccall & Justin
Commerce, GA

Maria & Eduardo
Jonesboro, GA

Jessica & Brent
Newnan, GA

Savannah & Nicholas
Williamston, SC

Taylor & Justin
Clarkesville, GA

Samantha & Michael
Dawsonville, GA

Victoria & Fernando
Westminster, SC

Felicia & Kingsley
Alpharetta, GA

Dana & Jared
Liberty, SC

Caity & David
Appling, GA

Vanessa & Corwin
Colbert, GA

Sadonna & Atiba
Augusta, GA

Audrianna & Quincy
Buford, GA

Toby & Angie
Toccoa, GA

Michele & Jeremy
Augusta, GA

Audreay & Colbis
Greenwood, SC

Stacy & Steve
Jefferson, GA

Miranda & Eric
Anderson, SC

Tanya & Kenneth
Monroe, GA

April & Jimmy
Dacula, GA

James & Yijing
Atlanta, GA

Claire & Logan
Franklin, NC

Aimee & Branndon
Palmetto, GA

Sonya & Tubal
Stone Mountain, GA

Dustin & Jessica
Comer, GA

David & Christina
Winder, GA

Terrance & Khadeejah
Toccoa Falls, GA

Londa & Vincent
Douglasville, GA

Pamela & William
Lyman, SC

Kioni & Hakeem
Anderson, SC

Laura & Phil
Greenville, SC

Hannah & Calvin
Augusta, GA

Brianna & Malik
Douglasville, GA

Latonya & Tanya
Macon, GA

Ariana & James
Tamassee, SC

Caitlin & Hausley
Zebulon, GA

Cathy & Anthonny
Cumming, GA

Sydney & Renner
Macon, GA

Anna & Jimmy
Roopville, GA

Nakeisha & Terrell
Lawrenceville, GA

Wayne & Karli
Easley, SC

Adam & Elizabeth
Fayetteville, GA

Kathy & Michael
Ellijay, GA

Charlene & Ian
Alpharetta, GA

Heather & Chris
Covington, GA

Marsha & Jimmy
Walhalla, SC

Crystal & Brian
Loganville, GA

Desiree & Owen
Cullowhee, NC

Charles & Gina
Ellijay, GA

Kaya & Dakota
Marble Hill, GA

Amara & Katrecha
Atlanta, GA

Kelly & Michael
Colbert, GA

Cori & Karl
Iva, SC

Staci & Christopher
Murphy, NC

Alexis & Abigail
Monroe, GA

Bryan & Wilshun
Macon, GA

Kayla & Morgan
Dawsonville, GA

Patricia & Mark
Murphy, NC

Ang & Brandon
The Rock, GA

Robin & Dwight
Stone Mountain, GA

Ann & Sam
Madison, GA

Nique & Tim
Hiram, GA

Jason & Nickie
Villa Rica, GA

Meagan & Aaron
Gatlinburg, TN

Erleander & Tamia
Lilburn, GA

Michael & Amy
Gray, GA

Amy & Scott
Smyrna, GA

Roger & Catrina
Athens, GA

Raven & Joshua
Plum Branch, SC

Sean & Skylar
Cumming, GA

Lisa & Brandon
Monroe, GA

Anna & Michael
Dahlonega, GA

Kathleen & Henry
Greenwood, SC

Melissa & Coleman
Augusta, GA

Applonia & David
Augusta, GA

Farial & Kabir
Decatur, GA

Stacy & Zachary
Macon, GA

Ashley & Rafael
Winder, GA

Domineek & Kierra
Norcross, GA

Lindsy & William
Johnson City, TN

Ashton & Paul
Sautee Nacoochee, GA

Jessica & Kevin
Maysville, GA

Ariel & Casey
Greenville, SC

Joel & Lee
Marietta, GA

Natisha & Jasmond
Stone Mountain, GA

Megan & Cole
Clarkesville, GA

Deborah & Jewel
Adrian, GA

Christine & Isaiah
Stone Mountain, GA

Amos & Chastity
Dallas, GA

Lisa & Jonathon
Demorest, GA

Angela & Ismael
Forest Park, GA

Sabrina & Jesica
Chatsworth, GA

Quineshia & Tre
Austell, GA

Elinda & Todd
Clayton, GA

Eva & Petr
Lawrenceville, GA

Merissa & Jason
Blairsville, GA

Katie & Kerry
Warner Robins, GA

Sherri & Steve
Atlanta, GA

Natahlie & Trevor
Molena, GA

Sharon & Armean
Hephzibah, GA

Lovette & Bryant
Crawford, GA

Erica & Joshua
Eatonton, GA

Mary & Andrew
Aiken, SC

Matthew & Wendy
Ranger, GA

Edie & Kevin
Martin, GA

Tea & Thomas
Pendleton, SC

Amy & Chris
Sylva, NC

Judy & Josh
Mount Airy, GA

Martine & Melanie
Canton, GA

Temitope & Herman
Senoia, GA

Amber & Russ
Ellijay, GA

Aly & Zania
Macon, GA

Bethany & Warren
Sylva, NC

Frances & David
Macon, GA

Barbara & Mathew
Acworth, GA

Katharine & Ben
Duluth, GA

Sherry & Henry
Walhalla, SC

Leah & Blake
Athens, GA

Stewart & Heather
Greenville, SC

Jarin & Genevieve
Rockmart, GA

Jana & Seungmin
Lagrange, GA

Hope & Spears
Hephzibah, GA

Christy & Wayne
Spartanburg, SC

Blair & Rachel
Atlanta, GA

Emma & Robert
Temple, GA

Wilber & Tyler
Atlanta, GA

Alexandra & Ramsey
Greenville, SC

Victoria & Clement
Lawrenceville, GA

Alesia & Darien
Hampton, GA

Daisy & Joshua
Decatur, GA

Coral & Connor
Marietta, SC

Lajacquetta & Angus
Augusta, GA

William & Kayla
Cleveland, GA

Alice & Arquonnis
Atlanta, GA

Amy & Ryan
Otto, NC

Jessica & Tom
Woodruff, SC

Jazmin & Phillip
Atlanta, GA

Kevin & Debbie
Flowery Branch, GA

Kasara & Darren
Harrison, GA

Melody & Joel
Fort Valley, GA

Christopher & Ashley
Lake Lure, NC

Sierra & Jonas
Jackson, GA

Amanda & Nick
Dawsonville, GA

Sparkle & James
Atlanta, GA

Sherina & Monica
Atlanta, GA

Barbara & Vincent
Greenville, SC

Sarah & Zac
Grovetown, GA

Kailee & Phillip
Thomson, GA

Justine & Darrell
Norcross, GA

Perio & Zam
Atlanta, GA

Dustin & Emily
Toccoa Falls, GA

Michelle & Ronn
Toccoa, GA

Kristi & Robbie
Canton, GA

Marsha & Kenyata
Douglasville, GA

Tabata & Bruno
Cumming, GA

Patrick & Dawn
Gainesville, GA

Linda & Stephen
Easley, SC

Alyssa & Matthew
Spartanburg, SC

John & Kristen
Gordon, GA

Jeronica & Jardan
Winder, GA

Alexandria & Nicholas
Anderson, SC

Laura & Larry
Winder, GA

Karen & Miguel
Commerce, GA

Jacqueline & Andrew
Rutledge, GA

Samantha & Veron
Atlanta, GA

Denise & Jesse
Canton, GA

Austin & Joseph
Warner Robins, GA

John & Vicki
Comer, GA

Gary & Alecia
Evans, GA

T'erika & Hubert
Jonesboro, GA

Melissa & David
Ellijay, GA

Victoria & Michael
Greenville, SC

Patricia & Kevin
Hoschton, GA

Brandy & Kaleb
Villa Rica, GA

Hannah & Enoch
Dahlonega, GA

Cherish & Austin
Greensboro, GA

Nikki & Brandon
Boneville, GA

Darci & Walt
Franklin, NC

Calli & Al
Anderson, SC

Matthew & Matt
Taylors, SC

Kirby & Michael
Blue Ridge, GA

Vickie & Walter
Franklin, NC

Alec & Katherine
Macon, GA

Brandy & Kaleb
Villa Rica, GA

Jacquelynn & Anthony
Alpharetta, GA

Nikki & Joseph
Carrollton, GA

Shay & Darrell
Atlanta, GA

Kristy & Chris
Bogart, GA

Monica & Robert
Spartanburg, SC

Semeyon & Cherri-Ann
Jenkinsburg, GA

Dara & Benjamin
Decatur, GA

Amber & Darin
Greenville, SC

John & Leonard
Griffin, GA

Kayla & Chris
Pelzer, SC

Angel & Lesley
Norcross, GA

Samantha & Marlon
Morrow, GA

Holly & Chaz
Rydal, GA

Lethia & Gleason
Buford, GA

Kristie & John
Evans, GA

Jessica & Michael
Gainesville, GA

Laura & Cris
Loganville, GA

Vikie & Cody
Royston, GA

Haley & Levi
Talking Rock, GA

Renee & John
Lithia Springs, GA

Lisa & William
Aiken, SC

Katlyn & Reilly
Augusta, GA

Katelyn & Alan
Augusta, GA

Natalie & Joe
Douglasville, GA

Leslie & Ewaoche
Jonesboro, GA

Charissa & Kevin
Andrews, NC

Blamo & Belinda
Augusta, GA

Asia & Brandon
Stone Mountain, GA

Jeremy & Shelly
Appling, GA

Kat & Austin
Anderson, SC