Pro Wedding Entertainment - Eddie L, DJ MC

Charleston, SC

Updated 8 years ago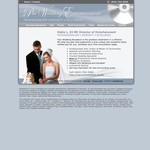 Pro Wedding Entertainment - Eddie L, DJ MC
Charleston, SC
Updated 8 years ago
Experience a truly wonderful once-in-a-lifetime occasion designed exclusively for you. Over 20 years experience planning and crafting the perfect celebration for those seeking fun, elegance and beautiful memories. To create a wonderful celebration it takes more than just music. I welcome the opportunity to share how that once-in-a-lifetime party can be yours. Free Consultation.
Send Message to Pro Wedding Entertainment - Eddie L, DJ MC
This profile has been viewed 983 times.