I understand that each couple is unique and of course, very special. Your ceremony should be a reflection of you. Together, we will create a personalized ceremony full of romance... a ceremony that will help you to express your most heartfelt feelings on your very special day... the perfect beginning! "Hitching countless Hearts" in Georgia, Florida, and Beyond! Please visit our website for more information about Hitching Hearts and available packages and pricing.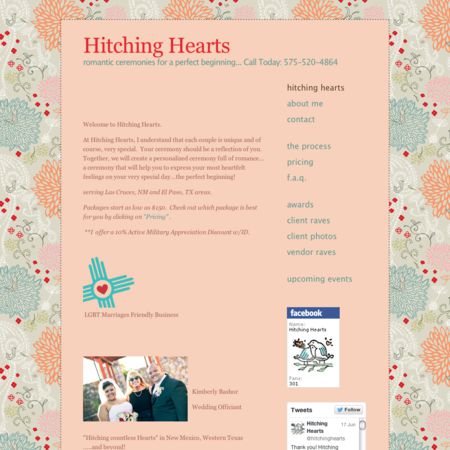 1/25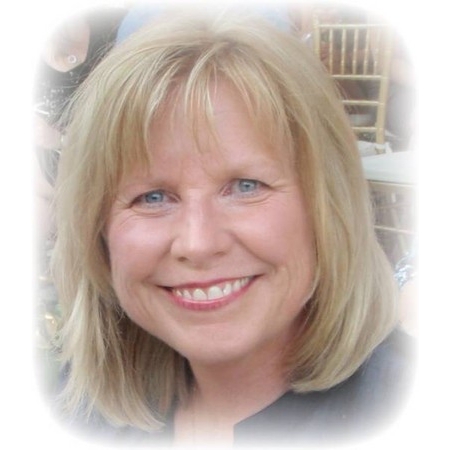 2/25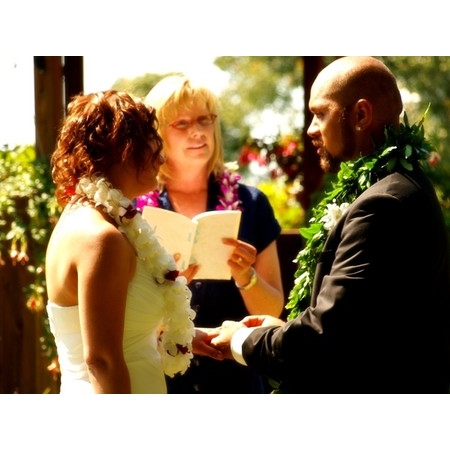 3/25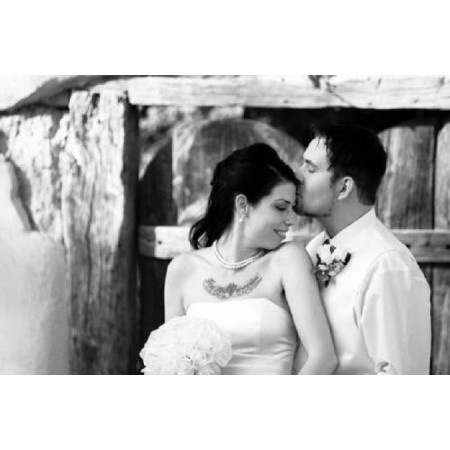 4/25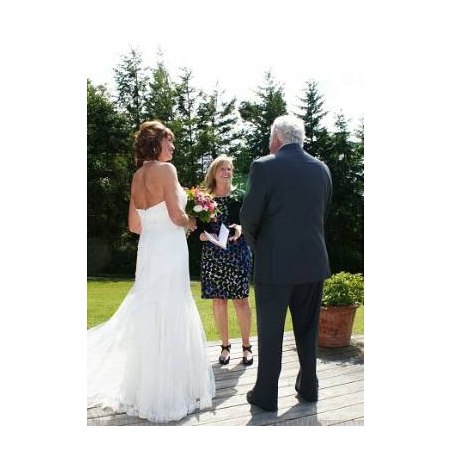 5/25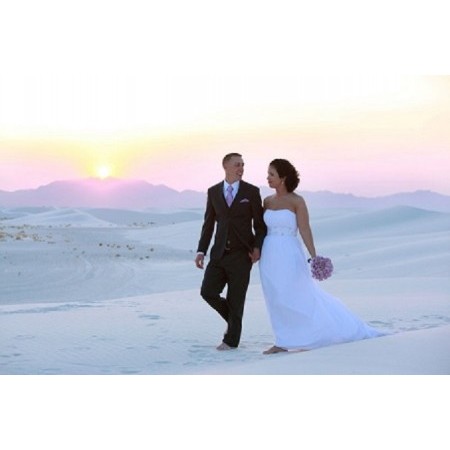 6/25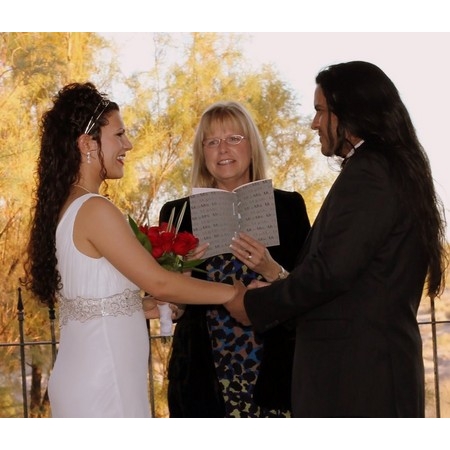 7/25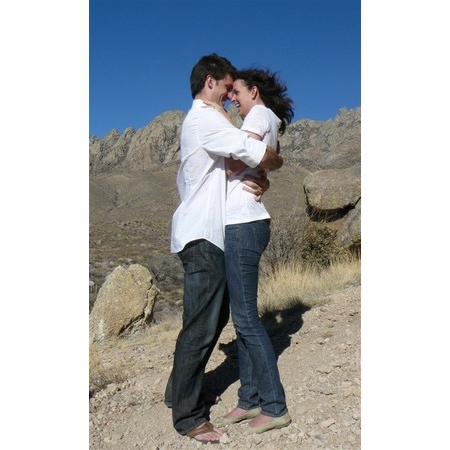 8/25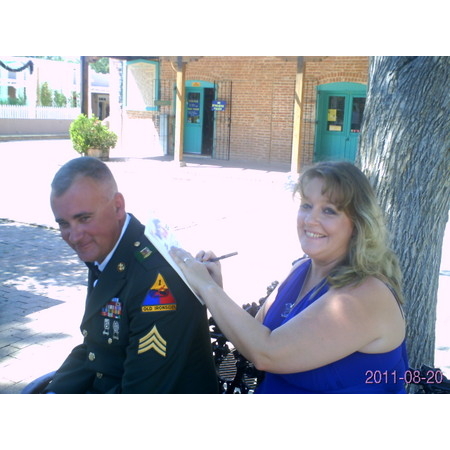 9/25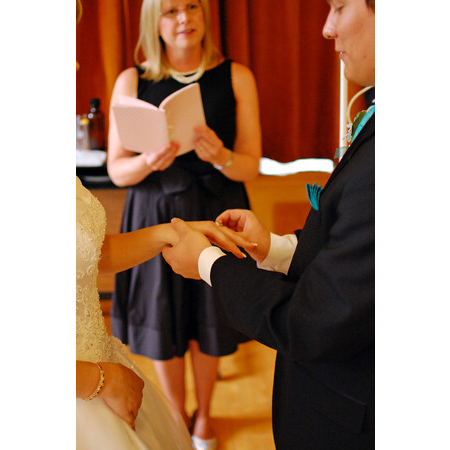 10/25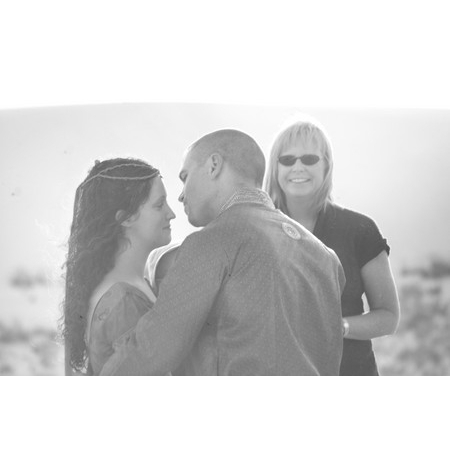 11/25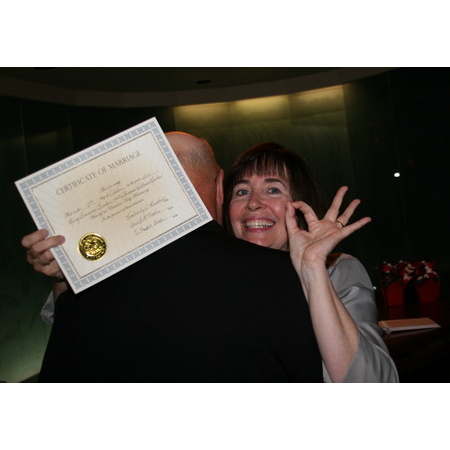 12/25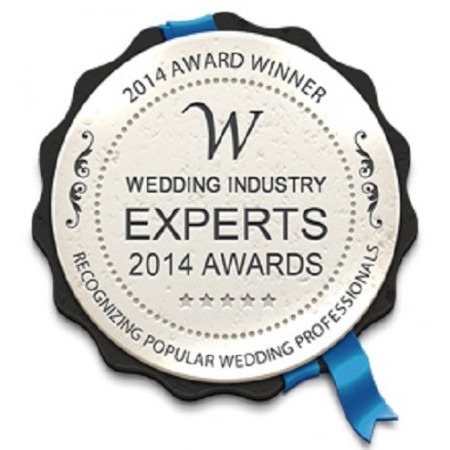 13/25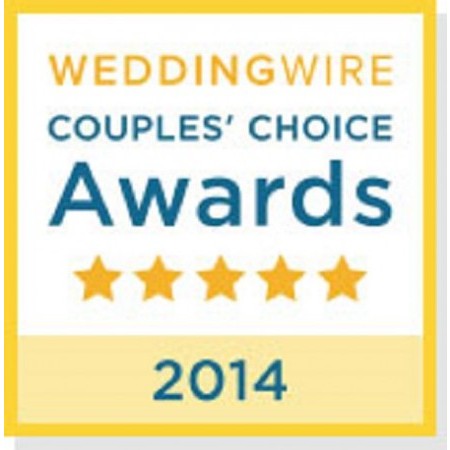 14/25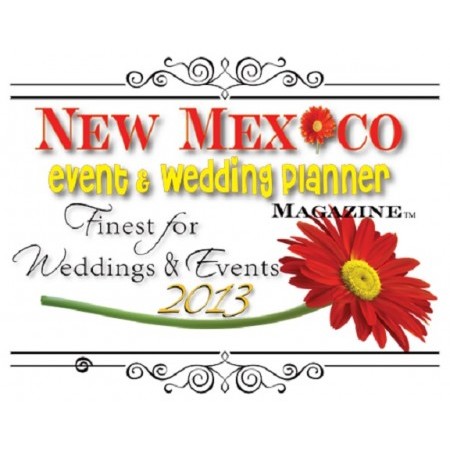 15/25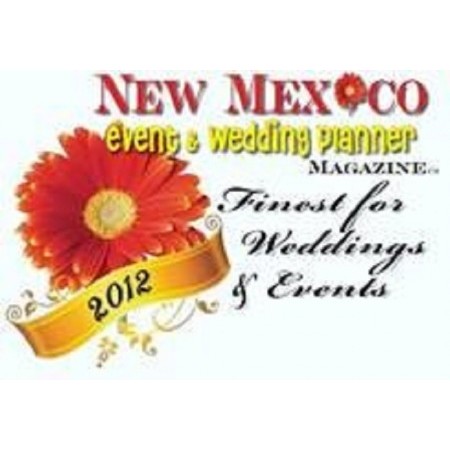 16/25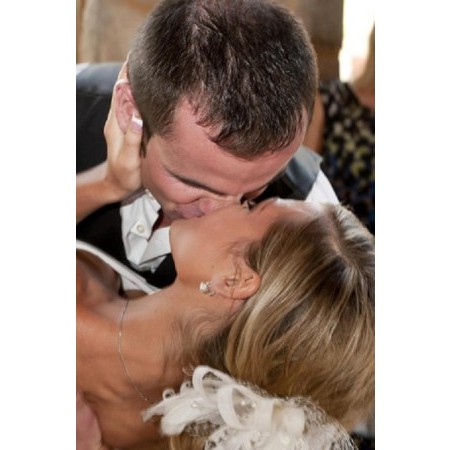 17/25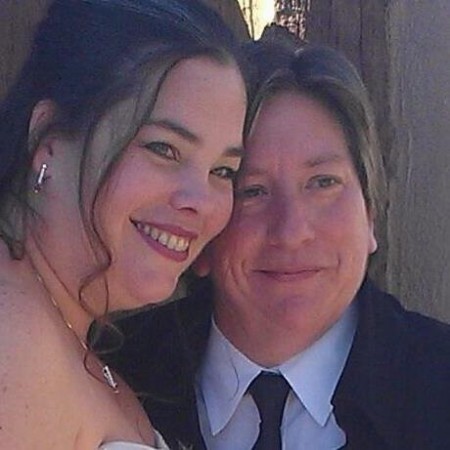 18/25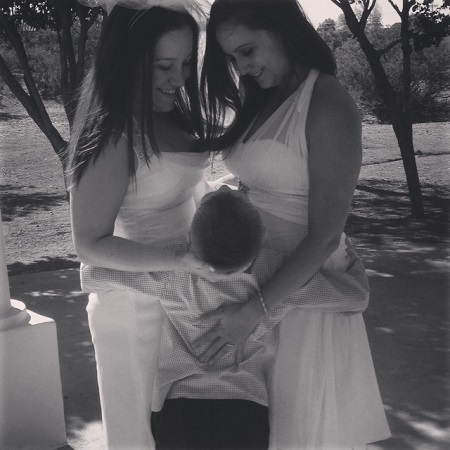 19/25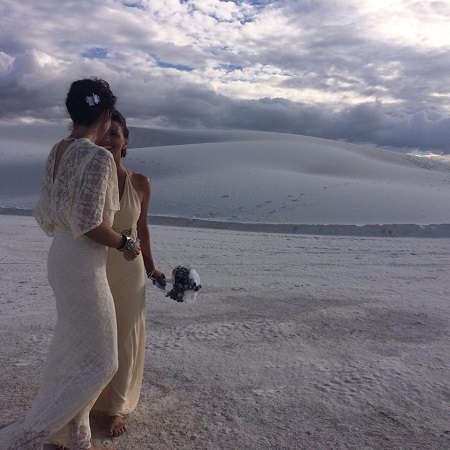 20/25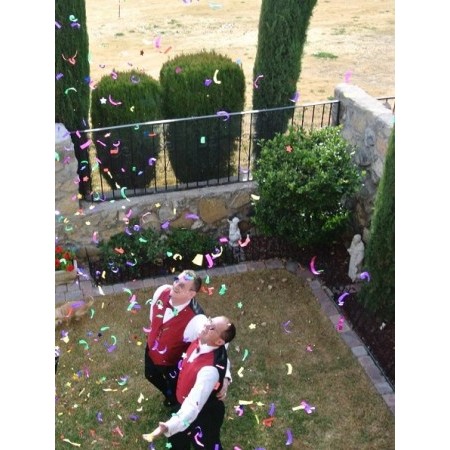 21/25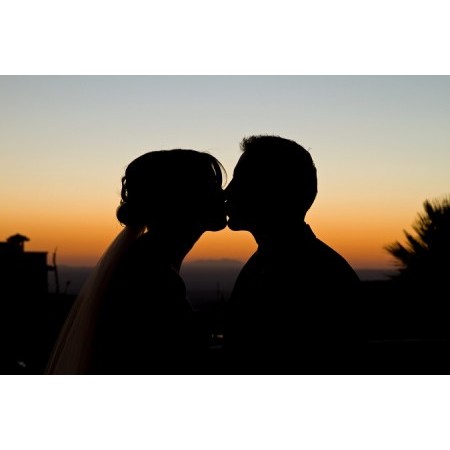 22/25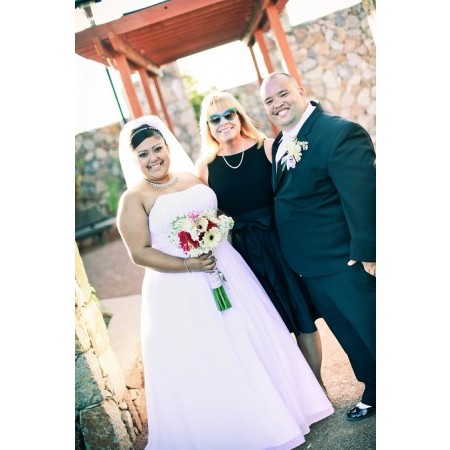 23/25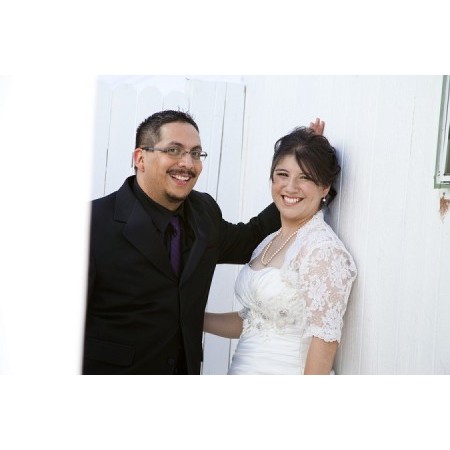 24/25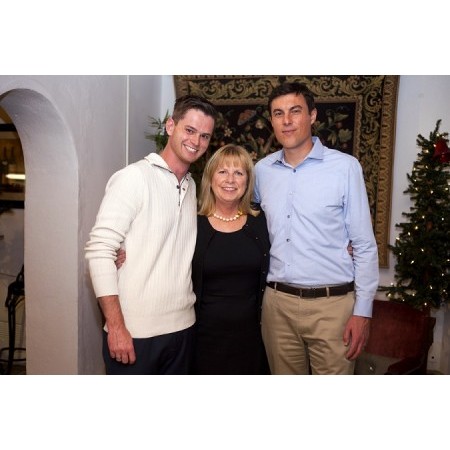 25/25
‹
›
"Kim was wonderful. She suggested and added many special touches to our ceremony and celebration. She has a gift. We highly recommend her!"

Stephanie and Esteban
"Kim was very professional, responded quickly to our emails, and was very understanding with our requests. She helped make our wedding day very memorable and gave us a memorabilia folder that was just amazing. She truly helped make our day perfect. I would highly recommend her as an officiant to anyone looking for the best."

Travis and Selina
"Simply put, Kim was amazing. She was so professional to work with and full of great suggestions for our wedding. She was punctual and always returned my emails in a timely manner. She put together a beautiful ceremony for us and answered any questions that I had along the way. I wouldn't recommend any other officiant in the Las Cruces/El Paso area!"

Christi Flores
"Kim of Hitching Hearts couldn't have been a more perfect person to perform our wedding in Las Cruces, NM. We initiated preparing for the big day with a phone call, then a couple of emails from Kim to gather some information about us to make the ceremony reflect our personalities and our personal tastes. Kim prepared a wonderful ceremony from the information she gathered from us. Kim was warm, professional, sincere, and above all the perfect celebrant for our special day."

Jim
"Kim at Hitching Hearts did a wonderful job marrying my wife and I. We got the elopement package, and we contacted Kim about one month in advance. She planned a beautiful, intimate wedding within the short time frame. Kim was very professional, and she responded to all of our emails and phone calls. I recommend Kim and her services to anyone in the Las Cruces area."

Brittney and Alex
"Kim was very flexible given the timeline we had given her. I was home on leave from Pearl Harbor to visit the love of my life for the Christmas holidays. My fianceé and I decided to get married December 30, 2014. We had our ceremony January 2, 2015. We reached out to Kim about our short notice wedding and she was more than accommodating with our request. She truly is a true professional and highly recommend her services. Thank you Kim, for the outstanding job!"

Ignacio & Diana Valencia
"Kim was a wonderful officiant! She worked with my husband and I on our vows, how the ceremony would work, what would be read, etc. Kim's services are all customized, and she has a great knowledge of different ceremonial customs (i. e. hand binding ceremony, sand ceremony, etc. ). Kim is wonderful at communication (so those worried brides have a little less to worry about) and is very affordable! Thank you Kim, for making my wedding a wonderful experience! It was just too perfect for words!"

Audrey Gleason-Lock
"Kim at Hitching Hearts was wonderful and a pleasure to work with. We planned a simple elopement ceremony with her on New Years Eve. She was very helpful in finding locations and vendors. She was always available for contact and easy to talk to. Her professional manner and flexibility in ceremony options made our wedding a beautiful and memorable experience for both of us. We loved the beautiful keepsake book of our ceremony and the quick turn around of paperwork. Thank you!"

Carlton and Samantha Buck
"Kim was awesome. We needed some help and flexibility since we were coming from Houston but she was very accomodating. Such a value too. 120% satisfied!"

Corinna Garcia
"Kim was extremely patient and accommodating with all the requests that we made. She was a joy to work with and very professional. Although we had never met prior to the wedding, she made us feel extremely comfortable during our ceremony and made it sound very personal. She was also very kind and waited until we finished taking all our family photos before signing our marriage certificate. We highly reccomend Kim and guarantee that she will make your special day easy, fun and special."

Vanessa
"We wanted a small, laid back, hassle-free ceremony that reflected who we were as a couple. Kim asked for our input, incorporated our wishes, and crafted the ideal ceremony for us. We couldn't have asked for a better wedding day - everything was perfect! We would definitely recommend Kim to any couple planning their ceremony!"

Denise & Stuary
"Kim was so very helpful with the planning a of our small wedding. She was gracious to our family and friends. Kim made our day so special and was quite accommodating. She seemed to genuinely enjoy her duties and was able to effortlessly put us at ease. 10 out of 10 -- would hire again."

David
"Kim at Hitching Hearts helped us create a memorable, personal ceremony and was very professional and detail oriented. I highly recommend Hitching Hearts."

Estevan Chavez
"Kim is simply fantastic. She is so easy to work with and so helpful. I worked with her for the 8 months before my wedding. She was always available via email and always there to answer me. The options provided for the ceremony were simply BEAUTIFUL and she really listened to us and what we wanted for our special day. Our ceremony was unforgettable and exactly what we wanted and came out even better than expected. Kim is professional and perfect. I highly recommend Hitching Hearts!"

Jai and Taylor
"Kim was great and very flexible for our last minute elopement. Not only did we have no idea where to get started, but pretty much left the details up to Kim. We couldn't be happier. We had our wedding in a park, near a pond. The message, weather, and scenery were beautiful."

Will and Pierre
"I could not believe the beautiful ceremony Kim was able to perform when I contacted her only 2 DAYS before our wedding! The communication was superb! We simply fell in love with Kim and Hitching Hearts. Kim's responsiveness and ability to connect with us as a couple, more than exceeded our expectations. We plan to renew our vows in a few years and there is no way we will plan our renewal without Kim and Hitching Hearts! I thank them from the bottom of my heart! Hitching Hearts is a MUST-BOOK."

Anthony and Esmeralda Arce
"Kim helped us create a very special, personalized ceremony. She made the process easy for us and provided great ideas and options for our special day. We would definitely recommend Hitching Hearts for your perfect wedding."

Gracie & Susie
"Kim from Hitching Hearts was an amazing choice as our officiant at our wedding. She was easy to get along with, listened to our ideas, and was very warm and kind.. She even handed out all of our programs to our guests when the venue was unorganized and went to each family member and had them sign our keepsake marriage license as a fun souvenir. I cannot say enough good things about Kim. She will make sure your wedding ceremony is exactly what you dreamed!"

Andrea
"Kim is so professional and so lovable that she makes that perfect day absolutely unforgettable! All of our friends couldn't stop commenting about all the nice and wonderful things she said during the ceremony! She was the perfect fit for a wonderful wedding! She accommodates to what you are looking for and her suggestions bring that extra touch of perfection to the place. We feel so grateful to have had her in our wedding."

Nic
"Kim was wonderful to work with. She helped us with our small ceremony. She made great recommendations. She also guided us through how to get a marriage license in New Mexico. We are from Texas and travelled to New Mexico to get married. She offered insight into hotel choices as well as dining. She put together a touching ceremony with quotes that will be a part of our memories for the years to come."

Jason and Chris Hartley
"Kim created a sentimental, non denominational ceremony for us that was absolutely perfect. I would highly recommend her!"

Desirae Rosenthal
"Kim with Hitching Hearts was so great to work with. She really took the time to get to know exactly what we wanted out of our ceremony. After picking just the right wording she delivered the ceremony with such grace and meaning. She even took the time to make us a booklet with our ceremony wording in it so we will always have that as a keepsake. I highly recommend Hitching Hearts and can proudly say I was happy Kim was a part of our big day."

Ervina Adams
"Kim is a delight to work with. She incorporated our ideas into her ceremony choices. Everyone who attended our wedding came away with praises for her ceremony."

Ruth Ann
"Kim was amazing! She put together a beautiful, small ceremony for my wife and I. She put so much thought and care into the whole thing even with such short notice. She had about a week and a half to put together the whole thing, and she was always just a phone call or text or email away, even though she was out of town for some of it. We wouldn't have done it any differently. We highly recommend Kim for any type of ceremony. Thank you Kim!"

Leah & Kayla
"Wonderful, wonderful, wonderful! Kim was awesome. Very professional. She knew what she was doing and made our day even more special. Kim is an amazing individual. She was fun and so very creative. We would recommend to her to anybody who wants a fun and memorable wedding!"

Matt Christmas
"My partner and I have been together over 12 years and decided to get married. We luckily found Kim at Hitching Hearts. Kim was very comforting as we all know the how stressful getting married can be. Kim was responsive, patient and created a wonderful ceremony for us. I highly recommend Kim and Hitching Hearts."

Tracey O'donnell
"Kim officiated our wedding this Friday and she was amazing. She made us forget we had planned it last minute and she captured the love we had for one another perfectly, even though she had never met us. She was a perfect match. Loved it!"

Marisol Lara
"I had 24 hours to find an officiant for my best friend's wedding. Kim was there for us every step of the journey. We all loved her ceremony. This was a same sex wedding, and we wanted someone who views love as universal. Kim was perfect."

Melissa
"Kim was outstanding! We hired her super last minute and she was more than accommodating and extremely pleasant to work with! She helped make our day so perfect!"

Courtney Fernandez
"Kim did a great job with our wedding ceremony! She has great options for the ceremony and truly cares about making the day special."

Angel Scott
"We had so much fun working with Kim and making our ceremony fit our wedding just right. From start to finish a class act and made our day the best! Thanks Kim!"

Jay and Jennifer Jarden
"I am so happy with our choice of officiant for our wedding. Kim was wonderful and such a professional, respectful person. She went above and beyond and was flexible with changes that came up. She helped me feel at ease before my ceremony. I definitely recommend her as a wedding officiant for anyone's wedding!"

Travis and Shawna
"Hitching Hearts with Kim is the best you can have for your wedding. My husband and I were new to this area and Kim found the perfect place to marry us. It was a small wedding (just me and him), but it was fantastic. Every word Kim said during the ceremony matched, her word choice was perfect. You get what you pay for is definitely not how to say it, because Kim went Above and Beyond to make our day the BEST DAY we could ever have. Thanks so much Kim. We highly recommend her services."

Mr. and Mrs. Stone Rivert
"Hitching Hearts Kim Bashor is fantastic! On extremely short notice she planned and executed an awesome ceremony for my daughter and her fiance. Kim is a very kind, caring, professional. She put in the extra effort to make my most precious little girl's wedding day very special. There should be more stars to rate Kim. A very heart-felt thank you from a stressed-out Dad."

David Campbell
"Ms. Kim Bashor walked us through every step of the process and recommended a perfect venue for our ceremony. She was with us every step of the way and made both of us and our children feel welcome, special and helped the children participate in the ceremony. Ms. Bashor is warm, caring, attentive and very flexible. It was a lovely day and she made a memory book for us that we will cherish forever."

Christy & Stewart Streitenberger
"Kim was wonderful! Once my wife and I met her we knew we wanted her to be the one to marry us. She was very professional but also fun to work with. She made our ceremony fun yet elegant at the same time. The booklet at the end of the ceremony with our wedding vows in it was a very personal touch and meant a lot. I'm definitely going to recommend Hitching Hearts to anyone I know getting married."

Lupe Canales
"Finding someone to perform a marriage ceremony in the late afternoon, on a weekend, and at a location of my choice was the hardest part of my planning process. Kim was perfection! So warm, personal, and friendly, always punctual & great at communicating for even the tiniest of subjects. Above & beyond what I expected. Highly Recommended by my husband & I. Thanks Kim."

Samantha Hernandez
"Thank you Kim, for performing our wedding and making our day very special. We are very pleased with your services and we would highly recommend your services to anyone looking to be married."

Ron and Nyana
"I highly recommend Hitching Hearts! Kim went above and beyond what was required. Even despite her glasses breaking, she soldiered on and was great. She was great leading up to our special day, implementing a program, and creating a wonderful ceremony that we will remember for the rest of our lives."

Patrick
"Not only is she professional, she is very organized! She made beautiful pamphlets with our vows in it, which is perfect for scrap booking. She also loves what she does and shared emotion in a very nice way with our wedding! She was able to make our wedding beautiful in a back yard! She was also very well dressed which was nice to see. I highly recommend Kim's service. She is a gem! She's a very nice, kind and caring lady!"

Reggie and Michelle Walters
"Kim is an angel! She saved our wedding 2 weeks before it was to take place! As soon as i contacted her she started making it happen. I recommend her to everyone! We were very pleased with her work. She's fast, reliable, and so helpful. To all the stressed brides out there take it from one. We were ditched by our officiant and she stepped in as if we never lost one. She also helped after the wedding with some things too. I can't thank her enough!"

Kayla
"Kim did an amazing job at our ceremony. She was very professional yet made our day very personal for us. She made us feel secure in our decision with choosing Hitching Hearts from the moment I contacted her. We live in Colorado and she left all lines of communication open for us and she was willing and ready to put our worries and concerns at ease. Thank you Kim, for being patient and understanding of our situation and thank you again for making our special day what it was!"

Demetris and Amanda Hovey
"I was thrilled to find someone on such short notice so that I could marry my best friend. I was pleased with how much work she put into making our day very special and memorable. She was professional and very fun to work with. My friends enjoyed our ceremony and we all enjoyed joking around with each other. I would highly recommend her to any friends or family who are looking for the best of the best."

Mr. and Mrs. Smith
"Simply put, Kim was AMAZING! We called her with a little over a week before our wedding -- yes, a WEEK. She buckled down and put our perfect ceremony together! The day of the wedding couldn't have gone smoother with her. She showed up early, went step by step with us through how everything was going to go, and explained exactly what to do as far as filing went! Everything was very professional!"

Mr. and Mrs. Littlejohn
"Kim was amazing at our wedding! She made the vows very unique for my husband and I and even danced down the aisle at the exit! She was so fun and easy to work with!"

Kellianne
"We and our guests were very pleased with the way Kim conducted our ceremony. I would recommend her to everyone who is looking for an officiant! I want to thank Kim for making our day priceless!"

Cathy and Robert
"My fiancee and I were looking to be wed fast and came across Kim's website. My wife and I were impressed by the great reviews and decided to give it a chance. Upon talking to Kim, she was able to fit me in her last minute schedule and went above and beyond what I asked her to do because she wanted us to remember this day and make it special. I would recommend Kim due to her being honest, respectful, professional, and open minded. Thank you again Kim for performing our ceremony."

Joel and Nancy
"Kim was everything we could have hoped for in an officiant. She was extremely flexible, easy to get a hold of, responsive to all of our questions, organized, thorough, and detailed. Our ceremony couldn't have gone better. My cousin, a professional photographer who has worked with numerous officiants all over the area, was blown away by the quality of service provided by Kim. I highly recommend her services to everyone!"

Kelly
"Kim was so amazing and sweet. We had so many family and friends comment on how perfect and romantic and special our ceremony was. I'd go with hitching hearts for everyone."

Ariane luna
"Kim did an outstanding job in performing and creating our dream ceremony. Kim designed a ceremony that was perfect for us and our eternity theme. She was so sweet and very helpful. She kept in great contact with us throughout the months as our wedding date neared. She was amazing!"

Frank & Melissa
"Kim was wonderful. She exceeded our expectations. She was very professional and responded to us quickly. We had a non-traditional ceremony with a flair of vintage touch and a bit of humor written within our vows. Kim as our officiant just made our ceremony flow with ease and her quality of service couldn't have been any better."

Alisa & James Barrio
"Kim was very helpful in coordinating our marriage. My wife and are are both Active Duty Military and stationed in different states. We had our hearts set on getting married at White Sands National Monument in New Mexico. Unfortunately, due to a snag from Uncle Sam we were not able to conduct the wedding on the date we planned. However, with less than 24 hours notice, Kim put everything together and was able to perform our small and intimate ceremony before my wife and I's duties pulled to different states again. Kim is a professional and comes highly recommended."

Michael and Christina
"Thanks to Kim, our intimate wedding was wonderful. Although we gave her short notice, she was able to create the perfect ceremony and filed our license for us. She is so professional, friendly and creative. Kim went above and beyond what we hoped for! Thank you Kim."

Mrs. Rush
"We had a non-traditional but very personal wedding: custom costumes and on top of a dune in the middle of White Sands National Monument. We contacted Kim at Hitching Hearts and discussed our ideas. She was very hands-on and exceptionally organized: offering suggestions, helping us develop the ceremony, and making sure she had our foreign vocabulary pronunciations correct. The wedding went exactly the way we wanted and everyone enjoyed themselves, including Kim! She was a delight and we highly recommend her for your special occasion!"

Mrs. Wright
"My wife and I are very thankful to have Kim do our wedding ceremony. It was exactly what be both wanted and the planning before hand was extremely easy. Everyone that attended the ceremony thought it was perfect! Kim is very friendly to work with and very responsive to your needs. Exceptional quality of work!"

Brian D.
"Kim was wonderful... In just a few days she put together a romantic, beautiful. We had waited 33 years to be together and she made it everything we ever dreams off..thank you again Kim."

Steve and Laureen
"Kim is such an outstanding person. She was always so quick to reply and answer all of our questions. She had so many different ceremony ideas it was very easy to find and customize a ceremony that fit who Cassi and I are together. Kim's flexibility was a huge plus for us. We didn't have an exact date until about 3 weeks before due to my return home from Afghanistan. Our wedding went PERFECT! Her services are worth way more than she charges."

Ian and Cassi Damber
"Kim had about 3 days to plan our wedding! She did an AMAZING job with such short notice, she was more than helpful with recommendations on ideas for the ceremony, she provided us with numerous options and helped us create the perfect custom ceremony to fit us. Even when my husband made some last minute changes to his vows, she was kind enough to take what he had written and make a new keepsake book for us and then send it to us in the mail. She also took care of all the paperwork! In addition to everything she did for us, she gave us a great price! I was more than impressed with her professionalism, as well as kind hearted genuine nature! You are truly missing out if you choose anyone else. THANK YOU SO MUCH KIM! we could not have asked for anyone better."

Chelsea
"We knew Kim was the perfect person to marry us from the first conversation we had with her. We were planning a destination wedding in Washington from our home in Canada, and she went above and beyond to give us all the information needed. Her ideas for the ceremony were fabulous, and she was very receptive to changes and suggestions we had. The way she included our children in the ceremony made our day better than we could have dreamed of. Kim is such a warm and genuine person, it was an absolute pleasure to have her marry us. Kim is a true professional - great communication, well organized, creative ideas, and very receptive to what we wanted. We would highly recommend her services."

Maria and Daniel
"Divine intervention lead us to Kim. We ha the most wonderful ceremony we could have imagined Kim brought together old traditions and modern beauty. She offered many great ideas and then adapted them perfectly for us on our special day, thank you so much Kim."

Noelle and Richard Burns
"We were honored to have Kim perform our wedding ceremony. She was a true professional from our first email to her through her website to the ceremony itself. We had a very small wedding in our apartment and communication from her was tops, giving us ceremony ideas and she was always there to help iron out details. We received a very nice wedding pamphlet of our ceremony and a decorative keepsake marriage certificate. She was even willing (and able) to help with the picture taking. She was punctual, well-dressed, warm, and friendly and we highly recommend her to anyone."

Jeff and Jody
"I was honored to have Kim wed my husband and I. She was so professional, and although my wedding arrangements with her were made about two weeks in advance, she was able to fit us into her schedule with no problems. After the ceremony, she presented us with a nicely put together pamphlet with our ceremony and vows in it. I HIGHLY recommend her services."

Danielle
Add Your Review of Hitching Hearts...romantic ceremonies

Hitching Hearts...romantic ceremonies
Saint Marys, GA

Andrew & Nicole
Jacksonville, FL

Heather & Lucas
Live Oak, FL

Wendell & Tina
Macclenny, FL

Vanessa & Dustin
Palm Coast, FL

Katrina & Joshua
Interlachen, FL

Diane & Ernie
Saint Simons Island, GA

Jane & Troy
Savannah, GA

Laura & William
Bloomingdale, GA

Amy & Chris
Middleburg, FL

Carrie & Mark
Augusta, GA

Danelle & J
Fernandina Beach, FL

Kara & Sandy
Brunswick, GA

Sabrina & Mark
Starke, FL

Kelly & Cody
Jekyll Island, GA

Amy & Lynn
Waycross, GA

Shantell & Marion
Savannah, GA

Michele & Will
Brunswick, GA

Bonnie & Jim
Saint Augustine, FL

Eric & Hadley
Hilton Head Island, SC

Elizubith & Devin
Jacksonville, FL

Melody & Scott
Las Cruces, NM

Carrie & Bobby
El Paso, TX

Denise & Paul
Las Cruces, NM

Linda & Nell
Alamogordo, NM

Leslie & Edward
El Paso, TX

Victoria & Esteban
El Paso, TX

Rebbie & Travis
Albuquerque, NM

Taya & Derrick
Las Cruces, NM

Tammy & Isaida
Hobbs, NM

Brit & Chris
Carlsbad, NM

Dorothy & Russell
Artesia, NM

Maria & Sabrina
El Paso, TX

Erika & Kenny
El Paso, TX

Amanda & Joseph
El Paso, TX

Deborah & Brian
El Paso, TX

Stephanie & Joshua
Las Cruces, NM

Christine & CJ
Las Cruces, NM

Anna & Eric
El Paso, TX

Sophie & Brant
Las Cruces, NM

Peggy & Jessica
El Paso, TX

Stephanie & Eric
Albuquerque, NM

Stephanie & Luis
El Paso, TX

Jessica & Justin
El Paso, TX

Holly & Anthony
El Paso, TX

Melissa & Charles
El Paso, TX

Kelli & Chris
Las Cruces, NM

Chris & Felice
El Paso, TX

April & Richard
Cloudcroft, NM

Douglas & Leslie
Ruidoso, NM

Tammy & Francis
Ruidoso, NM

Samantha & William
Las Cruces, NM

Shasta & Michael
Alamogordo, NM

Louis & Nayrine
Las Cruces, NM

Sarah & Wesley
El Paso, TX

Sarayha & Pedro
El Paso, TX

Monica & James
White Sands Missile Range, NM

Cathy & Julio
El Paso, TX