Non-Denominational Minister/ Wedding Officiant dedicated to helping couples experience the ceremony they want! I customize each ceremony to fit every couple for their own unique personalities, traditions, and the little extra that makes each wedding different. I also offer BEACH WEDDING PACKAGES on the Beautiful Mississippi Gulf Coast. Feel free to contact me with any questions you have. I welcome All Couples to use my service regardless of religion, sexual orientation, or previous marriage(s).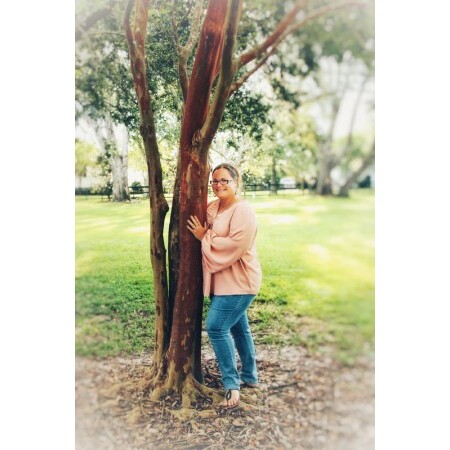 1/25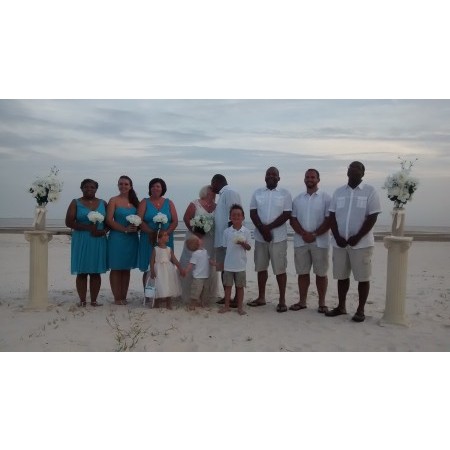 2/25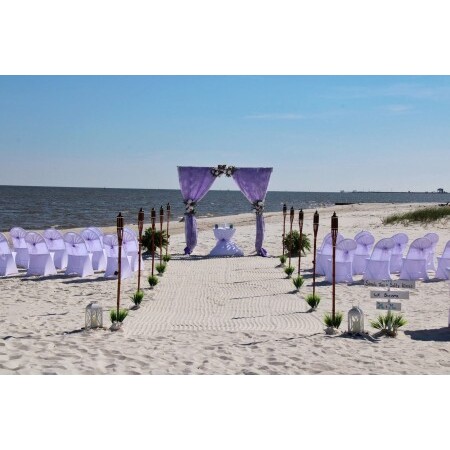 3/25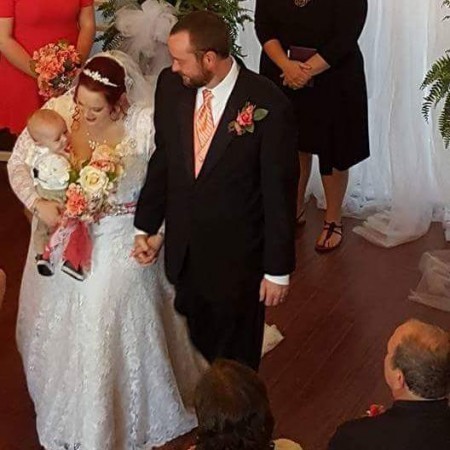 4/25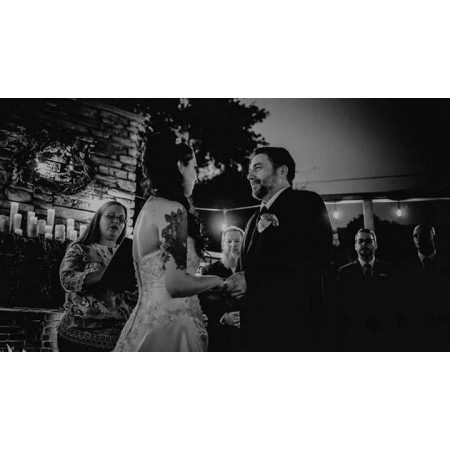 5/25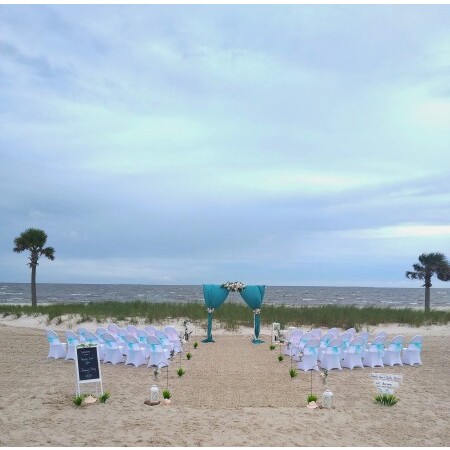 6/25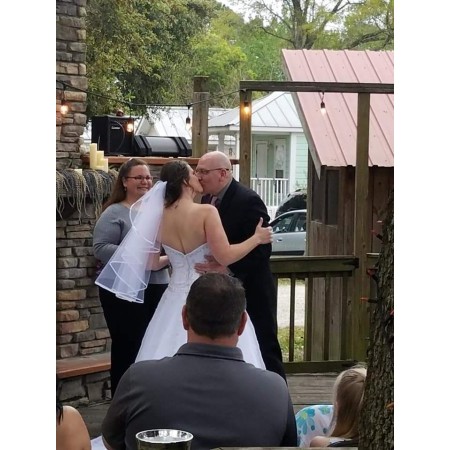 7/25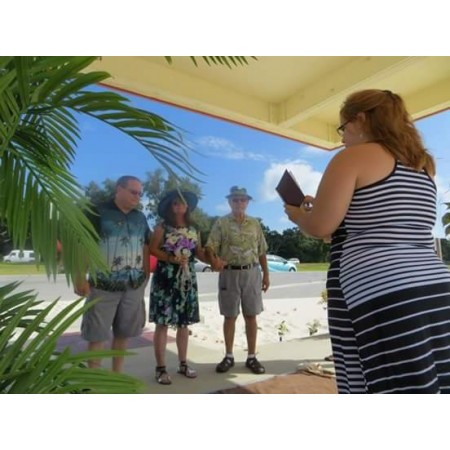 8/25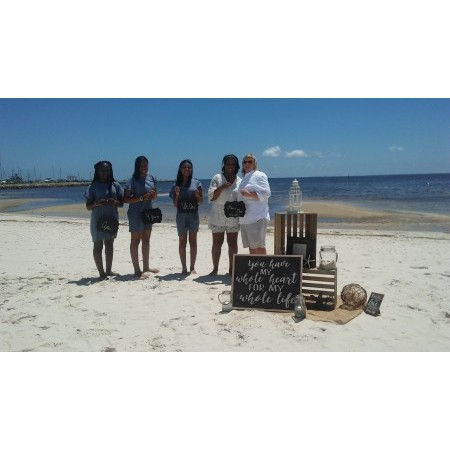 9/25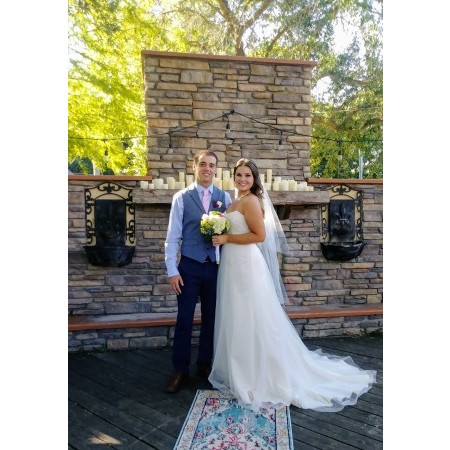 10/25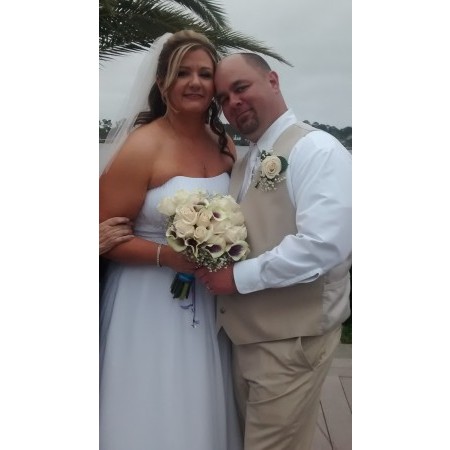 11/25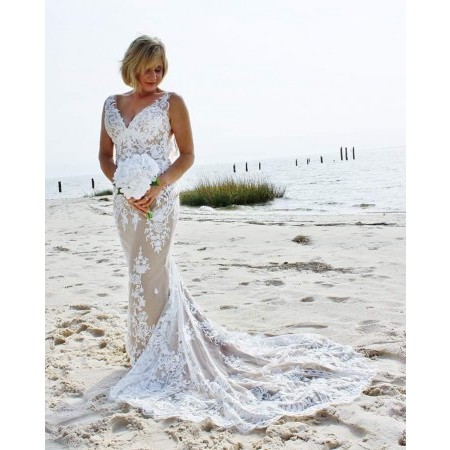 12/25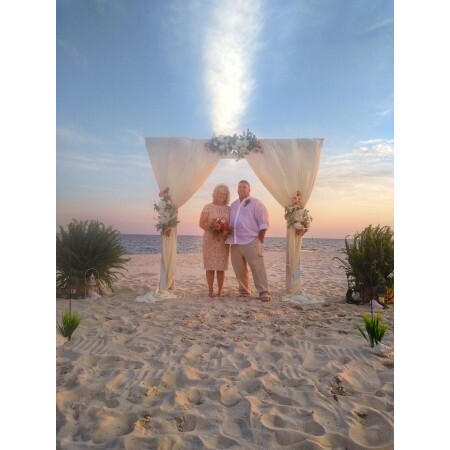 13/25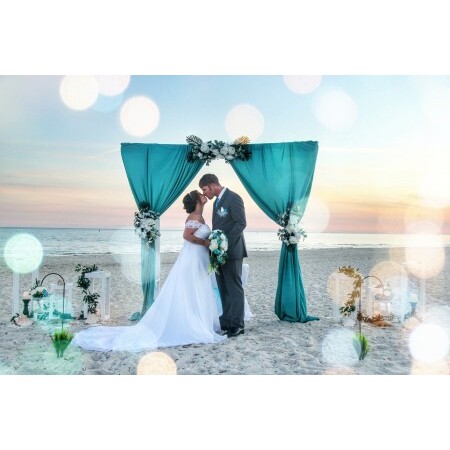 14/25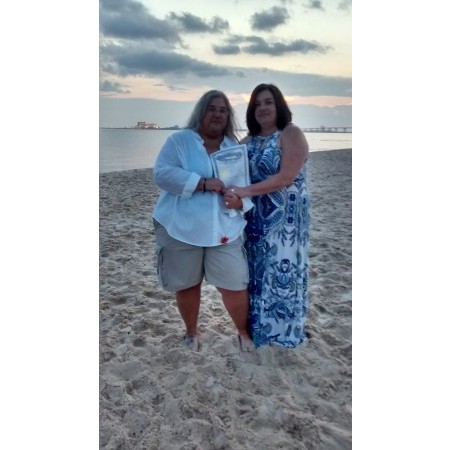 15/25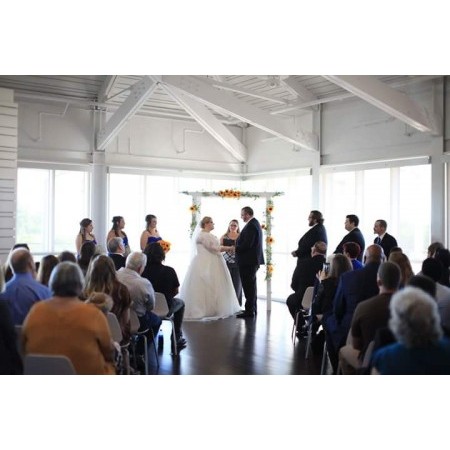 16/25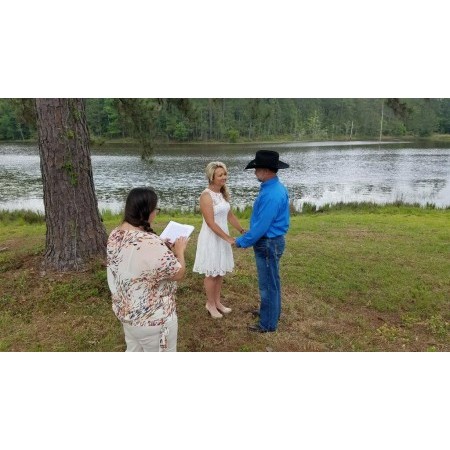 17/25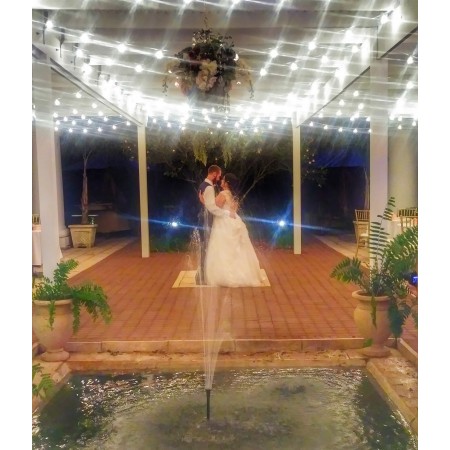 18/25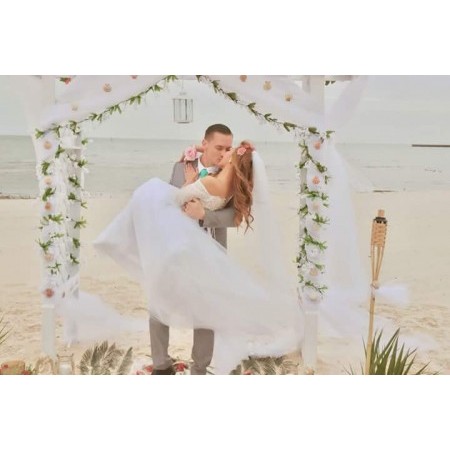 19/25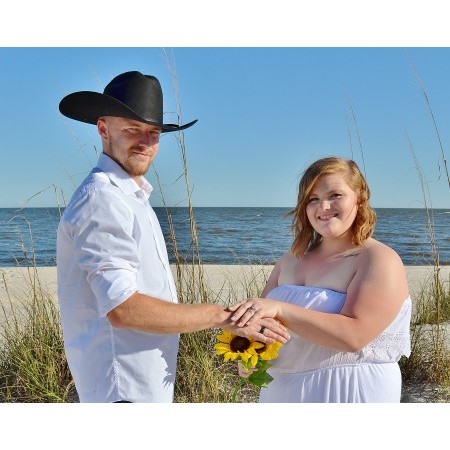 20/25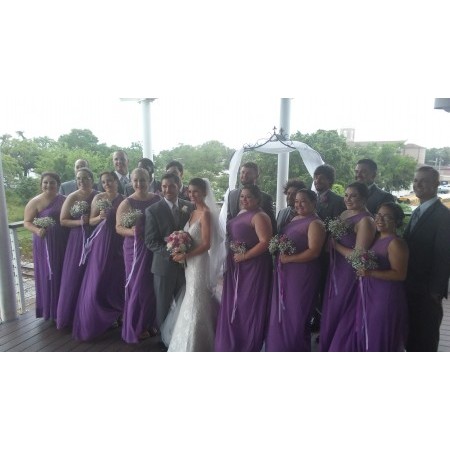 21/25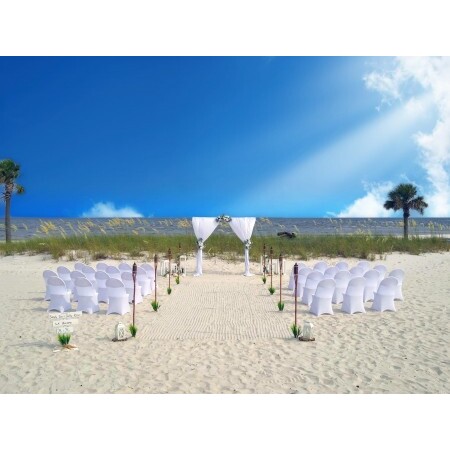 22/25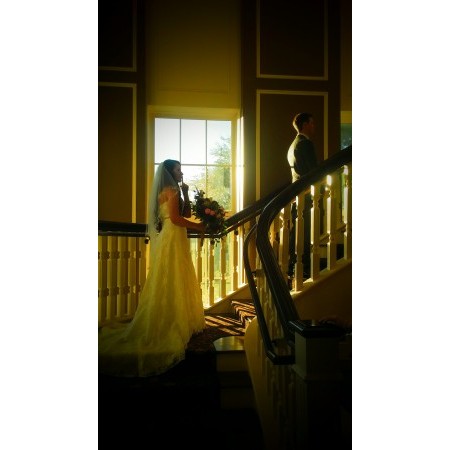 23/25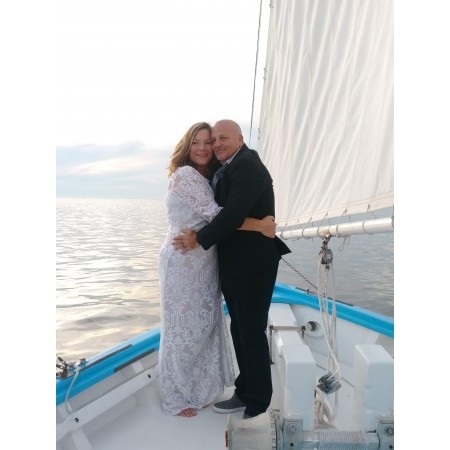 24/25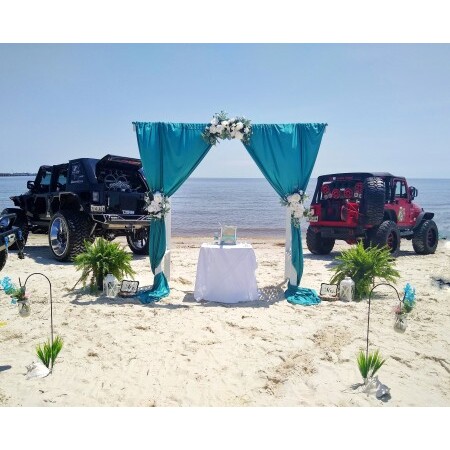 25/25
‹
›
"I found Misty while searching for officiants for my sister's wedding and to put it lightly, she was everything we could have dreamed of and more! She coordinated the rehearsal and the ceremony, handled the crazy wedding party like a boss, and even went as far as helping us make a special tribute to our grandfather who passed just weeks before. She made the entire process so easy and stress free. I was very happy to have found her, as was my sister, and I'll be having her do our vow renewal too!"

Brett Lally
"Misty was excellent! A lovely person! So glad we chose her for our special day!"

Aimee
"Misty will help you out with EVERYTHING you need, will personalize the whole ceremony for you, and you will definitely feel like she is part of your family. Other than being a great officiant she is also amazing at coordinating and decorating! Our simple and intimate beach wedding was beautiful because of her and how she personally decorated everything including the arch (that she provided), the aisle, everything! The details were well thought of as she is very hands-on and super creative."

Jathniel Jerimia
"The best decision I made, besides the great decision to marry my now husband. Misty was so helpful and did a fantastic job in officiating the wedding. I highly recommend her. We had some last minute adjustments and she definitely came to the rescue. The ceremony was beautiful."

Allison Hulick
"My experience was outstanding. They were very professional, punctual and made the day go smoothly. I will be recommending them to my clients in the future and would definitely recommend them to you!"

Terrance Johnson
"Misty was absolutely fantastic for my wedding! She is very flexible, so easy going, and an absolute joy to work with. I can not recommend her enough! You definitely will not regret having her officiate your wedding at all!"

Elisabeth Triana
"Misty was wonderful. Our ceremony was perfect and hassel free!"

Kristen Smith
"Misty coordinated and performed my daughter's wedding ceremony. I can't say enough great things! She is professional, energetic, fun, creative, easy to work with, affordable, caring, dependable, honest, helpful, full of ideas, hardworking and so much more! I definitely recommend using her!"

Peggy Allen
"Misty was wonderful. She was readily available and assisted us with open arms."

Mary Diedrich
"I would absolutely recommend Misty to officiate anyone's wedding. We couldn't have chosen a better person to share our special day with."

Lea Welch
"She did a wonderful job as my officiant for our ceremony."

Patrice Copening
"Misty is very flexible and works with you to make sure your wedding day turns out perfect. We highly recommend her to any couple planning a beach wedding or any wedding venue on the coast. She is polite, courteous, kind, pleasant & very helpful. She always responds quickly when contacted. You really walk away from the experience gaining a new friend. If you want a Gulf Coast Wedding, look no further, this is the officiant for you!"

C & C Collins
"Misty is very professional and very attentive to detail and I would highly recommend her services. She made our special day very special for us!"

Roger Simpson
"My mom and stepmom got married in Long Beach and she made the ceremony more special than we could have imagined!"

Megan Hurst
"We eloped in Biloxi this month and Misty was so great! We were able to communicate via email in advance and set everything up before arriving from Florida. She even sent us our vows in advance so we would have a copy. She gave us options of locations and so glad we picked the boardwalk!"

Sadie Whitmire
"Misty was so very wonderful. She took care of EVERYTHING and made sure that it was the most perfect and amazing little wedding that we could have asked for. It was also a very last minute thing for us and she covered all of the bases and worked with us to figure out all of the details."

Amanda Vasquez
"We were looking at getting our marriage officiated and did not want to do a ceremony. I found Misty's business page and saw she has a "Make it Legal" option! Reached out to her and she came the same day. Very sweet woman and super glad we were able to get our papers signed without the hassle of having a ceremony! Thanks Misty."

Laura Nguyen
"Misty made our day so special and memorable. A tropical storm couldn't put a damper on our celebration. We were able to change venues to suit the weather and Misty worked to make our day fantastic!"

Suzi Golden
"Awesome experience with Misty! Made my parents' 50th vow renewal the BEST!"

Carla Whitstine
"Misty cares about each couple and this will reflect in her ceremony!"

Donna Lynn
"Misty went over and above with my wedding. She had surgery only the Monday before my Saturday wedding and she insisted she would be there AND SHE WAS! I never had any doubt she had me covered."

Lenora Kelley Jones
"Misty was amazing. Couldn't have been any more perfect for us. Thank you so much."

Crystal Perry
"Misty helped create the relaxed stress free elopement we imagined. all we had to do was show up and we are never on time but that didn't upset her at all. She was more hands on than we imagined for the cost. We are very pleased and will spread the word to anyone wanting to do something special in the area. Thank you so much."

KJ Mooney
"She was sweet, nice and on time. Listened to what we wanted and got creative and made it so much better than we thought. Would definitely recommend."

Ashley Chasse
"We had an amazing experience! Our ceremony was perfect. Misty and her husband were more than accommodating and made us feel so comfortable. Misty thought of everything and helped make our special moment more amazing than we could have ever imagined!"

Kellie Necaise Ladner
"Absolutely loved Misty! She did all the work, and made everything so simple."

Cindy Laird
"She did a phenomenal job. Was more than we could have asked for."

Michael Turan
"We cannot say enough about Misty to accurately describe how wonderful she made our beach wedding! She is so friendly and down to earth. She listened to our ideas and then created our vision beautifully! It was everything we dreamed of and so much more! And we gained friends in the process!"

Kristi Ray
"Misty is awesome! We were so lucky to work with her. She went above and beyond to make sure our ceremony was perfect."

Carly Hinton
"Misty is the best! Wonderful attitude and very personable. She has great suggestions to make the ceremony memorable and makes sure she revolves it all around you. She is prompt and follows up on all of her promises. We couldn't have asked for a better addition to our day. I have referred couple to her and will continue to do so! Could not have found a better officiant!"

Teri Anderson
"From the first contact with Misty I felt reassured that we would be in the very best hands for our beach wedding. Any expectations I had Misty completely moved the bar higher and exceeded it. We left the vows to her and both of us had tears as we spoke. The family members that attended were both enchanted and impressed by the professionalism and set up by Misty. It truly was a perfect morning!"

Tammy Mathis
"I forgot to review you!! Oh my goodness, shame on me. Because we absolutely were satisfied with our ceremony and so blessed to have met you and have you marry us! You worked with us and made it just so much more special then I imagined. Thanks so much. Absolutely recommend Misty."

Rebecca
"Misty did our wedding and it was beautiful. She was diligent in every step of the way as well as very helpful considering the bride and I were winging it anyway. When the weather didn't agree with us Misty was there to make sure everything went off without a hitch. The ceremony was beautiful and our wedding day was perfect. Thank you very much!"

Jason
"Misty is a beautiful woman with a beautiful spirit. She made our little ceremony special even though we had no family or friends around us. Her hubby held our phone through the entire ceremony so that our families could watch on FaceTime. Such a sweet couple."

Angel P
"LOVED HER! She is so sweet and worked hard to give us what we wanted. I would highly recommend her to others!"

Rebecca
"Our original officiant canceled on us last minute but Misty was there for us. She performed a beautiful ceremony and made our special day the best it could be."

Duncan
"I contacted Misty last minute with millions of questions and she was the most patient and respectful person I've ever had the privilege of talking to. She did everything in her power to make sure I was happy with the ceremony. If you're getting married, she is absolutely the person you want! Thank you so much for everything!"

Jamie
"Misty is a truly remarkable woman with a huge heart and a gift. I met her just 2 days before my wedding which was on Friday May 25th, and she made all my dreams come true. I could not recommend a sweeter more gifted woman to be included in our biggest day! I know I made a lifelong friend. I am so glad someone tagged you the day I was looking. I can't thank you enough for all you have done for me. Thank you for marrying me to the love of my life and making that day so perfect!!"

Brittany
"Misty is just amazing! She answered any questions I had. We ate from out of town and she helped get everything together even giving me info for a marriage license. She was so sweet to our boys and including them in our vows. You can really tell she loves what she does."

Jennie
"I love referring Misty to my clients at Light Beginnings Photography LLC. She is a great soul to work with. All the couples love her."

Andrea
"We are so happy we choose Misty as our wedding officiant. She was so easy to work with leading to our big day, and the ceremony fit is perfectly. It was very relaxed and personalized to us. Highly recommend."

Amanda
"Misty was wonderful. Our ceremony was beautiful and very meaningful to us. Would highly recommend to anyone."

Stephanie
"Super easy experience on our elopement with Misty. She is the best officiant ever! She exceeded our expectations. Even in the rain! She gave us a lot of personal attention which helped with the wedding jitters. Thanks a bunch Misty! Highly, highly recommend. You won't regret it."

Karen Mayo
"Misty wrote the most amazing ceremony I could have asked for. She presented it in a beautiful way. Definitely recommend her for any type of ceremony you need!"

Nicole Slay
"It was so easy and fast. Justed called made a date and time and paid. The wedding was great! She had great vows & made it personal. Thank you so much."

Cheryl T
"Misty is great! She is helpful and couldn't have picked a better person. Very special woman and made our day exceptionally special!"

Brittney R
"I would highly highly recommend her to anyone wanting to get married down here. She listened to what we wanted and delivered. The cost is very reasonable when you compare it to other people and places."

Nikki
"Misty did a great job! She was punctual and very personal. I thoroughly enjoyed working with her. I would definitely recommend her to anybody looking for an officiant. Thank you Misty!"

Jackie
"Misty was the officiant for the Elizabeth Triana and Blake Triana wedding. She set the tone for a romantic outdoor wedding. She spoke eloquently, very professionally, and was absolutely easy to work with. We couldn't have found a better person for the job! Thank you so much, Misty, for a beautiful ceremony!"

Michelle
"Misty was everything we were looking for in an officiant! She was really comfortable to work with. Any requests that I made for the ceremony she had no problem doing. She gave us an amazing, emotion filled ceremony and I can't thank her enough!"

Jamie
"Misty was everything we could ask for! She never fretted over any of my requests and was always happy to help! I recommend her to anyone that's looking for a personable ceremony. She deserves more than 5 stars!"

Breanne
"Misty was our life saver when Irma almost forced us to postpone our marriage ceremony. She accommodated our last minute need for a celebrant when we had only a few days to make our wedding day a reality in a new city and state. Misty is very personable and helped make our day a memorable one. I am so happy we had the opportunity to meet Misty, have her marry us and be a part of our day."

Lynn
"Misty was a huge blessing to us. We live out of state and she even picked our beautiful wedding location, Henderson Point. It was amazing. Misty had such heart and we were instant friends. We know no one in the area but after our wedding and honeymoon, we left with a friend!"

Angela
"Misty did a wonderful job with our wedding. She made it very special for us. I recommend her to anyone who wants that special moment of bliss."

Mark
"We want to thank you from the bottom of our hearts for officiating our wedding. You have given us memories that will last a life time."

Marie & Bill
"Misty was amazing! She did a wonderful job with the vows for our wedding & was VERY friendly! I would highly recommend her for anybody wanting to get married on the Coast. I absolutely loved her service!"

Austin
"Misty was amazing! She was super great and friendly. She catered to our immediate needs and still made it so memorable! I would recommend her to anyone!"

Ann Marie
"She did an amazing job making our day special."

Cheyanne
"Our ceremony was perfect!!"

Casie
"Misty was absolutely great to work with -- it was my first wedding shoot, and she had everything so well laid-out it made my job that much easier. She was professional, personable, and a ton of fun to work with. I highly recommend her if you need an officiant!"

Shelby
"She is simply spectacular! We didn't really know what we wanted or how to go about finding it until we had spoken to Misty. She helped us make our wedding day so special. I highly recommend!"

Linda
"Misty was amazing to work with. Incredibly well-spoken and warm. I would refer her to anyone getting married."

Jennifer L.
"I appreciated that she could see us on short notice. Thank you, Misty!"

Mike
"Misty is absolutely wonderful! We called her last minute and she married us that same day! 5 stars!!"

Rhonda
Add Your Review of Gulf Coast Wedding Officiant LLC

Gulf Coast Wedding Officiant LLC
Long Beach, MS

Katherine & Richard
Gulfport, MS

Megan & Brett
Ventress, LA

Chelsia & Thomas
Gulfport, MS

Krystal & Conard
Gulfport, MS

Brittany & Christopher
Poplarville, MS

Amanda & Kevin
Ocean Springs, MS

Chris & Reo
Fairhope, AL

Laportia & Dameka
Mobile, AL

Dixie & Derick
Lumberton, MS

Dennis & Christopher
Hattiesburg, MS

Amy & Seth
Mandeville, LA

Victoria & Cody
Hattiesburg, MS

Michelle & Brad
Gulf Shores, AL

Robert & Isaac
New Orleans, LA

Tamica & Kenedra
New Orleans, LA

Ashley & Dewayne
Biloxi, MS

C.C. & Dwayne
Mobile, AL

Jeri & Louis
Axis, AL

Sandra & Robert
Irvington, AL

Chike & Nadia
Mobile, AL

Patricia & Chris
Bay Minette, AL

Jessica & Zack
Biloxi, MS

Jacob & Julia
Gulf Shores, AL

Kayla & Tyler
Mandeville, LA

Lakeshia & Aaron
Fairhope, AL

Leigh & Brian
Summerdale, AL

Kim & Greg
Sumrall, MS

Michelle & Michael
Gulf Shores, AL

Audrey & Randy
Theodore, AL

Kaydrian & Harvey
Pascagoula, MS

Page & Corey
Hattiesburg, MS

Alexis & Garrett
Picayune, MS

Shelby & Jeremy
Saucier, MS

Cristine & Manny
Biloxi, MS

Cassie & Will
Wilmer, AL

Allison & Dustin
Fairhope, AL

Sierra & Sarah
Navarre, FL

Melly & Chalyn
Franklinton, LA

Sara & John
Slidell, LA

Ashia & Rory
Long Beach, MS

Anna & Stuart
Pass Christian, MS

Danielle & Bradley
Gulf Shores, AL