Weddings by Rev. Donna services the Uniontown, Connellsville, Greensburg, Dunbar, Mount Pleasnat, Scottdale all of southwestern Pennsylvania, and northern West Virginia areas. Your ceremony can be tradional or non-traditional and can include elements of any of the world's religions or a non-religious, civil ceremony as well as same-sex Holy Unions/Weddings. Weddings can be preformed in any venue from churches, living rooms or even out in the woods or at the waterfront.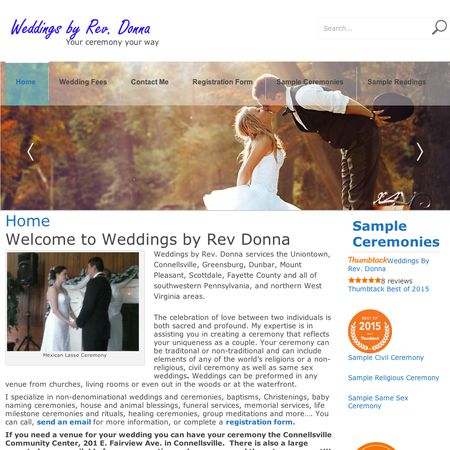 Add Your Review of Weddings By Rev. Donna

Jennifer & Shane
Lowber, PA

Christina & Benjamin
Crabtree, PA

Rebecca & Michael
Ohiopyle, PA

Nichole & Keith
Connellsville, PA

Tricia & Chad
Prospect, PA

Taylor & Kale
Champion, PA

Leszlee & Shon
Brownsville, PA

Ashley & Jordan
Washington, PA

April & Jeremy
Brownsville, PA

Betsy & Joseph
Derry, PA

Kendyl & Dan
Entriken, PA

Chelsey & Charles
Uniontown, PA

Jeffrey & Dorothy
Vandergrift, PA

Joy & Glenn
Butler, PA

Amanda & David
Wheeling, WV

Karen & Angel
Cumberland, MD

Michelle & Joshua
Saint Clairsville, OH

Justin & Angel
Pittsburgh, PA

Clarissa & Roger
Augusta, WV

Stacy & J.J.
Washington, PA

Natalie & James
Fairmont, WV
Send Message to Weddings By Rev. Donna