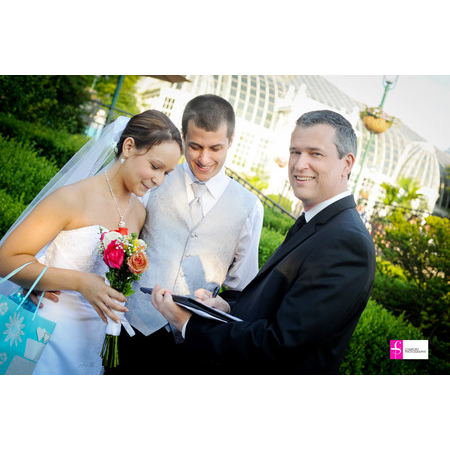 1/25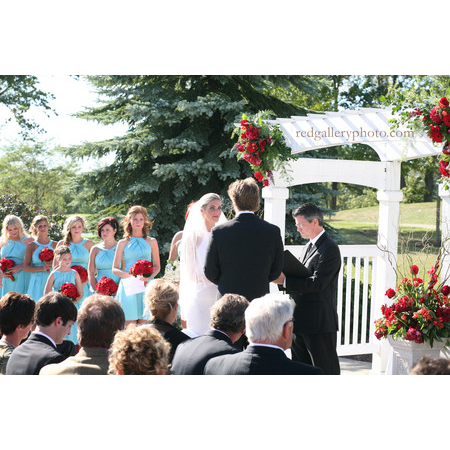 2/25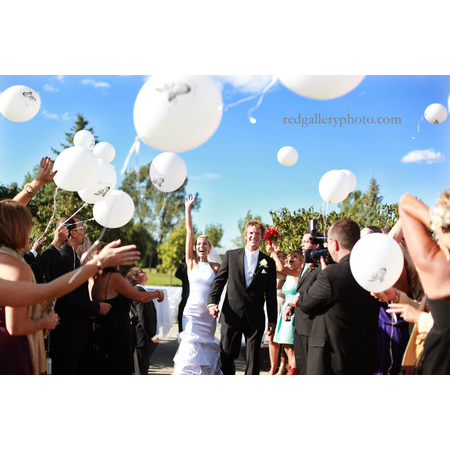 3/25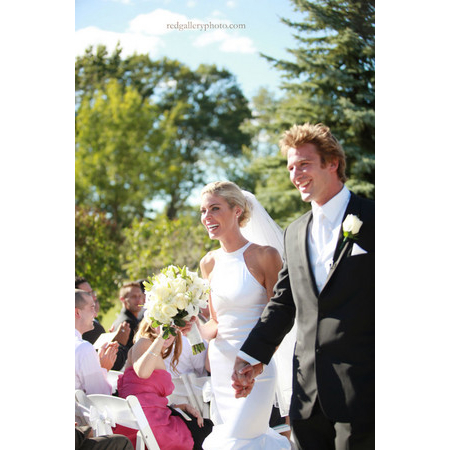 4/25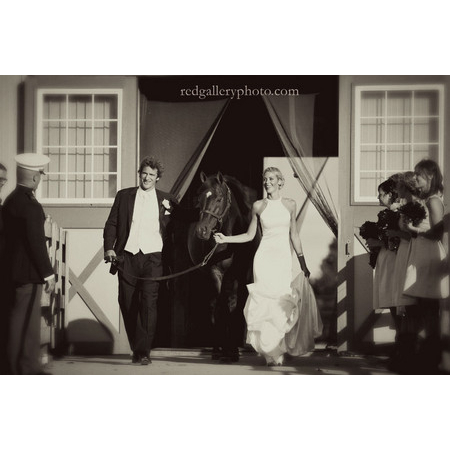 5/25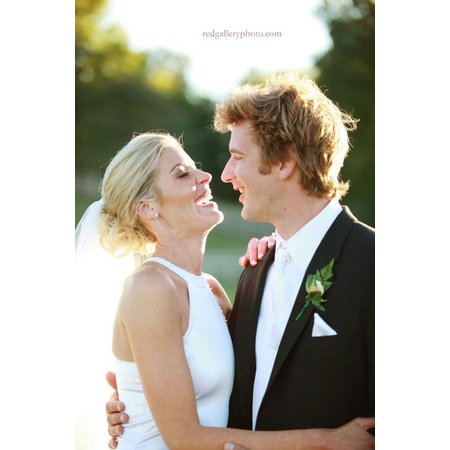 6/25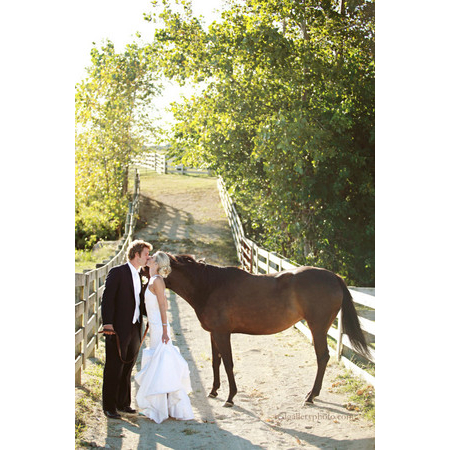 7/25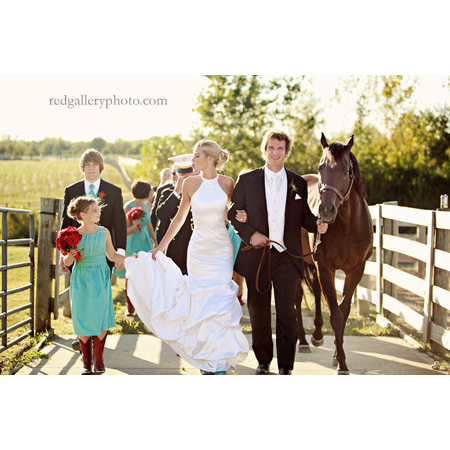 8/25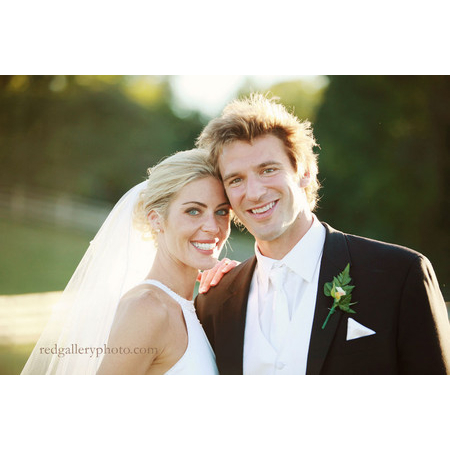 9/25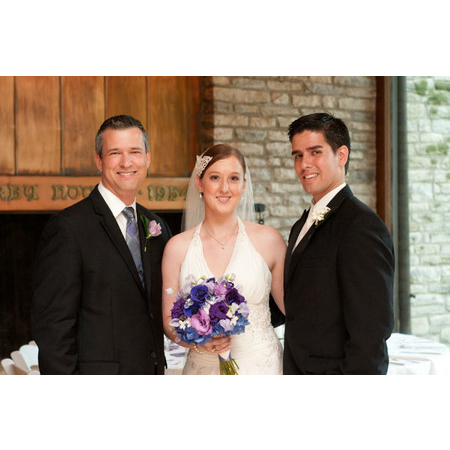 10/25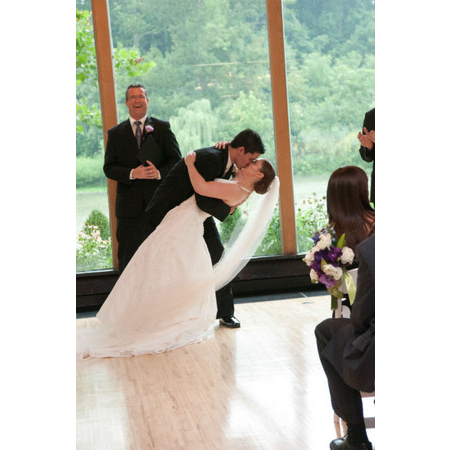 11/25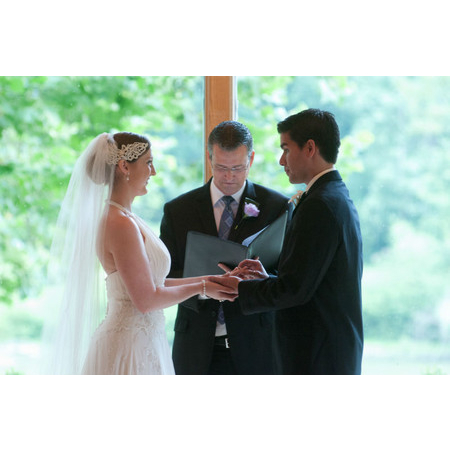 12/25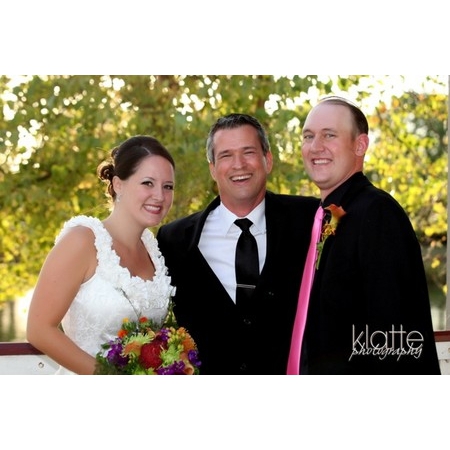 13/25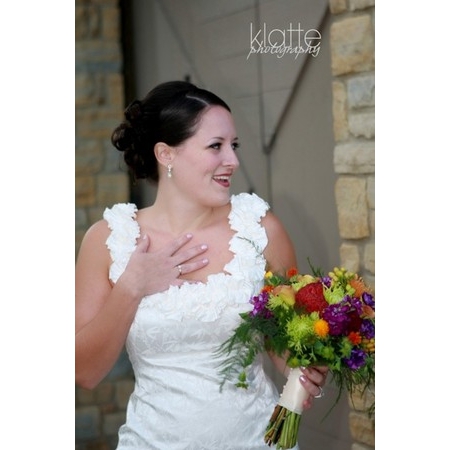 14/25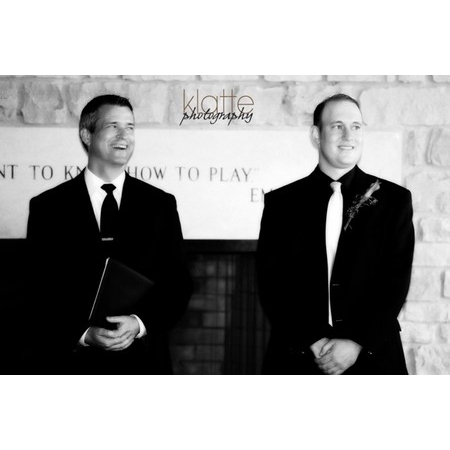 15/25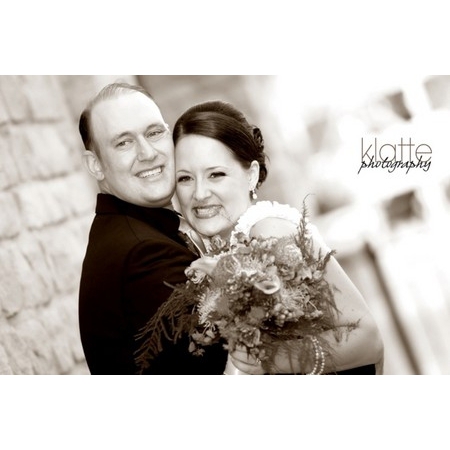 16/25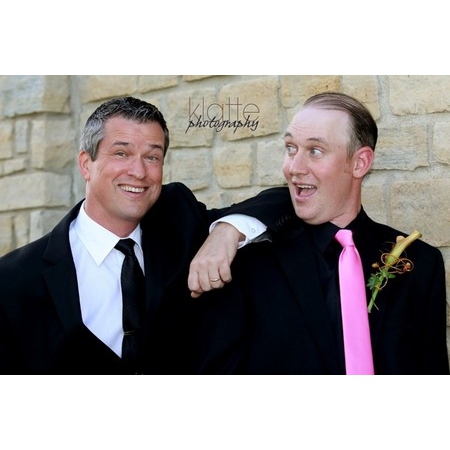 17/25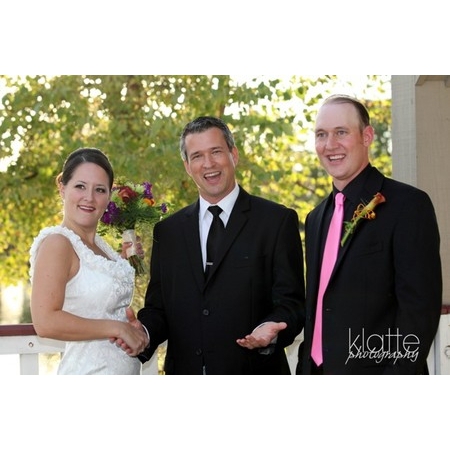 18/25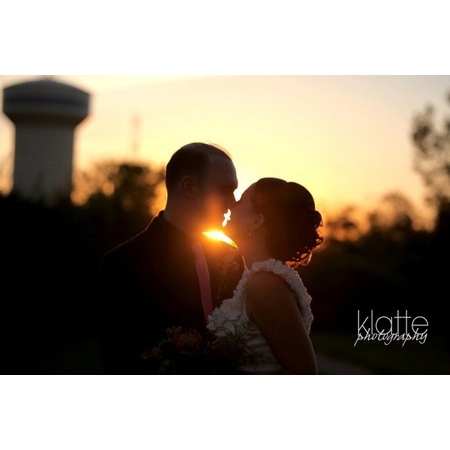 19/25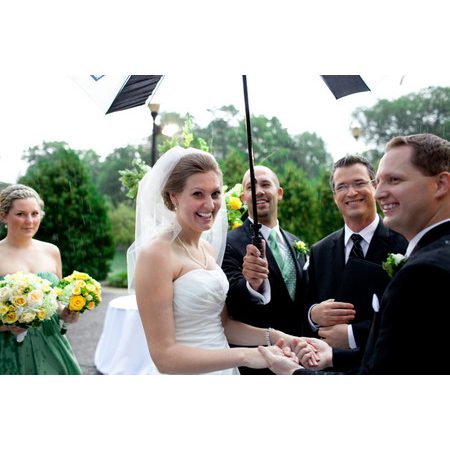 20/25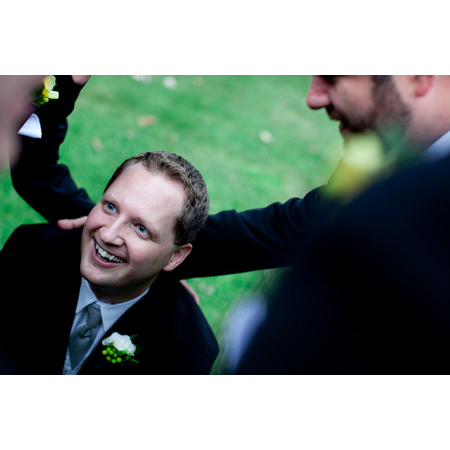 21/25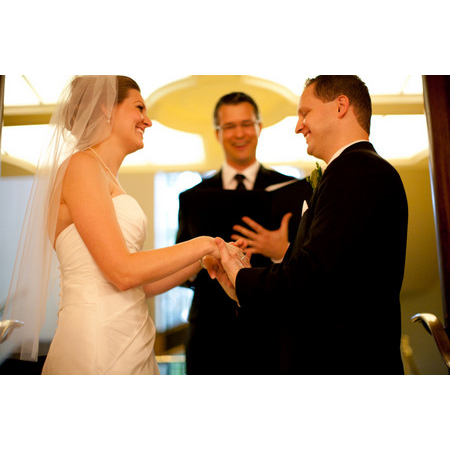 22/25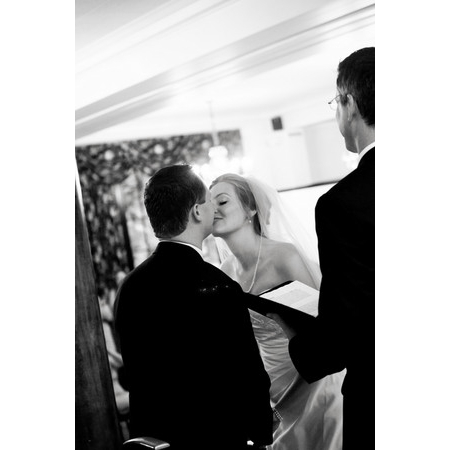 23/25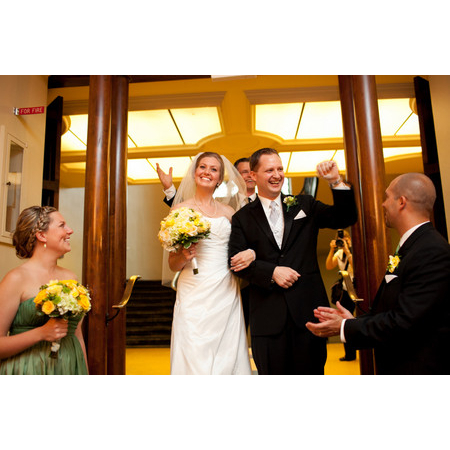 24/25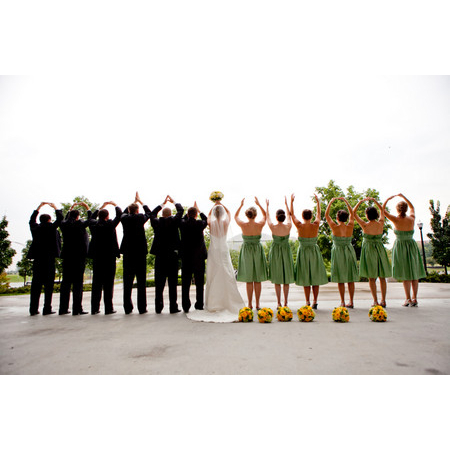 25/25
‹
›
"Damian made getting married so much easier! We found ourselves living in Akron and getting married in Columbus. Communication via email and phone was prompt and productive. He helped with preparing our vows so they were tailored just for us. He has such a great personality and once we spoke with him we knew he would fit into our ceremony just right! I would highly recommend working with Damian!!"

Sommer and Brian
"We really enjoyed planning and participating in our wedding ceremony with Damian. He and his wife, Jean, listened to our needs, understood what we were trying to accomplish, and made suggestions that helped us have a meaningful and special ceremony. Their professionalism, their fun spirit, and most importantly, their belief in the sanctity of marriage, served as a wonderful connection throughout our wedding ceremony. Thanks so much, Damian & Jean!"

Tim & Karma
"My husband and I could not be happier with our choice of picking Damian King as our wedding officiant. He was very calming and attentive throughout the entire process. Several guests commented on what a nice service it was a I truly believe he helped us make it that special. Everything just fell into place. We highly recommend him and the company's services to anyone looking around. You will not go wrong with having them by your side."

Bethany & Christopher
"Damian is professional, polite & easy to talk to! He took the time to get to know us & went over every detail to make sure our ceremony was perfect. Damian gave us many sample ceremony options to review & together we built the perfect layout for our wedding. He took the time to speak to us individually before the ceremony in case there were any details we wanted to change. Damian has a wonderful voice. He was the perfect officiant for our outdoor ceremony at the Franklin Park Conservatory."

Jessica Bates
"If you're looking for a boring monotone officiant, Damian isn't your guy. He's very boisterous and does not use a microphone, because as he puts it "he gets very excited and tends to increase in volume, especially at the best part!" Damian was truly a great addition to our wedding ceremony. He was lively and offbeat and really gave our ceremony the extra charm we dreamed of. He is very outgoing and a lot of fun, definitely not what we expected from an officiant."

Jennifer & Herman Hundley
"We had Damian King as our wedding officiant and he was great. The price was great, completely affordable and completely professional. He was on time, which is most important, was very accommodating and added nice excitement to the ceremony. I would definitely recommend Damian to others."

Aaron Brown
"We used Damian for our ceremony and we were not disappointed! My wife and I aren't very religious and don't belong to a local parish, so we didn't know who we would use. We found Damian and we loved him. He was very easy to work with and helped us make our ceremony what we wanted it to be. He was very accommodating and responsive, and he listened to what we wanted while also offering suggestions based on his experiences. He even recommended our DJ to us. We also used his premarital counseling."

Eric Robinson
"There are many reviews online for United Marriage Services, LLC and they are all good. The reason is that Damian King really is a fantastic wedding officiant. When we first met with Damian while looking for potential candidates, we both knew right away that he was going to be the one. Damian is extremely professional, thorough, and was very prompt in answering any questions we had leading up to the wedding day. Thanks again, Damian!"

Jon
"We decided to meet with Damian to perform our non-religious ceremony after watching him officiate a friends' wedding earlier in the year. We enjoyed the ceremony very much and we knew it was exactly what we were looking for, too. Not only did Damian perform the type of ceremony we wanted, he went above and beyond in making sure the ceremony was exactly how we wanted it, casual and fun, just like us. He helped with entire ceremony -- not just the officiating -- when to walk, where to stand, tips."

Kristi Nunamaker
"Damian was a great officiant. He was understanding and went out of his way to make our ceremony unique. For example, he was willing to speak about 30% of our ceremony in Spanish because my husband's family is Latino. His willingness to speak Spanish really helped my husband feel included. Damian was also easy to work with and worked a flexible schedule. The ceremony was presented clearly and loud enough that everyone could hear. We would recommend Damian to anyone, even other Spanish speakers!"

Rachel Susi-de-Hernandez
"Damian officiated our wedding on March 16th at Tall Timbers! He is very friendly & personable. What we really loved about him was that on the day of he came in and let me (the bride) pick his tie color. He had a box of ties with several different color options and I picked the one that would look best with our colors and that was the one he wore! My husband, James and I would recommend Damian King to anyone!"

James & Melissa McCullough
"If you want a high energy ceremony, conducted by an officiant who cares about his couples and loves what he does, go with Damian King. From the moment we met him for a consult, we knew he was right for us. We wanted a wedding personalized and unique to us. We also come from different faith backgrounds, so wanted a secular yet spiritual wedding. Damian was able to do that, and more. He took the time to help us create our perfect ceremony. Go with Damain, you won't regret it!"

Kendra
"Damian King was wonderful to work with for our wedding in downtown Columbus. Both my husband and I were really looking for someone to officiate our wedding who was not concerned with tradition. We told Damian we wanted a personalized ceremony that was all about our love for each other and our family and friends. That is exactly what we got. Damian's beautiful words left our family and friends telling us for weeks after our wedding that it was the best ceremony they had ever been to!"

Johanna
"This was a second marriage for my fiance and I and we wanted to make our marriage ceremony a celebration. Damian took the time to get to know us and what was important to have included in the day. He helped us with our vows and offered creative ideas to incorporate into our day. We had an amazing day and he was a huge part in making it so special!"

Corrina & Tom
"Damian was the officiant for our wedding. We felt very comfortable with him from the first meeting, and both new instantly that we did not have to interview any others. Damian incorporated aspects of both of our religions and personalized our ceremony. He was very enthusiastic and everyone could here him at our outdoor ceremony. We got many compliments on the service and would highly recommend him."

Diana and Jordan Irwin
"Damien was a breeze to work with. He was helpful, attentive and enthusiastic from our first phone call all the way through the ceremony. He brought a great energy, had great suggestions but always posed them as options, and was quite knowledgable of wedding etiquette (how to stand, how to hold hands, etc.). I can't think of a single thing he could have done better."

Jordan
"Damian was amazing! We decided to use Damian King after he officiated our friend's wedding. Damian met with us many times, taking time to get to know us and our story. He is so friendly and personable. He integrated our story and personal touches into the ceremony, and made it a special day for us. We had so many compliments from our guests about what a great job he did. We couldn't have been happier with our choice! Highly recommended!"

Katie Morgan
"We got married last year by Damian King. When we began planning out our wedding, we honestly had no idea who we would want to marry us. I knew I wanted someone who could make the ceremony fresh and not so traditional and boring. Some one who would throw in a little humor being that our relationship has always been humorous. I did a lot of research and found that Damian King was exactly what we were looking. He made the ceremony our own! It was filled with laughs and a few serious moments and the."

Stephanie Holcomb
"Damian was very willing to accommodate our requests. My husband and I were joining two religious backgrounds, a different, but still semi-traditional, plan was best for us. Our wedding was fairly small, approx. 35people, and was planned without a wedding coordinator. We completely relied on Damian to tell us the do's, the don'ts and the how-to's. He was quite helpful with the rehearsal, as well as on the day of, by guiding us through each step."

Ellen F.
"I heard about Damian from another couple who got married right after I became engaged. We are so lucky we found him! He's amazing and knows how to make what can be a very stressful time into so much fun! He put me at ease and was a natural at making the whole ceremony go smoothly, which was hard to do considering there were drums and fireworks going off from a festival right in the middle of our vows! We would recommend Damian to anyone looking for the perfect officiant!"

Jenn F.
"Caring and compassionate officiant! We knew Damian was the right match for us from the initial meeting through his Foundation classes, until our wedding day. With each visit, phone call, and email Damian exhibited confidence & knowledge and made us feel as if we were a part of his family and not just another client. The comfort level we experienced was phenomenal! I encourage all brides and grooms-to-be to meet with Damian. I was pleasantly surprised and you will be, too."

Dawn Sarjeant
"We wanted a wedding that was fun and unique to us. We definitely got it! Damian took the time to get to know us, so that it felt like we were being married by someone we knew, not just someone we hired. We wanted to change a lot of things in a typical ceremony and truly make it our own. Damian was on board for all of it and the result was truly awesome. All of our friends and family made comments about how sweet, funny and personal our ceremony was."

Cindy and Ron P.
"We were so lucky and thankful to have Damian King as our wedding officiant for our ceremony July 7, 2012 at Dawes Arboretum. He walked us through the process beforehand and helped us tailor our ceremony to our wants and personalities. I felt like our ceremony truly reflected who we are as a couple. Damian was very organized for our rehearsal and was flawless during the ceremony, even though it was outdoors in 106 degree heat! I really liked how he kept both of us "cool" and calm during the ceremony."

Erin & Marcus Frank
"Damian did a wonderful job with our service and was very professional during the whole process. My husband and I met with him well before the wedding so that he could get to know us and discuss the details of the ceremony. He sent us a script for the ceremony that we were able to review and personalize. Since we had a small wedding we didn't have a rehearsal but Damian did such a great job running the show and explaining the process that everything went very smoothly. Many of our guests complimented us on the uniqueness and intimacy of the ceremony. I feel that Damian genuinely cares about the couples he works with and went out of his way to make our day special."

Allison
"We were very happy with United Marriage Services and Damian as an officiant. We had an introductory meeting where he got to know us as a couple and figure out what kind of ceremony we wanted. We wanted a mostly secular ceremony and he gave us an outline that we could personalize as much as we wanted. It was nice to have a structure so we weren't completely overwhelmed, but also have the ability to make it our own. At the rehearsal, Damian was great at making everyone feel relaxed and like they knew exactly what was going to happen. The guys liked having clear instructions on things like where to put their hands during the ceremony. We had an outdoor ceremony and Damian's voice was loud, clear, and projected the sense of happiness we wanted to be part of our wedding. Damian also handled all of the paperwork very quickly and efficiently."

K
"We were lucky enough to have Damian conduct our June 16th wedding ceremony at the Ohio Statehouse and could not have been happier with the wonderful job he did. He smoothly ran our rehearsal, conducting the event in a calm and informative manner and had put together a clear outline of what our ceremony would entail. The day of the ceremony he checked in with my husband and I before the ceremony and was reassuring and comforting throughout the entire process. I would highly recommend Damian and United Marriage Services for your special day if you are in need of an officiant!"

Megan & Brandon
"Damian was a fantastic addition to our wedding day. We knew we wanted to personalize our ceremony and he really listened to what we wanted. He provided a lot of options for us to review and made any changes we requested. He was also extremely professional throughout the entire process and made the ceremony planning easy and fun. I would highly recommend him to anyone."

Kim
"Damian gave us a perfect ceremony. He met with us several times before the wedding day to get to know us and discuss how we wanted our ceremony. He gave us great ideas and had several options to personalize our wedding just for us. Damian also was very helpful during the rehearsal with helping us make decisions on what looked best and making sure things ran smoothly. Damian is an energetic and positive person which showed through in our ceremony. My wife and I had an amazing wedding and would highly recommend Damian for anyone that is getting married. Thanks again Damian!"

Brittany and Jake Farrell
"My husband and I do not belong to a church and were not getting married in a church. I had been concerned about who would marry us - until I found Damian online. All of his previous reviews really encouraged me to reach out to him about performing our ceremony. He was so kind and very easy to talk to! He was extremely helpful and helped us put together a ceremony that worked PERFECTLY for both my husband (semi-religious) and me (not religious). Several wedding guests commented on how amazing Damian was and we couldn't agree more. He is very passionate about what he does and it definitely shows!"

Ashley K.
"Damian was a wonderful officiant and I would recommend him to any of my friends or family. He speaks in a clear and distinct manner and makes sure everyone can hear him during the ceremony. Damian makes sure he gets to know you on a personal level before your wedding. I found this to be very important in choosing my officiant as I wanted the ceremony to be as special as possible. Thanks Damian!"

Katie and Josh Crawford
"My husband and I were delighted to have Damian as our wedding officiant. He was very friendly and professional and made us feel comfortable from the very beginning. Damian made our planning so simple and everything turned out perfect. He sent us sample vows and ceremony outlines that took the pressure off of us. He always took the time to respond to my emails and answered any questions that we had. I would recommend Damian to anyone who is in need of an officiant. He is very dependable and will definitely create a memorable experience."

Rosesa
"Damian, thank you SO much for giving us the exact ceremony we were hoping for. Your willingness to tailor the ceremony to be personal to our tastes made the planning process wonderfully simple. In addition to how pleased WE were with the ceremony, we have received numerous compliments on having you as our officiant. You came highly recommended, and we will continue to recommend you to anyone that will listen. We also want to thank you for opening our eyes and hearts to your Marriage Foundations classes. They helped us open the lines of communication that are so critical to a healthy and happy marriage. Thank you so very much!"

Brenda Kenney and Clint Sears
"Damian did a fantastic job officiating our wedding. He was very helpful with combining the different facets we wished to incorporate into our vows. My husband & I come from different religious backgrounds and were not having the ceremony in a church b/c of that. We were both a little skeptical of hiring an officiant, me esp. as I always imagined the person marrying us would be someone we had known our whole lives. Damian took the time to get to know us throughout the planning process & it really showed come our wedding day. The day of the wedding went perfect. He conducted the ceremony in a very professional and friendly manner. He made us both very relaxed and calm, it definitely was not what we would have expected from an officiant service. We received many compliments on the ceremony and what a great job Damian did. We could not have been more pleased with how things turned out. We are very grateful to have found such a great person to conduct our wedding. Damian is very passionate about weddings and about the meaning of marriage and it shows through his work."

Amber Brandimore
"My husband and I were married last summer by Damian. While we are not youngsters, we still wanted our ceremony to be perfect. And it was! It was such a pleasure working with a fun, energetic professional, who was most concerned about what we wanted and the feeling that we wished to convey to our guests on our special day. Our ceremony was filled with humor and just the right amount of seriousness that our vows required. It was so much fun writing the script for our ceremony and Damian was very helpful in providing guidelines when needed. The service we received from Damian before, during and after the BIG DAY was superb from top to bottom, and we whole-heartedly recommend Mr. Damian King!"

Darlene Slater
"Damian was so great to work with throughout the entire wedding planning process. From the pre-wedding sessions to the rehearsal and all the way through the end of the ceremony, Damian was there to support us and make the day as special for us as he possibly could. He worked with us to construct our ceremony with readings and other small touches so that our ceremony was personalized just for us. The whole wedding was just perfect. It was everything we ever imagined and more! Damian is an excellent public speaker, great to work with, and above all else is a genuinely kind person. I am so glad that we were able to work with him for our wedding! I would definitely recommend him to anyone that is looking for someone to do an amazing job at performing their wedding ceremony!"

Sara DeMatteis
"Damian did a wonderful job with the whole process. Our ceremony had that perfect mix of seriousness to accompany the most important day of our lives, while still feeling relaxed and not stuffy. We also took his pre-marriage workshop, and unlike the stories I hear from all my friends about similar pre-marriage workshops / courses / counseling etc., it was full of practical advice of tips and things to do to keep our marriage healthy beyond the ceremony. I can't recommend United Marriage Services enough!"

Matt
"Damian King was such a pleasure to have as part of our wedding. He is caring and very understanding to our wishes throughout the planning process. His vocals were perfect and felt very sincere as he officiated us through the ceremony. Everyone kept telling us that our wedding, specifically the ceremony, was the best they have ever been to and seen. Thanks to Damian, we will cherish and remember our day forever! We would absolutely recommend him to anyone."

Krysten
"My husband and I are not religious, do not belong to a church, and did not want to get married in a church. That being said, we had no idea who we wanted to marry us. I began my search on the internet, which is where I found Damian. He performed our non-religious ceremony, and he was absolutely wonderful. He is a great speaker, genuinely kind and sweet, prompt, and very easy to work with. Our ceremony was very personal, as it was primarily focused on Jason and I's history/future, and I felt so comfortable with Damian pronouncing us as man & wife."

Kathy Mattice
"Damian was so amazing, he did a great job working with my fiancee and I from across the country! We live in Washington and he was so easy to work with and always responded to our calls or emails in a very prompt manner. He was congenial and very interested in how WE wanted our ceremony to be. He helped facilitate it but let us make all the decisions. We were extremely pleased with his services and would highly recommend him to anyone."

Emily Wallace and Rob Slembarski
Add Your Review of United Marriage Services, LLC

Linda & Gordon
Newark, OH

Samantha & Joshua
Columbus, OH

Susan & Jeffrey
Columbus, OH

Beth & Michael
Charleston, WV

Robbi & Chris
Marysville, OH

Miranda & Tommy
North Lewisburg, OH

Sara & David
Newark, OH

Tina & Ryan
Orient, OH

Tia & Jordan
Columbus, OH

Megan & Jordan
Columbus, OH

Debra & Rodney
West Jefferson, OH

Alejandra & Gregorio
Columbus, OH

Miguel & Norma
Columbus, OH

Lauren & Michael
Hilliard, OH

Cindy & Larry
Lockbourne, OH

Sasha & TJ
Reynoldsburg, OH

Chandra & Anthony
Columbus, OH

Samantha & George
Westerville, OH

Zoila & Guido
Columbus, OH

Jerica & Dave
Columbus, OH

Kyle & MacKenzie
Newark, OH

Connie & John
Columbus, OH

Shelley & Robert
Lancaster, OH

Michelle & David
Johnstown, OH

Tabitha & Nikolaus
West Jefferson, OH

Kathy & Jim
London, OH

Amanda & Nathaniel
Columbus, OH

Natalie & Sean
Sunbury, OH

Natalie & Roger
Marysville, OH

Natasha & Zachary
Grove City, OH

Melissa & Andrew
Columbus, OH

Brandi & Steven
Grove City, OH

Amy & Chris
Reynoldsburg, OH

Fredricka & Brian
Columbus, OH

Nadine & Mark
Columbus, OH

Tiffany & Billy
Grove City, OH

Joseph & Nancy
Columbus, OH

John & Amber
Columbus, OH

Anastacia & Kevin
Grove City, OH

Heather & Aaron
Columbus, OH

Josiah & Heather
Plain City, OH

Mariana & Michael
Columbus, OH

Leigh-Anna & Jacob
Sunbury, OH

Shawn & Courtney
Grove City, OH

Kerri & Kevin
Pickerington, OH

Katelyn & Alex
Columbus, OH

Chelsea & Jonathan
Columbus, OH

Brittany & Mark
Lancaster, OH

Jennifer & Danny
Grove City, OH

Shawntae & Chris
Orient, OH

Alexandria & Eric
Lancaster, OH

David & Shanna
Columbus, OH

Kristy & Jeff
Columbus, OH

Sue & George
Lancaster, OH

Crystal & Rocky
Columbus, OH

Lesly & Charlie
Groveport, OH

Sarah & Eric
Columbus, OH

Candice & Delvan
Columbus, OH

Ashley & Troy
Columbus, OH

Elizabeth & Scott
Columbus, OH

Theresa & Nick
Galloway, OH

Deshae & Tshwane
Columbus, OH

Maria & Andrew
Hilliard, OH

Danielle & Louie
Newark, OH

Asia & Carl
Galloway, OH

Barbara & Steven
Columbus, OH

Kristen & Matthew
Marysville, OH

Amara & Chris
Columbus, OH

Britney & David
Columbus, OH

Judy & Alan
Columbus, OH

Alyssa & Nathan
Columbus, OH

Ian & Caroline
Columbus, OH

Alice & Richard
Groveport, OH
Send Message to United Marriage Services, LLC