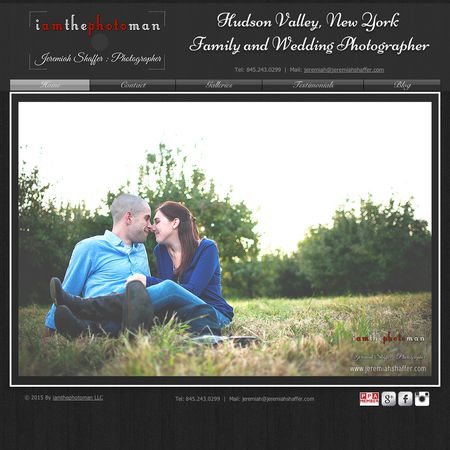 "We were amazed by what Jeremiah was able to capture. I thought I remembered every detail but what came through in our album was truly special. Candids of the day made me realize that I wasn't able to be everywhere all of the time. That other moments, special moments were happening even when we were not present. The gift he possess is outstanding and I am so happy to have these memories documented. My mind alone would never have caught the memories Jeremiah's abilities were able to."

Joe H.
"Jeremiah is a very professional and very accommodating photographer! This was my second wedding and he was able to re-create a picture from 17 years ago at my previous wedding - I can't tell you how happy I was. During the ceremony and rest of the wedding you barely noticed he was there taking pictures, but when the pictures came back I was so thrilled to see that he captured the day perfectly. I can't recommend him enough!"

Kerri Lambertus
"My children surprised me with "wedding photos" as our gift from them. I was excited & apprehensive all at the same time. Who was this guy coming to photograph us on our special day? Well... this "guy" turned out to be the sweetest, most polite, professional photographer I have ever met. I felt totally comfortable with Jeremiah. He put everyone at ease while doing his thing and just became one of the family for the day! How cool is that?!"

Mary M.
Add Your Review of Jeremiah Shaffer Photography

Bonnie & Donald
Poughkeepsie, NY

Camlyn & William
New York, NY

Rose & Matthew
West Point, NY

Elva & Fernando
Yonkers, NY

Krystal & Brandon
Newburgh, NY

Beth & Tony
Granby, MA

Jaymi & Chris
Saugerties, NY

Jodene & Odain
Schenectady, NY

Emmalee & Stefan
Rocky Hill, CT

Sapphira & Fidel
Brooklyn, NY

Nikki & Brad
Tarrytown, NY

Raini & Akila
New York, NY

Beatriz & Jerico
Jamaica, NY

Monika & BJ
Nyack, NY

Erin & Mark
Highland Mills, NY

Dolores & Dennis
Bronx, NY

Jessica & Elvis
Springfield, MA

Kelliann & Vinnie
Middletown, NY
Send Message to Jeremiah Shaffer Photography