It's one of the biggest days of your life, let's make it FUN! Rev. Dee takes the stress out making the process enjoyable and fun! Her joyful heart, enthusiasm, flexibility and caring nature help to create the ceremony exactly how you had hoped for! Her unique ceremony, honors who you are and celebrates the love you share. Coming from Catholic roots, now Interfaith and Non-denominational, she LOVES to perform weddings! She blends inspiration, tradition and even out-of-the-box! Free 30 minute mtg.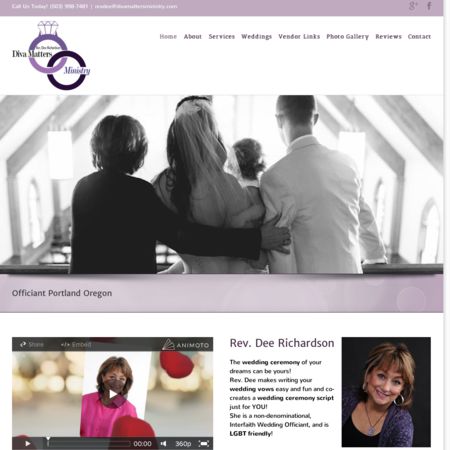 1/18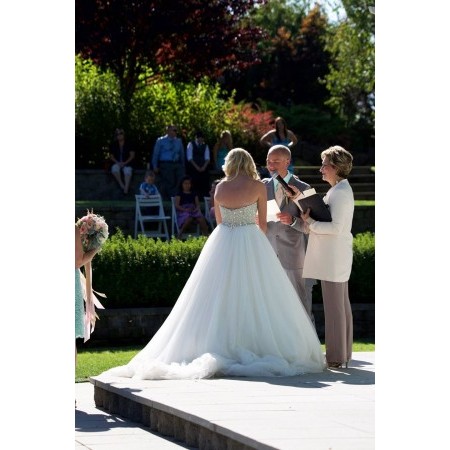 2/18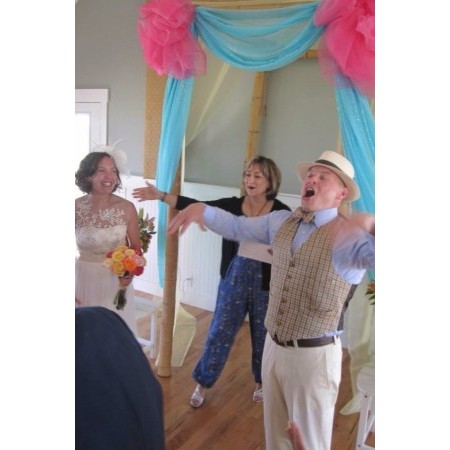 3/18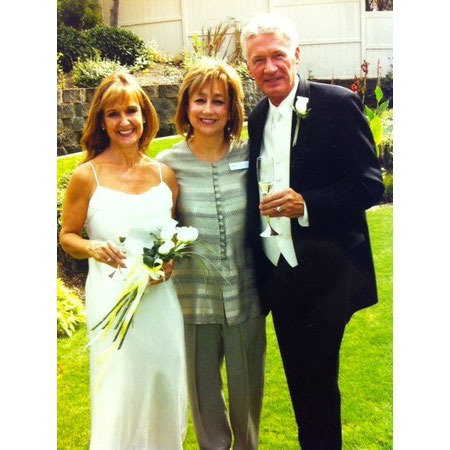 4/18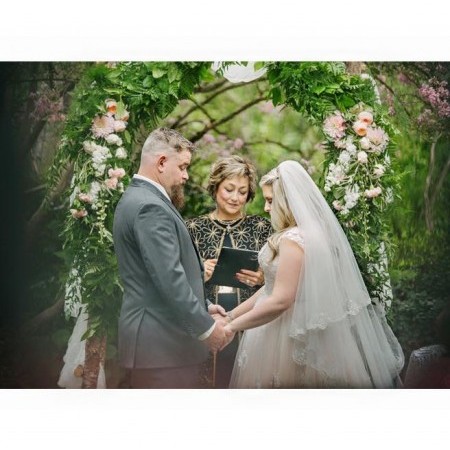 5/18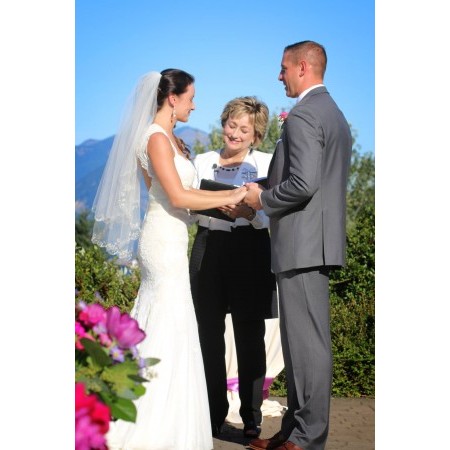 6/18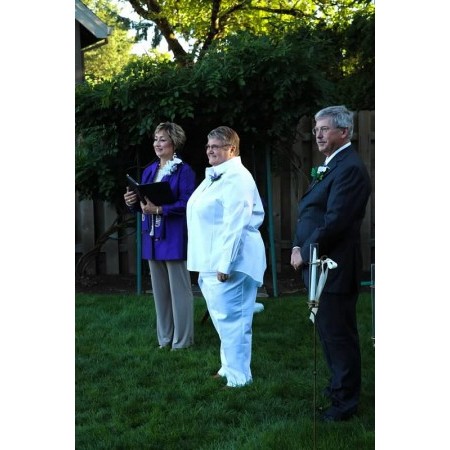 7/18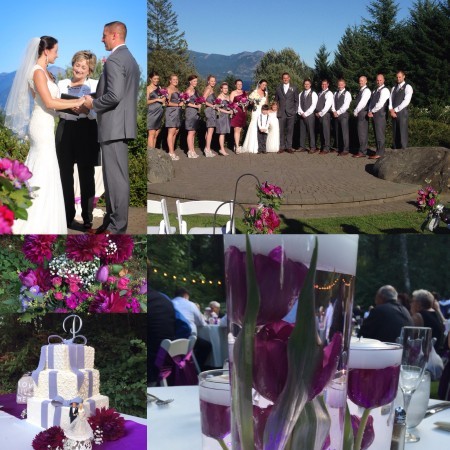 8/18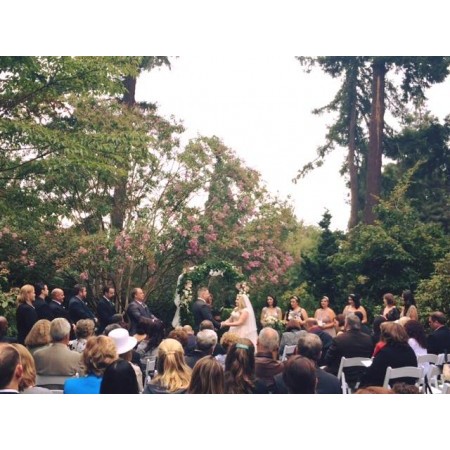 9/18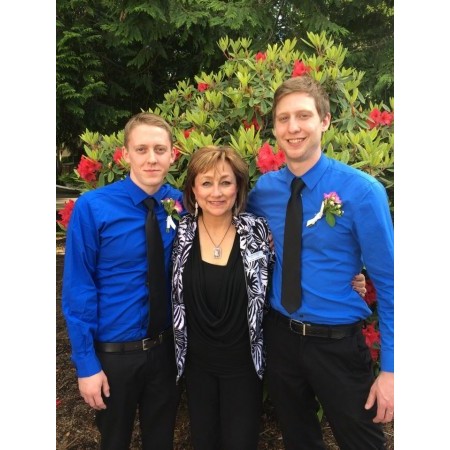 10/18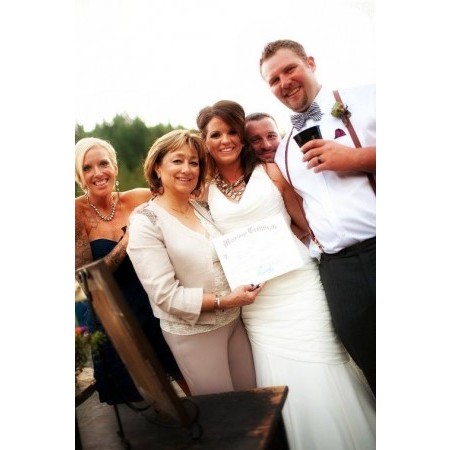 11/18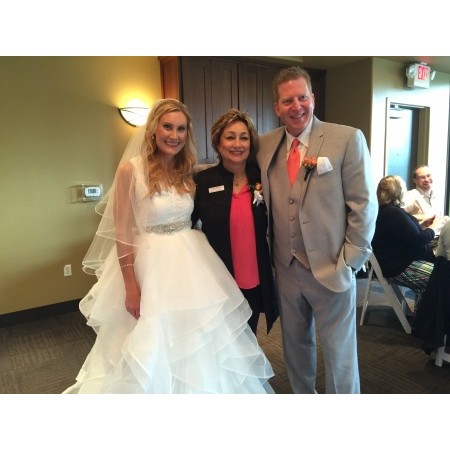 12/18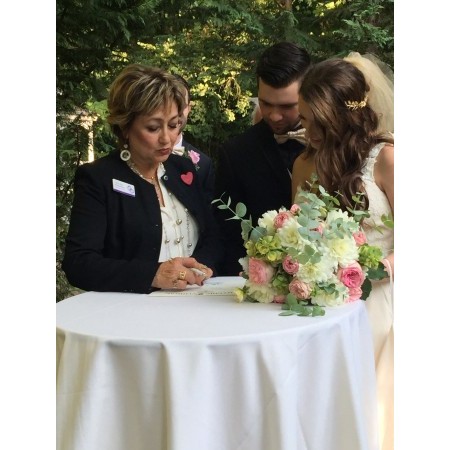 13/18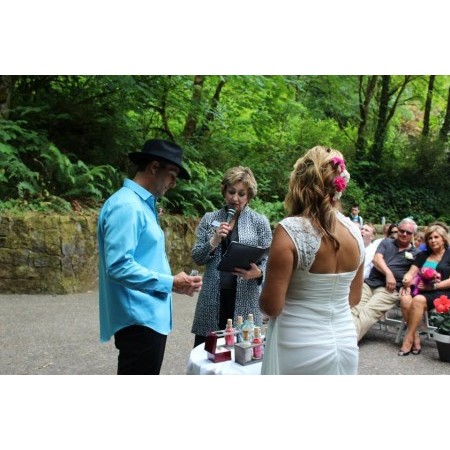 14/18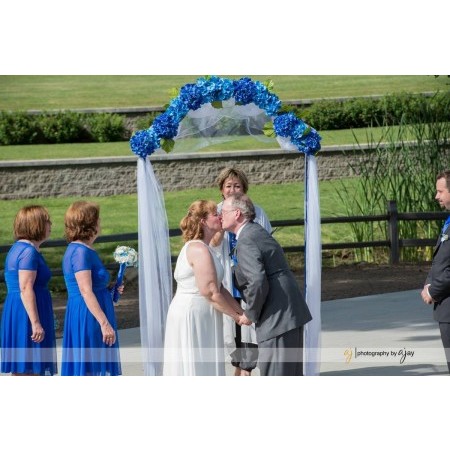 15/18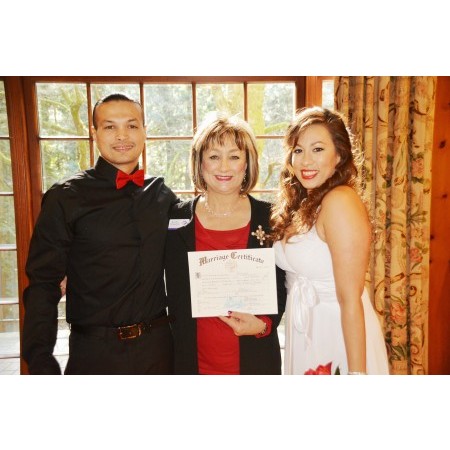 16/18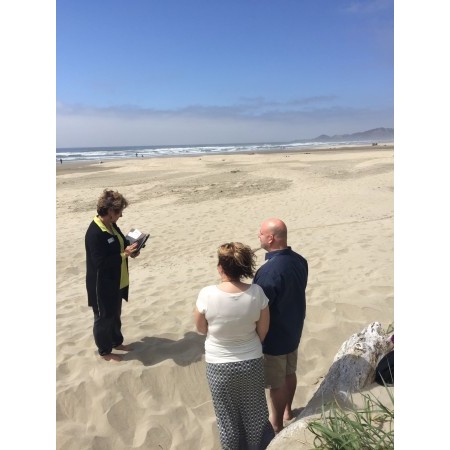 17/18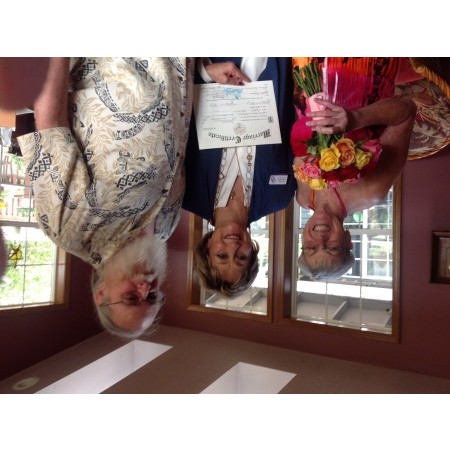 18/18
‹
›
"Rev. Dee was wonderful to work with. She was attentive in our meetings; listening to our story, providing us with some direction, and hearing what we wanted and didn't want. She was very responsive and graciously went back and forth as we designed our ceremony."

Jess & Justin
"Rev. Dee made our wedding complete! She was beyond helpful and the ceremony script was absolutely perfect! She let us edit it as we saw fit and was encouraging throughout the process. People are still commenting on how lovely the ceremony was! She was fantastic!"

Rachel
"Dee was nothing short of amazing. She came all the way out to the little place we rented to marry us and she did a fantastic job. We looked at other officiants but we just couldn't pick someone other than her. She made the ceremony so personal and fun for us. Everything was perfect. She was worth what we paid and she really did make everything that much more special for us!"

Siera
"My husband and I knew right away during our consultation that Rev. Dee was a fit for us. Her warmth radiates, and it is obvious how much she cares about your ceremony and that it fits who you are as a couple. Meet with her!"

Cassandra
"Rev. Dee was just great! Upon meeting at her office we knew we had found the perfect person to perform our ceremony. She really listened to us and everything went perfectly! Highly recommend."

Kimberly DeNolf Davis
"Dee is a wonderful wedding officiant and we would highly recommend her to anyone looking for an officiant for their wedding. Her exuberance and passion for what she does make her a perfect officiant. She is fun to watch and listen to. She will always remember that it's your special day and will do whatever she can to make it perfect for you."

Kellan & Marie Davis
"When we first met Dee, we were thrilled. By the time we had left and walked to our car in the parking lot, we decided we'd better go back in and confirm our booking with her right away. So we did! We don't have a single bad thing to say about Dee. She was so genuine and caring, and really helped us to create a ceremony that was perfectly us. My wife is determined to find an excuse to hang out with her in the future, because she's a great person. Perhaps a wine tasting adventure? Thank you, Dee!"

Trevor Eyre
"From the moment we met Rev. Dee we knew that she was the right one for us. Her openness and gentle direction put us right at ease. We wanted our ceremony to be special, which she helped us do by personalizing it for us. Not only did this help us to have a level of comfort during the ceremony, it brought special meaning to the ceremony for my wife and I. After the ceremony so many people told us what a wonderful ceremony this was, and how much they enjoyed Rev. Dee."

D.B.
"Dear Rev. Dee, Thank you for being our Officiant! I truly believe our paths have crossed intentionally, and forever. You made our service so Divine, so serene, and so beautiful. We consider you a friend for life (uh-oh!) and look forward to seeing you again. Thanks again for being such an integral part of our union!"

Deidre
"Dear Rev. Dee, Thank you so much for making our special day one to be treasured forever. Your readings made me feel as though a dear friend was conducting the ceremony. I should also mention that you rekindled my faith in clergy - and in faith! I sincerely thank you for that! You are indeed a dear friend - where have you been?."

Pam
Add Your Review of Diva Matters Ministry

Kylie & Michael
Eugene, OR

Michelle & Nathan
Portland, OR

Christiana & Jim
Newport, OR

Maria & Victor
Beaverton, OR

Linda & Lee
Salem, OR

Anahi & Jose
Portland, OR

Rachael & Joe
Vernonia, OR

Jennifer & Kyle
Neotsu, OR

Shawn & Justin
Eugene, OR

Kristen & Craig
Rickreall, OR

Gene & Tanya
Vancouver, WA

Tonjua & Kraig
Depoe Bay, OR

Maria & Jose
Salem, OR

Caitlin & Dj
Halsey, OR

Daniela & Emmanuel
Harrisburg, OR

Kerri & Todd
Welches, OR

Salen & Daniel
Fairview, OR

Julie & Heinrich
Madras, OR

Angela & Jose
Eugene, OR

Angelica & Aaron
Independence, OR

Tyler & Linda
Vancouver, WA

Amanda & Matt
Lincoln City, OR

Wendy & DJ
Depoe Bay, OR

Julianna & Ross
Boring, OR

Isabelle & Chuck
Vancouver, WA

Kitty & Luke
Portland, OR

Katie & Justin
Canby, OR

Jennifer & Brian
Corbett, OR

Raina & AJ
Portland, OR

Tiffany & Larry
South Beach, OR

Joni & Kelly
Portland, OR

Morgan & John
Portland, OR

Aleshiea & Michael
Centralia, WA

Chelsea & Bryan
Monroe, OR

Heather & Tim
Depoe Bay, OR

Jessica & Larry
Portland, OR

Ebony & Andre
Lincoln City, OR

Perla & Franklin
Beaverton, OR

Samantha & Zachary
Oregon City, OR

Breanna & Logan
Seaside, OR

Heather & Josh
The Dalles, OR

Susan & Robert
Centralia, WA

Ken & Zulma
Portland, OR

Melanie & Michael
Seaside, OR

Kim & Dave
Vancouver, WA

Heather & Matt
Wilsonville, OR

Piper & Cody
Oregon City, OR

Alisia & Derek
Newport, OR

Sarah & Brian
Centralia, WA

Caitlin & Jesse
Salem, OR

Vanessa & Jeffrey
Hillsboro, OR

Jaime & Christopher
Portland, OR

Aivie & Jeffrey
Happy Valley, OR

Kayla & Steven
Stevenson, WA

Joanna & Andy
Astoria, OR

David & Karen
Vancouver, WA

Taniesha & Daniel
Salem, OR

Aniline & Brandon
Vancouver, WA

Peter & Kim
Wilsonville, OR

Kendra & Charles
Albany, OR

Annette & Jacob
Salem, OR

Brigitte & Nick
Rockaway Beach, OR

Carolyn & Michael
Portland, OR

Carolyn & Michael
Portland, OR

Jackie & Jacob
Portland, OR

Pamela & William
Salem, OR

Carrie & Fred
Battle Ground, WA

Ryan & EJ
Hood River, OR

Shirley & Howard
Eugene, OR

Julia & John
Lebanon, OR

Chaena & Cody
Molalla, OR

Kristina & Micheal
Portland, OR

Samantha & Keith
Molalla, OR

Melisa & Tim
Albany, OR

Julie & James
Saint Helens, OR

Lyndsy & Christian
Portland, OR

Cindy & Daniel
Gresham, OR

Stephanie & Joe
Newberg, OR

Dawnell & Daniel
Salem, OR

Linda & Jason
Hillsboro, OR

Tarah & Tip
Hillsboro, OR

Sarah & Tim
Salem, OR

Amy & Lemonday
Portland, OR

Penny & Matthew
Portland, OR

Kirstin & Jeremy
Eugene, OR

Tammy & Chris
Gresham, OR

Dannelle & Lucas
Jefferson, OR

Beth & Steve
Forest Grove, OR

Victoria & Mike
Salem, OR

Rose & Chris
Portland, OR

Samantha & John
Springfield, OR

Jamie & Brian
Portland, OR

Tammy & Roy
Washougal, WA

Courtney & Timothy
Vancouver, WA

Victoria & George
Washougal, WA

Heather & Dennis
Longview, WA

Michelle & Andon
Oregon City, OR

Yvette & Christopher
Lincoln City, OR

Magon & Chris
Albany, OR

Shawanda & Roosevelt
Portland, OR

Jessica & Raul
Portland, OR
Send Message to Diva Matters Ministry