We are Colorado's premiere photography & videography team. We specialize in capturing the essence of your event. All our photo packages include unlimited photos during contracted times, online proofing, a proof book, extra prints, & your digital negatives on CD-Rom! Our style is a mixture of traditional portraiture & candid photo-journalistic photos. We also offer high quality customized storybook albums and a 20% discount on any videography service package if you book us for both services!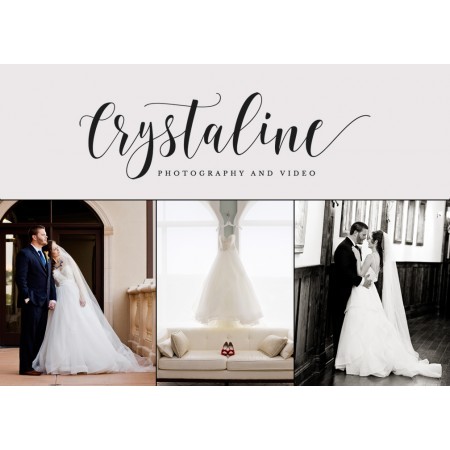 1/25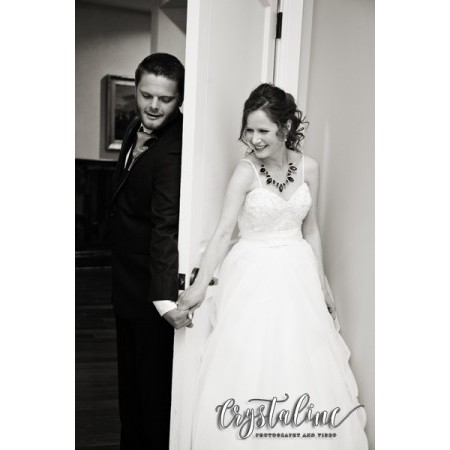 2/25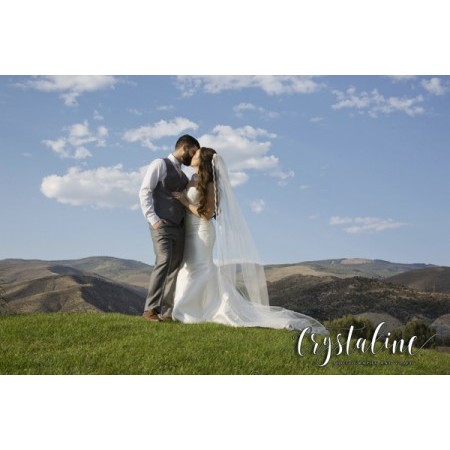 3/25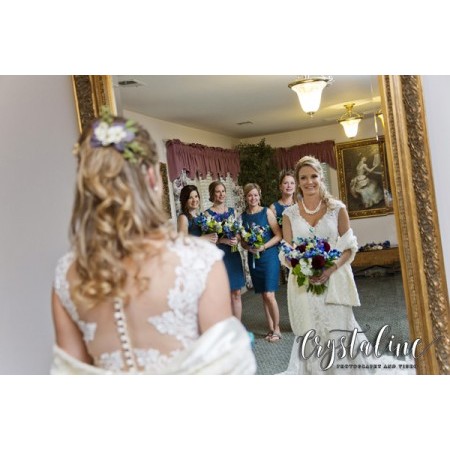 4/25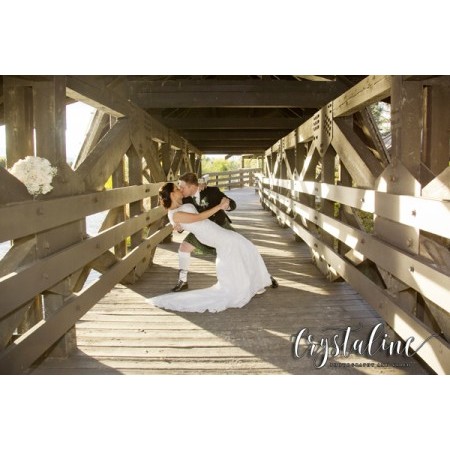 5/25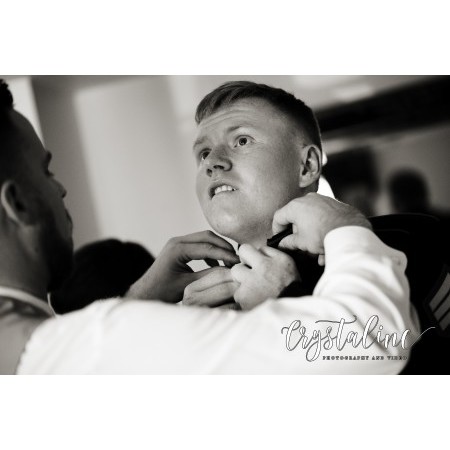 6/25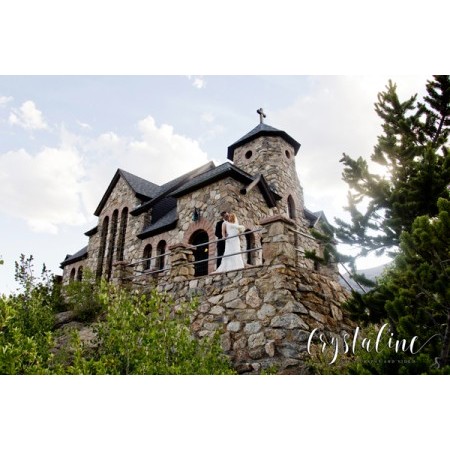 7/25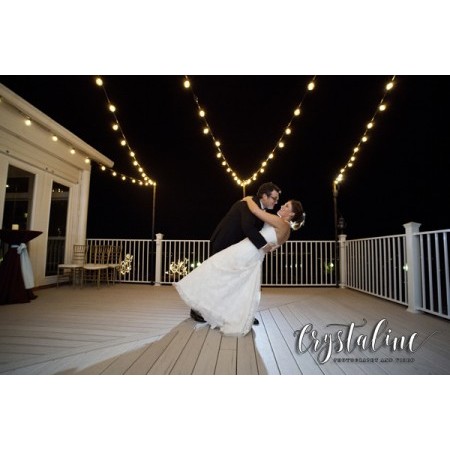 8/25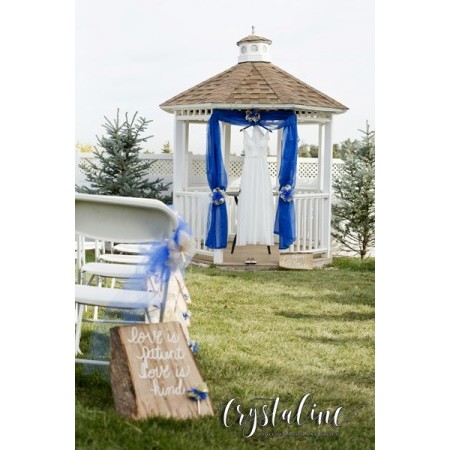 9/25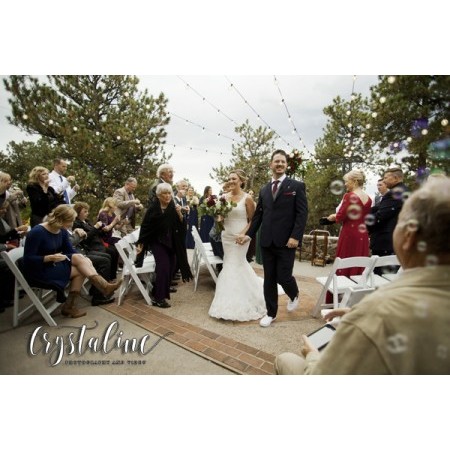 10/25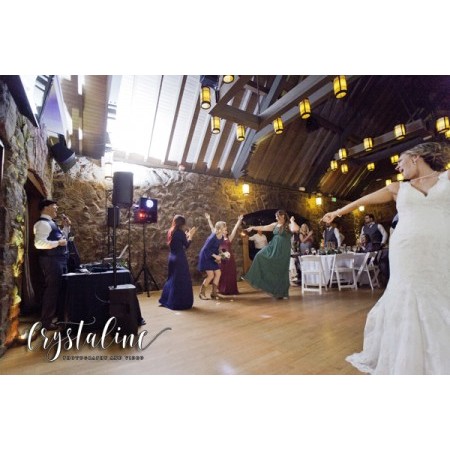 11/25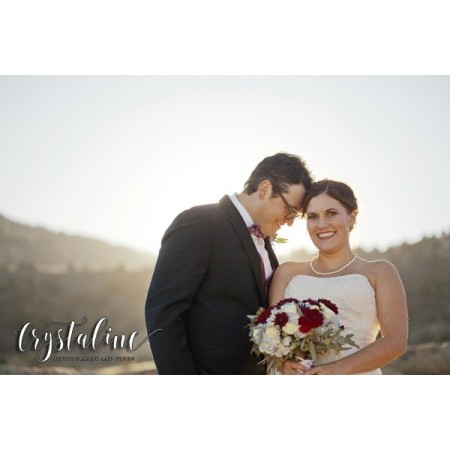 12/25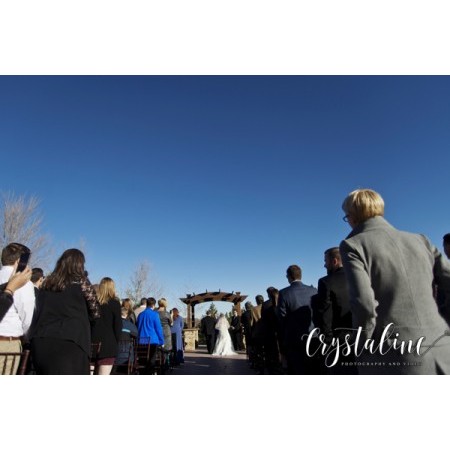 13/25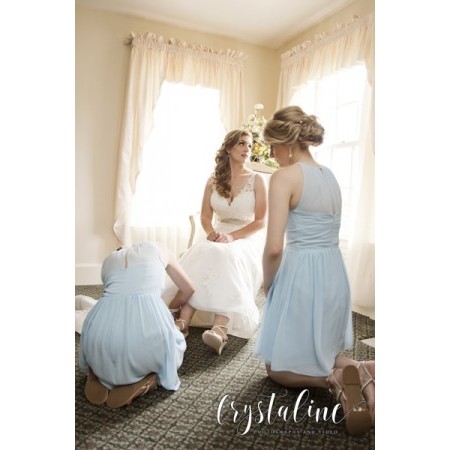 14/25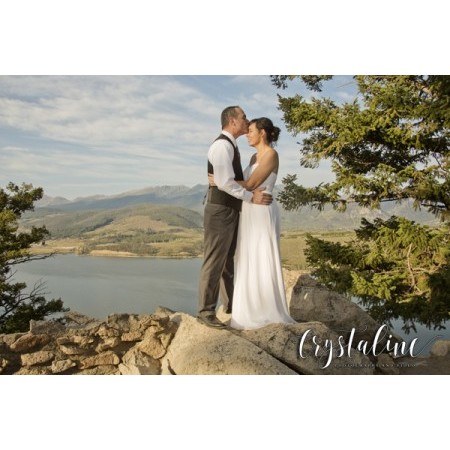 15/25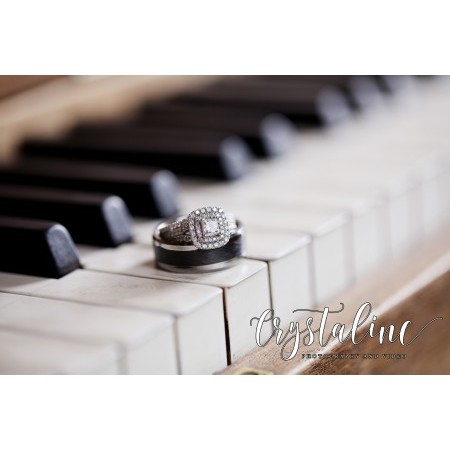 16/25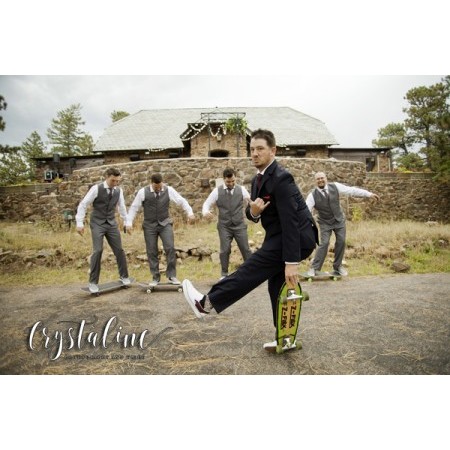 17/25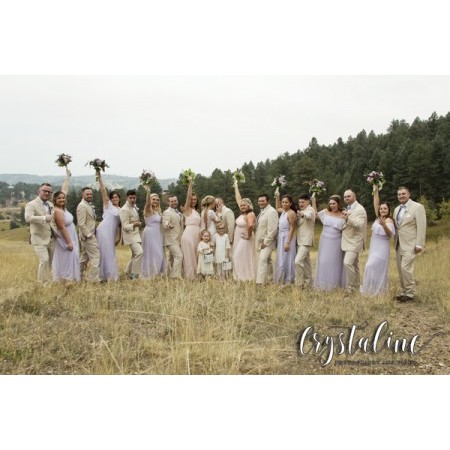 18/25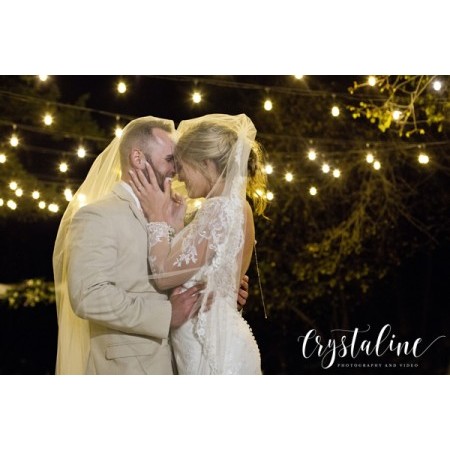 19/25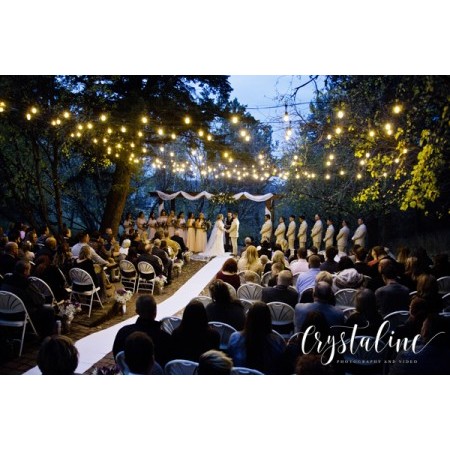 20/25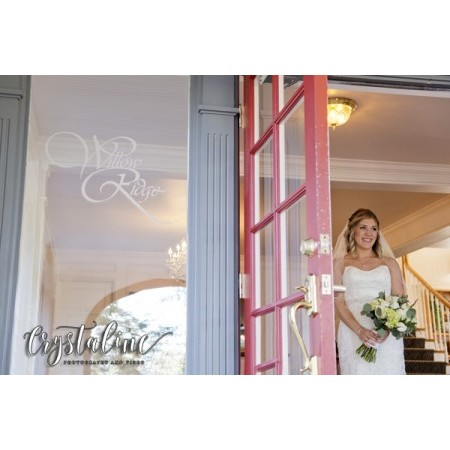 21/25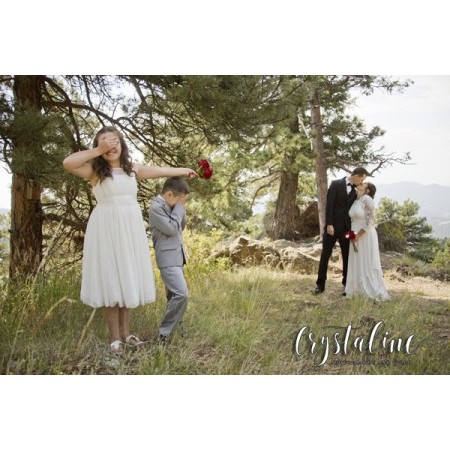 22/25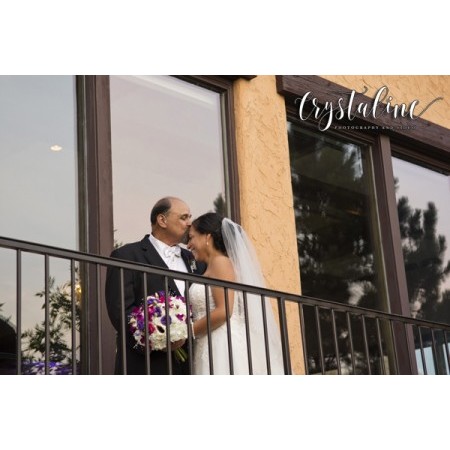 23/25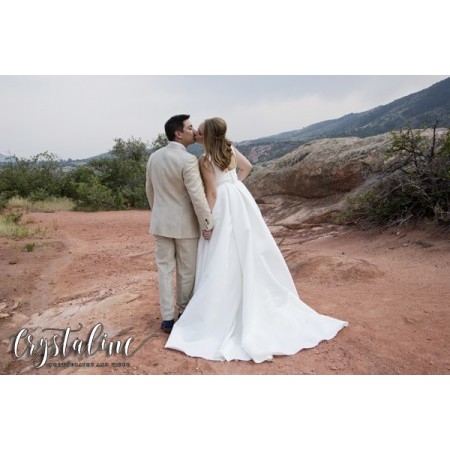 24/25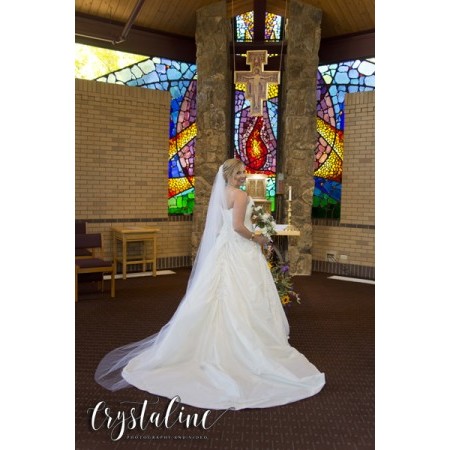 25/25
‹
›
"WOW... WOW... WOW! From first conversation to our final presentation, we both feel we couldn't have gotten any luckier than to book with Crystaline. To have such talent travel to South Dakota to capture our much anticipated day, the stars were in line. In memory the day is filled with snapshots of events, but once we received our DVDs we were able to sit back & take in all the activities & emotions. Thank you again & tip to anyone looking to book a vendor... don't forget the videographer. Crystaline not only has the professionalism, but the fun & friendly calm to assist with making the event unforgettable!"

April Duran
"Crystaline Photography did the photos, video, and DJ services for our daughter's wedding at the Denver Botanic Gardens. Having the 3 in 1 package made life a lot simpler and also more affordable. We couldn't be happier with the over 1200 photos, the memorable video, and the DJ service at the reception. Everything went smoothly and we have relived the day over and over again -- seeing a lot of things we missed at the actual event! I highly recommend them!"

Janis Schnabel
"We used Crystaline Photography for our wedding June 2011. Jamie and her group are soo AWESOME! The pictures turned out great! We also did a photobooth for our guests, which was also amazing. Crystaline Photography brought all kinds of silly props for the guests to take pictures with, and they had a ball! I have to say that, that day was a little crazy for me. The hubby and I didn't have time to enjoy everything (because the day went by so quick). But looking back at the pictures, it's like we didn't miss a thing. Every single picture that was taken, we have a copy of it (digital, of course). When we were in the planning process, a friend asked me what was the most remember thing about a wedding. The answer: The pictures! You can't go wrong with this group taking the pictures."

Danielle M.
"I met Jamie and Mike at a bridal show that I was attending as a vendor. Spent the day talking to Jamie and Mike, and looking at the beautiful pictures she had on display. Little did I know that I would be engaged a few weeks later. I called Jamie to see if she had our date available and she did, and I couldn't be happier that I kept her card from that day. Jamie did our engagement, wedding photos and video, as well as a trash the dress session after the wedding. If you are looking for someone who is adventurous and creative- look no further than her! She was climbing rocks, trees, wading into rivers to take our photos, I haven't seen any other photographers that I've worked with in my job be anywhere near as willing to step outside the norm as she was. We have amazing pictures thanks to her that show off our personalities. She has always been incredibly professional and got everything back to us or online very quickly. Working with her was fun and helped to make the whole wedding process that much more enjoyable. I would highly recommend her to anyone and look forward to working with her again in the future!"

Jennifer Adams
"Crystaline photography took beautiful photos at my wedding, providing everything that I had expected from our contract in a friendly and professional manner. My first contact with Jamie was over the phone and through email because I planned my wedding from out of state. She was easy to work with over the distance, promptly replying to my messages. When we finally sat down in person to discuss the contract, she also gave me good advice about other wedding planning details that I may have otherwise overlooked. Jamie was able to work within my tight budget by eliminating some of the extras that other photographers require (like a set number of printed pictures ordered). The best feature of my package were high-quality jpeg copies of all the photos taken during the wedding. Very few other photographers will give you that; if they do, they'll give you low-quality jpegs that don't print well. The day of the wedding, Jamie and Mike were at the church early just as they said they'd be. Thankfully, I didn't need anything from the wedding emergency kit that Jamie brought, but it was nice to know that she had one. Mike was a great photography assistant to Jamie throughout (I didn't get video taken). They worked well to organize everyone into formal portraits. Even the family members who don't like getting their picture taken look great in the photos. The photos were posted online within a week of the wedding. The website made it easy for the wedding guests to view and order pictures right away (Jamie gave out business cards listing the website to guests at the wedding so they would know it existed). I received cd's with jpeg copies of the pictures shortly after that. That's a quick turnaround in the wedding photography world. If I could change one thing about the photography, I would have moved around during the formal shots to get different backgrounds. As it is, most of the formals are in front of the altar. Putting the formals together therefore makes for a monotonous multi-picture frame. But, we were limited by time and by the cold winter weather. Another photography note: some of the best non-formal pictures are artfully tilted, but these don't fit well into picture frames. Overall, I would recommend Crystaline Photography. Jamie runs a professional, friendly, and reasonably priced business."

Leigh
"We just received our wedding photo proofs back from Jamie at Crystaline Photo and the first thing I wanted to do was thank her. She did an amazing job. We got every shot that we requested and then some. Jamie was completely invisible the whole time, I have no idea how she got so many great photographs. Since you can't be in more than one place at a time at your wedding, it was a huge surprise to me that Jamie captured so many moments that we missed but now feel like we were a part of. My mother's first comment after she saw the proofs was, "I feel like I didn't miss a single part of the wedding with all of the photographs!" We also had Jamie's husband Mike of Digital DJ do our ceremony and reception music and we received so many positive comments from our guests on his music selection. They made our event just perfect and went above and beyond. I can't recommend them enough. Now that I think back on the day, I realize that with their combined expertise and experience at weddings and events, we actually got a DJ, wedding photographer and wedding planner from them. Mike kept everything moving and fun and Jamie was there to capture every moment for us. Thank you both!"

Jennifer Clerkin
Add Your Review of Crystaline Photography & Multimedia, LLC

Crystaline Photography & Multimedia, LLC
Arvada, CO

Camey & Jodie
Fort Collins, CO

Courtney & Ryan
Cheyenne, WY

Ashley & Wesley
Colorado Springs, CO

Krystle & Richard
Evergreen, CO

Jessica & Aaron
Warren, PA

Alexi & Scott
Wellington, CO

Katie & Damon
Denver, CO

Bridgette & Joey
Loveland, CO

Marty & Carlton
Dillon, CO

Katharine & Briant
Colorado Springs, CO

Amber & Shane
Denver, CO

Theresa & Joe
Aurora, CO

Gina & Adam
Colorado Springs, CO

Sofia & Robert
Colorado Springs, CO

Melissa & Edwin
Colorado Springs, CO

Nichole & Mathew
Windsor, CO

Paisha & Lastone
Denver, CO

Gabrelle & Taylor
Aurora, CO

Holly & Andy
Denver, CO

Cailey & Jeff
Cheyenne, WY

Alexandra & Jonathan
Lafayette, CO

Cheryl & Joshua
Aurora, CO

Ella & Mike
Parker, CO

Jody & Tony
Vail, CO

Stevie & David
Aurora, CO

Joyce & Juan
Commerce City, CO

Kat & Ryan
Colorado Springs, CO

Tori & Alex
Burlington, CO

Kari & Billy
Colorado Springs, CO

Rebecca & Nigel
Denver, CO

Melody & Wes
Milliken, CO

Lanore & David
Denver, CO

Stephanie & Jeffrey
Arvada, CO

Leanna & Chris
Cheyenne, WY

Gabrielle & Johnathan
Parker, CO

Sherice & Jessica
Denver, CO

Ashley & Casey
Vail, CO

Valerie & Don
Gunnison, CO

Corrine & Andrew
Aurora, CO

Patti & Patti
Parker, CO

Linda & Jonathan
Denver, CO

Andrea & Ronnie
Aurora, CO

Stephanie & Bryce
Colorado Springs, CO

Mauriceona & Chad
Aurora, CO

Peggy & Rick
Littleton, CO

Karin & Matthew
Englewood, CO

Ladonna & Jim
Colorado Springs, CO

Jesse & Jennifier
Colorado Springs, CO

Mikayla & Bryan
Colorado Springs, CO

Brittany & Ronald
Crawford, CO

Yolanda & Josh
Estes Park, CO

Trista & Dustin
Aurora, CO

Kelly & Luke
Breckenridge, CO

Ione & Thomas
Aurora, CO

Jina & Dominic
Denver, CO

Mindy & Jeff
Loveland, CO

Brooke & James
Vail, CO

Michaela & Michael
Cheyenne, WY

Lori & Nick
Canon City, CO

Darlene & Larry
Grand Junction, CO

Matthew & Sandra
Evergreen, CO

Ashley & Doug
Colorado Springs, CO

Katheryn & Nathan
Colorado Springs, CO

Jessica & Jimmy
Colorado Springs, CO

Jennifer & Sergio
Brush, CO

Rhonda & Shane
Windsor, CO

Colleen & John
Colorado Springs, CO

Ashley & Tommie
Denver, CO

Jeanette & Joseph
Lafayette, CO

Anaid & Ricardo
Lafayette, CO

Taylor & Zachary
Buford, WY

Jessica & Ronald
Colorado Springs, CO

Cassandra & Jeremy
Cheyenne, WY

Barbara & Fred
Denver, CO

Tamara & Chris
Aurora, CO

Michelle & Mike
Colorado Springs, CO

Ariella & Arthur
Colorado Springs, CO

Cassidy & Matthew
Estes Park, CO

Samantha & Spencer
Denver, CO

Rachel & Nathan
Woodland Park, CO

Sharon & Chris
Colorado Springs, CO

Holly & Kyle
Longmont, CO

Christina & Sam
Colorado Springs, CO

Savanna & Kenny
Greeley, CO

Kathleen & Benjamin
Boulder, CO

Megan & Cody
Commerce City, CO

Lauren & Mark
Longmont, CO

Helen & Israel
Loveland, CO

Mette & Joseph
Colorado Springs, CO

Lindsay & Michael
Englewood, CO

Shannon & Andrew
Cheyenne, WY

Hayley & Josh
Broomfield, CO

Kameron & Colemen
Parker, CO

Gina & Ed
Aurora, CO

Jenn & Matt
Tabernash, CO

Sandrine & Stephen
Chadron, NE

Kalee & Noelle
Burlington, CO

Monica & Jonathan
Loveland, CO

Liza & Alan
Steamboat Springs, CO

Rachel & Evan
Franktown, CO

Bouang & Daniel
Aurora, CO

Charlotte & Joseph
Aurora, CO

Brian & Caroline
Golden, CO

Ellen & Demetrios
Brighton, CO

April & Justin
Eaton, CO

Deborah & James
Denver, CO

Jessica & Luis
Bennett, CO

Jennifer & Seth
Colorado Springs, CO

Denise & Luis
Denver, CO

Michelle & Gabriel
Denver, CO

Jerry & Lovely
Longmont, CO

Betty & Aaron
Dillon, CO

Brittany & Michael
Aurora, CO

Jennifer & Joshua
Colorado Springs, CO

Stephanie & Lorenzo
Erie, CO

Erika & EJ
Glenwood Springs, CO
Send Message to Crystaline Photography & Multimedia, LLC