We offer DJ, photo, video & photo booths. Our DJs are more than just music selectors. A great DJ really knows how to keep the party going. We help you through all of the stressful transitions with ease (pre-wedding, wedding, grand entrance, toast, cake cutting, bouquet & garter toss, first dance, parent dances, ect.) You will never wonder what is next with one of our DJs. Please call, email or text today if you would like to book a consultation or if you have any questions.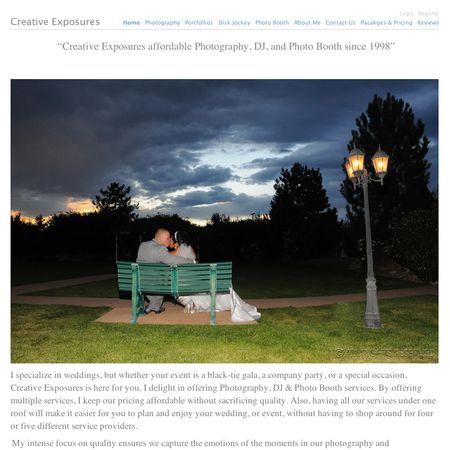 "Mike did a fantastic job. He was lively enough to get our guests going and entertained. He played the songs that we requested. Mike was also able to handle all of our last minute requests that we through at him, like an unplanned bridesmaid vs. groomsmen dance off, and deciding at the last minute to incorporate the bouquet toss and garter toss (after we had originally told him we did not want to do those things). Mike was great, he did everything and more that we could have wanted from a DJ."

Jessica
"I had Mike Cooper do my photos and music. He is flippin fabulous. I wanted hardcore rock music to walk down the isle and he made it work. It was perfect. I had him mixing songs together and doing dance lines and first dances and mother/son, son/mother, father/daughter, you name it I wanted it. He did it all without one problem. He never acted like it was just too much. His answer was always sure lets do it, no problem. He is awesome."

Erin Hansen
"Mike immediately contacted us and we were able to provide him with a list of songs that we wanted played at our reception a few weeks ahead of time. He was very good about contacting us the week of our event to review all of the details. He helped the evening run smoothly and definitely kept the party going. He had great ideas for music and dances and was easy going about everything. All of our guests had nothing but good things to say about the music. I would definitely use Mike again!"

Cindy
"Creative Expressions photographed our daughter's wedding. Mike was waiting for us at the church and immediately began a beautiful chronology for us. He asked us what we wanted weeks before the wedding, kept in touch throughout the process and worked very hard to accommodate us while adding his own creative ideas. At the same time we felt his prices reasonable. Mike's professional and personable demeanor made it a pleasure to work with him. I give him my highest recommendation."

Elizabeth Gaither
"We were told the DJ can either make or break it. I've been to many weddings recently and Geof completely made our wedding reception more perfect than we could've imagined! We were pressed for time before the wedding & still hadn't made many music decisions. Based off of what we wold him we liked, he played the perfect music! The mood was perfect the whole time & everything moved smoothly from one event to the next. He was fun! We couldn't have asked for anything different or a more perfect DJ!"

Katie
"Dear Mike, Thank you so much for the amazing photographs of our wedding celebration. They are brilliant! You captured exactly what we wanted and you captured all the moments, and we felt transported back to that day when we viewed the photos. You have a true, authentic, artistic talent and I know even better things are in your future. I would recommend you in a heartbeat. Many, many thanks again for your absolute professionalism, hard work and beautiful photographs."

Chris and Carla
"Mike Cooper was amazing at our wedding! His group did the photography and DJ. He was very prompt, courteous and professional throughout the process. From the moment I got to the reception in the morning he was setting up the DJ equipment for the evening. He was early to the church and got great pictures for us we will have and cherish for a lifetime. We got so many compliments on how friendly he is. He kept the whole night flowing perfectly."

Matt & Lizette
"Working with Mike Cooper wasn't work at all. He took the reigns from the start and made me feel very comfortable along the way. I hired him for his photography and his DJ skills. We live in North Carolina and decided to have our wedding in Colorado. We were drawn to Mike for his passion for photography and his DJ personality. He's very upbeat, professional, and you can't beat his rates. I love that he took direction of the wedding and hosted the night perfectly from start to finish. Fun!"

Angie Cooprider
"Mike did an awesome job as our photog, videographer, and DJ. He was great working with our time frame and was more than accommodating with the rain we had to deal with. He played the songs I requested and kept us right on schedule. He's great at getting a crowd going and in the right mood! Very happy about going with Creative Exposures, they are the perfect combo of professional and fun!"

Felicia S.
"I had my wedding on Feb 11th of 2012 which was a very busy weekend for weddings. I chose DJ Mike Cooper after weeks of researching online for my destination wedding. I did not get to meet my DJ until a few days before my wedding and needless to say was nervous about my decision. Lucky for me he was fantastic! DJ Mike Cooper took the time to go over my music choices with me and put my mind at ease. The "day of" he was flexible and completely dedicated to my vision for the night. My guests and I danced all night which was exactly what I wanted! He even gave us a CD at the end of the night with our music choices... a very thoughtful and appreciated touch. I would highly recommend DJ MC from Creative Exposures to anyone looking to find an affordable and fantastic DJ."

Rob
Add Your Review of Creative Exposures DJ's

Camey & Jodie
Fort Collins, CO

Courtney & Ryan
Cheyenne, WY

Ashley & Wesley
Colorado Springs, CO

Krystle & Richard
Evergreen, CO

Jessica & Aaron
Warren, PA

Alexi & Scott
Wellington, CO

Colleen & Chris
Fort Collins, CO

Katie & Damon
Denver, CO

Bridgette & Joey
Loveland, CO

Marty & Carlton
Dillon, CO

Katharine & Briant
Colorado Springs, CO

Theresa & Joe
Aurora, CO

Veronica & Boumi
Coal Creek, CO

Sofia & Robert
Colorado Springs, CO

Ashley & Dario
Fountain, CO

Nichole & Mathew
Windsor, CO

Holly & Andy
Denver, CO

Cailey & Jeff
Cheyenne, WY

Cheryl & Joshua
Aurora, CO

Ella & Mike
Parker, CO

Brenda & Robert
Colorado Springs, CO

Katie & Brandon
Loveland, CO

Jaimee & Gyasi
Colorado Springs, CO

Charlene & Eric
Colorado Springs, CO

Joyce & Juan
Commerce City, CO

Kat & Ryan
Colorado Springs, CO

Keisha & Corey
Colorado Springs, CO

Kari & Billy
Colorado Springs, CO

Rebecca & Nigel
Denver, CO

Melody & Wes
Milliken, CO

Robin & Lanny
Denver, CO

Leanna & Chris
Cheyenne, WY

Sherice & Jessica
Denver, CO

Ashley & Casey
Vail, CO

Susan & Erin
Aurora, CO

Corrine & Andrew
Aurora, CO

Mauriceona & Chad
Aurora, CO

Amanda & Bryan
Littleton, CO

Tiffany & Mark
Castle Rock, CO

Karin & Matthew
Englewood, CO

Savannah & Jason
Evans, CO

Yolanda & Josh
Estes Park, CO

Trista & Dustin
Aurora, CO

Ione & Thomas
Aurora, CO

Melody & Dan
Erie, CO

Brooke & James
Vail, CO

Michaela & Michael
Cheyenne, WY

Sarah & Andrew
Westminster, CO

Lori & Nick
Canon City, CO

Kristy & Derek
Wheat Ridge, CO

Matthew & Sandra
Evergreen, CO

Ashley & Doug
Colorado Springs, CO

Katheryn & Nathan
Colorado Springs, CO

Jessica & Jimmy
Colorado Springs, CO

Christine & Michael
Colorado Springs, CO

Janae & Brandon
Golden, CO

Jennifer & Sergio
Brush, CO

Rhonda & Shane
Windsor, CO

Colleen & John
Colorado Springs, CO

Kaylee & Nick
Longmont, CO

Rebecca & Dennis
Fort Collins, CO

Jeanette & Joseph
Lafayette, CO

Anaid & Ricardo
Lafayette, CO

Brie & Patrick
Castle Rock, CO

Barbara & Fred
Denver, CO

Tamara & Chris
Aurora, CO

Megan & Cody
Commerce City, CO

Lindsay & Michael
Englewood, CO

Gina & Ed
Aurora, CO
Send Message to Creative Exposures DJ's