A small, but fully outfitted production company that specializes in assisting you make your dreams come true, with the right emotional impact you would expect. Your video, available on either DVD-R, Blu-ray, or social media format, will be one everyone will want to enjoy with you! I work personally with each client, use multiple cameras, tailor each project to meet your needs.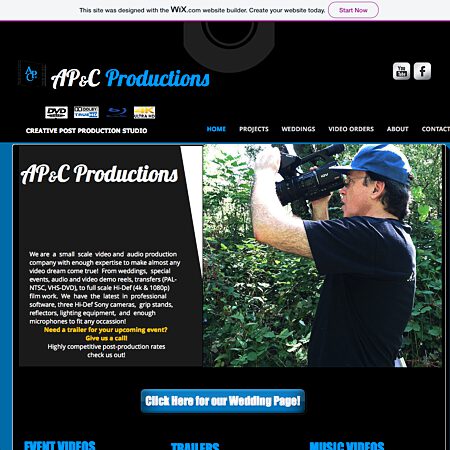 "What a wonderful keepsake!. We loved it! We laughed, we cried but most of all we were grateful for such a wonderful living memory (of our daughter's wedding). Hope to use you for the next three weddings down the road!"

Cricket R.
"Love the video! Your professionalism, your dedication of time for the two days and creativeness was phenomenal! David thought the wind would be awful for the sound, but even he was surprised how your mics didn't pick it up and they were so clear! The music video portions were so fun and touching, and my parents especially enjoyed the music choices! You truly have a knack for this profession and I will recommend you to all my friends. Thank you, Allen!"

Cheryl & David
"Our wedding video was AMAZING! The interviews, cut outs, imbedded songs were great! Looks great too! I could not have been happier!"

Alicia B.
"Very professional work, highly recommended! Have already watched the video three times!"

Jim and Sharon
Add Your Review of AP&C Productions

AP&C Productions
Sacramento, CA

Robin & Bob
Citrus Heights, CA

Ivyanne & Joshua
Sacramento, CA

Kourtney & Lukas
Tuolumne, CA

Ariana & Erik
Stockton, CA

Banessa & Juan
Pittsburg, CA

Brooke & Christian
Stockton, CA

Birgitte & Lonnie
Chico, CA

Cathy & Reese
American Canyon, CA

Marlo & Troy
San Jose, CA

Sabrina & Adam
Sacramento, CA

Corina & Donald
Stockton, CA

Angela & Brett
Sonora, CA

Angel & Michael
Pleasanton, CA

Erica & Jimmy
Santa Rosa, CA

Lori & Patrick
Santa Rosa, CA

Becky & Aust
Stockton, CA

Lizette & Alejandro
Napa, CA

Renee & Von
Chico, CA

Elisa & Michael
San Francisco, CA

Charnetta & Julian
Sacramento, CA

Shazanna & Azim
Emeryville, CA

Cindy & Bill
Woodland, CA

Tina & William
Oakdale, CA

Sylvia & Ferdinand
Daly City, CA

Jessica & Robert
Turlock, CA

Tanya & Mauricio
Roseville, CA

Ainsley & Evan
Ceres, CA

Ceci & Edgar
San Jose, CA

Jeanette & David
San Jose, CA

Yasha & Paul
Stateline, NV

Cynthia & Jerry
Union City, CA

Stephanie & Joseph
Lodi, CA

Robert & Madelyn
Concord, CA

Iris & Jay
Hayward, CA

Kayla & Randy
Roseville, CA

Rachella & Austin
Copperopolis, CA

Maria & Edgar
San Mateo, CA

Megan & Landon
Pittsburg, CA

Krysta & Brent
Sebastopol, CA

Brianna & David
Merced, CA

Jessica & Christopher
Orangevale, CA

Sydni & Amanda
San Francisco, CA

Deborah & Thomas
Sacramento, CA

Markie & Travis
Sacramento, CA

Suzan & Jared
Stockton, CA
Send Message to AP&C Productions